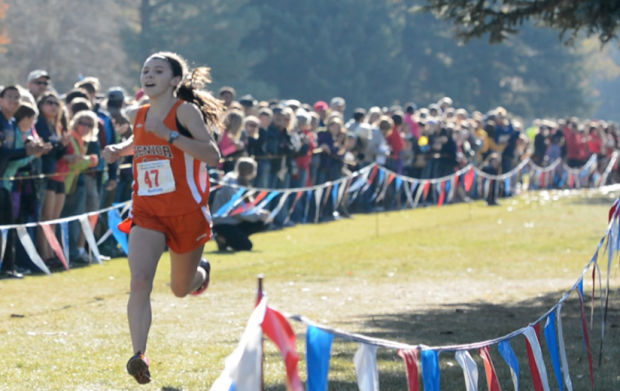 The outcomes may have seemed predetermined for the State AA cross country meet, but they were no less exciting for the Bozeman Hawks.
Jason Holmes won individual honors while leading Bozeman to its sixth straight state boys title Saturday at the University of Montana golf course.
Caroline Hardin then led a pack of Hawks to a dominant seventh straight AA girls crown.
Left to pick up second-place hardware was Kalispell Glacier's boys, who rode Kade McCutcheon's fourth-place finish to 99 points — to 30 for the Hawks.
The Missoula Hellgate girls finished third, with Samantha Sayer taking ninth individually, at 128 points. Bozeman led the way with 28, and Billings Senior had 81.
No big surprises, including from Senior's Christina Aragon, who won the girls' race convincingly, in 17 minutes, 31.83 seconds. Missoula Big Sky's Sabrina Sterbis ran an excellent race and took second behind the sophomore Aragon, at 18:00.43.
Then came Hardin (18:01.46, along with teammates Bridget Creel, Aja Starkey and Piper Meuwissen. That 3-4-5-6 cast of Hawks took any mystery out of the outcome.
"We knew we really couldn't beat Christina," said Hardin, a senior who took individual honors as a freshman and sophomore. "But we just thought we'd go out hard and run together as a team."
Andie Creel was 10th for the Hawks and Beth Jansma came in 15th — earning all-state honors, but not scoring for her team.
"We have the best team, and we have amazing coaches," said Hardin. "We have great chemistry and we knew what we want and we push each other."
If the Hawks weren't surprised, neither was Sterbis — she finished third last year, and ran in front for two-thirds of the 3-mile course Saturday.
Nor were the Hellgate girls caught off guard.
Sayer and teammate Miranda Foster finished ninth and 13th to lead the Knights to a strong third in the team race. Allison Monahan was 17th and Hellgate scored 128 points to 162 for fourth-place Billings West.
"That definitely was a goal," Sayer said of getting a trophy. "And — yeah, we did it. Not surprised at all. I think we call came in where we wanted to."
Holmes (15:31.35) and Hunter May (15:22.59) finished 1-3 for the Bozeman boys, with Helena's Aidan Reed running in between. The Hawks' Colter May and Michael Martell went 7-8 and Habib Mostefa came across 11th.
"Probably my best high school experience," said Holmes, who was fourth last season as a junior. "We're such a tight team. It's been the best experience of my life."
Hellgate, looking to push the Hawks, suffered a blow when Chris Herrick was confirmed to be out with a leg injury. The Knights, with John Szekely finishing 13th and Sagan Thorp 17th, scored 116 points, two more than third-place Helena High.
"I was hoping to run more as a group," said Szekely, who finished in 16:04.68 (teammate Will Clarke was 19th at 16:20.95). "I'm still happy with my race. I was happy with my PR, but I was hoping to go under 16.
"As a team though, not having Chris running with us — it was hard. I was really disappointed when we heard he had a stress fracture. But I think we still ran great. We did well."
"That's sad, and I really wish him the best because he's a very good runner," added Holmes. "I think he would have complemented them nicely, but stuff happens. You can't control it."
Matt Brown of Big Sky was ninth, and Glacier's Logan Harmon was 15th.
Holmes was jubilant to win and yes, unsurprised he had a tough race with Reed, a slender Bengal who has beaten Holmes more often than not.
"I know I beat Aiden, but I'm a senior and he's a sophomore," he said. "So just remember that he is an insane runner. I just wanted to throw that out there."
Get in the game with our Prep Sports Newsletter
Sent weekly directly to your inbox!