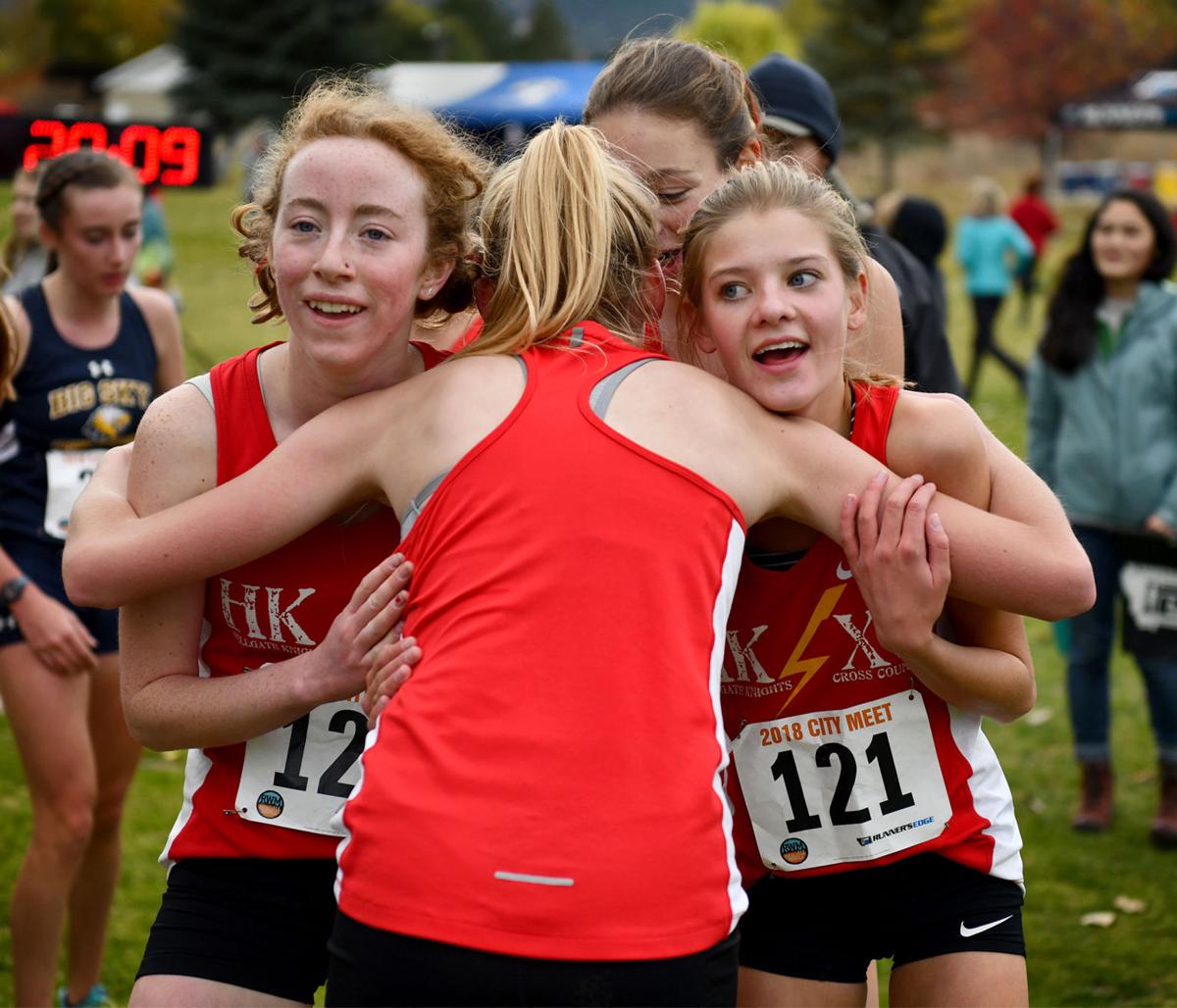 MISSOULA — Hellgate coach Anders Brooker doesn't know all seven girls who'll be starting for his cross country team each race, but he knows one thing for sure: he has more than enough runners from which to choose as the Knights chase their second State AA title in three years.
"We have three studs and several others who are working hard to potentially be one of the better teams we've ever had here," said Brooker, who's heading into his 15th season leading the Knights.
Hellgate returns its top two runners in seniors Abby Kendrick and Sage Brooks. Kendrick, who qualified for last year's Foot Locker Nationals, took third at state. Her time is the second fastest among state returners and 14.77 seconds behind the returning state champ.
Brooks has the third-fastest time among state returners after taking fifth last year despite being injured for the race, Brooker noted. She qualified for Nike Cross Nationals after that season.
The Knights will get a boost with the addition of Kensey May, the daughter of second-year Montana Grizzlies cross country coach Clint May, a former Bozeman coach whose boys and girls teams combined for 18 team state titles and nine individual state titles in 10 years. She won the Virginia state title in the smallest classification last year with a time of 18:42, which would be the fourth-fastest time among state returners in Montana.
"We think between Abby, Sage and Kensey that on any given day they could all be top five in the state," Brooker said.
Hellgate's four other starting spots on race day will come from a group of several runners. The Knights — who graduated their No. 3 and 4 finishers, who placed 14th and 18th overall at state — bring back junior Izzy Munro (20th last year), junior Iris Swanberg (24th) and sophomore Annika Kendrick (37th).
Then there are a handful of others, from freshmen to seniors, that Brooker could see working their way into the lineup of the top seven runners. The top five finishers score points at meets.
"We think we have 10-11 girls who could be in our top seven," he said. "They're kind of interchangeable at this point. It reminds me of our team two years ago when we won state. We're going to be plugging girls in each week."
With that deep group, the Knights are looking to capture their second state title in three seasons. That would require toppling Bozeman, which has won 12 of the past 13 state titles. Hellgate ended the Hawks' 11-year streak when it edged them out at the 2018 state meet.
Bozeman graduated its top finisher in Terra Trom, who was second in the state, and its No. 4 finisher, who was 10th overall. The Hawks had six finishers in the top 12 and all seven in the top 23. Their top five placers combined for a score of 38; Hellgate was second with a score of 60.
Brooker also expects Helena High to be in contention again following its third-place finish with 94 points. The Bengals, led by defending state champion Kylie Hartnett, return their top five state placers and six of their seven state participants.
"Our girls have stated their goals pretty clearly: they want to win state this year," Brooker said. "On paper, Bozeman's the favorite. Helena has a big group of juniors, and we think they're going to be in contention.
"But right now, it feels like Bozeman is the favorite. Our girls are excited for a chance to race them at state."
On the boys side, Hellgate senior Ignatius Fitzgerald is the top returner across the state and the only runner who finished in the top eight who didn't graduate. His third-place time of 16:03.96 was second on the team and 12.12 seconds faster than the state's No. 2 returner, Caleb Hornung of Billings West, who took ninth overall.
"We think that if Iggy can continue to train hard and stay healthy, he'll have a great shot at winning state," Brooker said of his runner who qualified for Foot Locker Nationals last year. "He's got high expectations for himself. He wants to win that state championship. He has as good a shot as anybody."
As a team, the Knights will need runners to step up after they graduated two of their top three finishers and four of their seven state participants from a team that tied for first place with Bozeman but took second based on a tiebreaker. They bring back senior Miles Colescott, who placed 20th, and senior Renn Stearns, who was 22nd.
"We're going to be a really inexperienced team," Brooker said. "On paper, if we win a trophy, that's a huge win for us. We know Bozeman will be good again. I think Sentinel and West are the two favorites outside of Bozeman."
Sentinel
The Sentinel boys return five of their seven state participants, losing their top finisher, who placed eighth overall, but bringing back their runners who placed second through sixth on the team, which finished in third place.
Junior Tanner Klumph highlights the Spartans, taking 18th overall and ranking fifth among state runners returning this year. Their other runners coming back are junior Jacob Sriraman (28th last year), sophomore Keagen Crosby (33rd), junior Chase Green (36th) and senior Corbin Johnson (40th).
The Spartans added out-of-state transfers in senior Wyatt Mortenson, who took ninth place in the 2018 Colorado Class 3A state meet and 20th in 2019, and sophomore Noah Mortenson.
"Our team wants to do better than third and would like to get the city title from Hellgate," Sentinel coach Diego Hammett said. "They've talked about it all summer among themselves; I haven't said anything to them about it. I think we have a really good shot."
The Sentinel girls return their top five finishers from last year's team that placed fifth. Junior Brooke Stayner highlights the team, placing seventh overall last year and ranking fifth among all returners across the state.
"She's a tremendous talent," Hammett said. "I think she can be top three at state. It's because of her work ethic, her hard work, and her drive and determination. She likes that competition."
The Spartans also bring back senior Emma Nelson (25th last year), junior Lillian Commons (31st), junior Riley Crews (45th) and sophomore Ruby Lorenz (51st). They added senior Rosalie Mortenson from Colorado.
Big Sky/Florence
The Big Sky/Florence girls return five of their seven state participants, including two of their top three, from a team that took 12th out of 15 teams. Of those back, junior Freya Jones was the Eagles' highest placer at 44th, junior Mariauna Ballas was 72nd, junior Pilar Seielstad was 92nd, senior Alexis Parks was 93rd and junior Dylan Kidd was 98th.
The Eagles have high expectations for two of their new varsity girls: junior Allie Skeestra, who's never run cross country before, and freshman Atsede Glidewell. They've routinely finished No. 1 and No. 2, respectively, in practice races, according to eighth-year head coach Jo Ruby.
The Big Sky/Florence boys bring back three of their six state participants from a team that finished 14th. Junior Nathaniel Gale was the Eagles' No. 2 finisher and 80th overall, junior Anthony Higuera was 100th and junior William Schulze was 101st. Sophomore Wyatt Stout, who was No. 3 on the team and 85th overall, decided to play soccer this fall, Ruby noted.
"We feel we have pretty young teams with the turnover this year," Ruby said. "They're a lot of fun and have worked so hard this summer, which is really encouraging. It was not known with COVID if we were going to have a season, and it still seems to change every day, so the fact that the kids have been here every day and working so hard, I'm just hoping they get some sort of a season."
Frank Gogola covers Griz football and prep sports for the Missoulian. Follow him on Twitter @FrankGogola or email him at frank.gogola@missoulian.com.
Get in the game with our Prep Sports Newsletter
Sent weekly directly to your inbox!