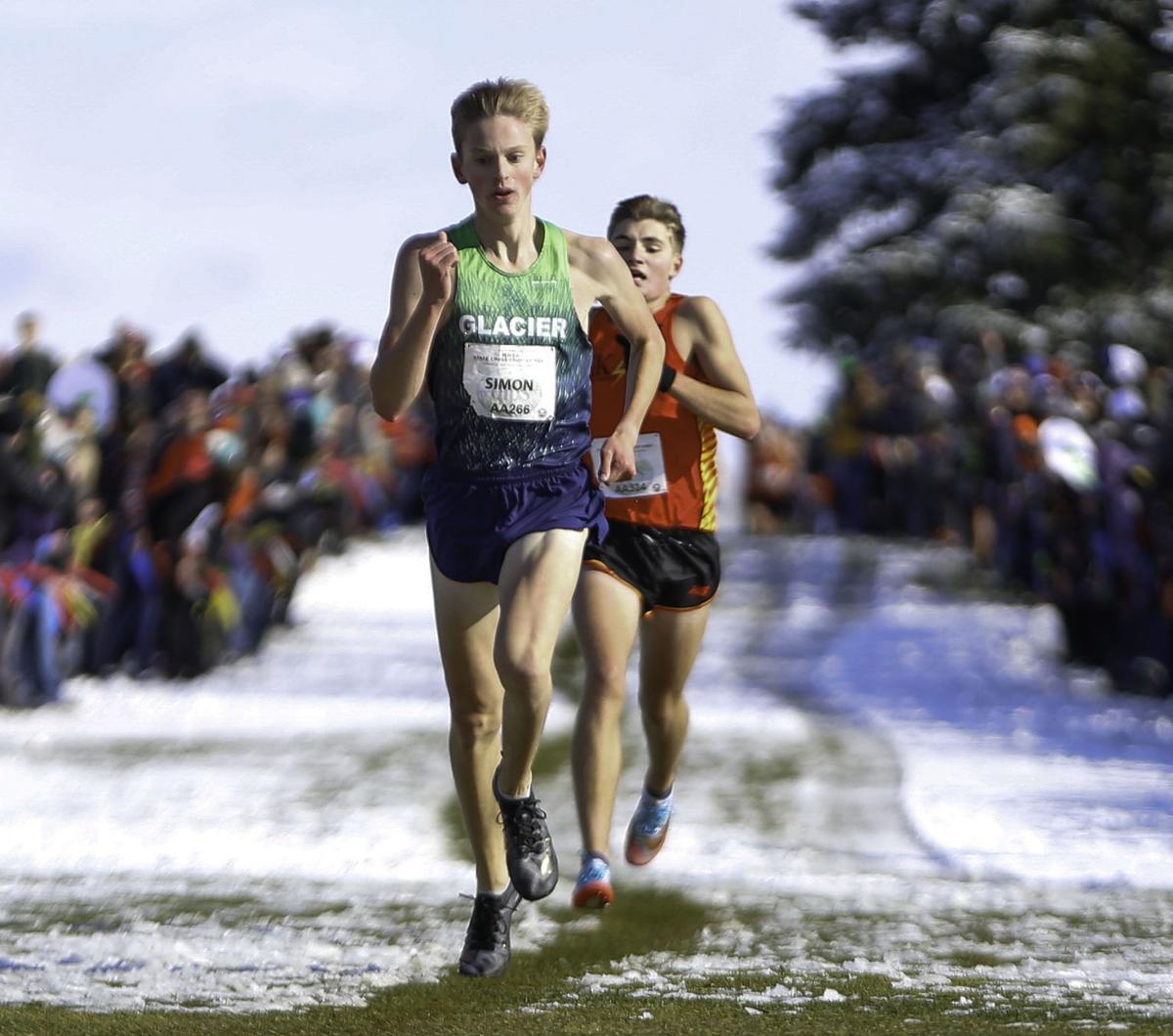 MISSOULA — Kalispell Glacier senior Simon Hill finally reached the peak of a steadily improving career as he descended down the hill of his final high school cross country race.
The future Montana Grizzly capped off his career by breaking through and capturing his first State AA title with a late kick in the closing lengths of the race this past fall. He became Glacier's first boys cross country state champion and was later named the school's first Gatorade Montana boys cross country runner of the year.
Hill can now add to that list the recognition of being the Missoulian area boys cross country athlete of the year.
"Most of what's motivated me is my competition," Hill said. "You can have a bad day and a lot of people just turn their back. I knew a bad day is not the end of the world, and you can't have a good day without knowing what a bad day feels like. You have to be able to shake it off. And whether you have a bad race or a good race, there's always something to take away."
Hill is the second person in Glacier's history to be a state champion and Gatorade cross country runner of the year. The other winner is his sister, Annie Hill, who's now competing in the Pac-12 at Colorado.
Unlike his sister, Hill made a steady climb after taking 26th at state as a freshman. He moved up to 10th as a sophomore, jumped to second as a junior and became a captain his senior year. He leaves with Glacier's boys cross country 5K record, was part of the school's first boys track and field title as a sophomore and was hoping to win an individual track title this spring before sports were canceled because of the coronavirus pandemic.
"He's a super hard worker and is one of those kids who buys in and is all in," Glacier cross country coach Jacob Dietz said. "He gained a lot of confidence figuring out his racing style and racing in general and had a very solid progression. But he was pretty flexible. We talked a lot that at some point, somebody is going to break. So if you have it in your mind that it's not going to be you, it won't be you."
Hill had been racing for a while to work his way through the ups and downs. He started in first grade, doing a 5K after his family got into running because his dad had it on his bucket list to run a half marathon, Hill recalled.
He continued with running because it was what he was best it and he enjoyed the running community in Kalispell. With hard work and dedication, he and his sister have made a name for the Hills in the Flathead Valley, just like the Perrins and the Morleys before them.
"Finishing a race is a euphoric feeling for me, and it's something I never really wanted to give up," Hill said. "I'm a very passionate and extroverted runner. I'm very extroverted in general. I like to talk and make friends and meet new people. That really lent itself well into growing into the community of runners here who are very tight knit and who I looked up to."
Hill will come to UM on a partial scholarship to run cross country for new coach Clint May, who built a dynasty at Bozeman, and to run indoor and outdoor track, making for a busy year. He's used to that, exceling in high school sports while maintaining a 4.0 GPA, being a state champ in speech and debate, and serving as the Glacier student body president, among other activities.
Dietz has high hopes for Hill to continue to improve and show his talents in college, even as the competition level increases. He's been around Hill enough to know he's not going to shy away from a challenge and will attack it head on with a classy attitude.
"His best attribute is he's a hard worker," Dietz said. "He bought into our philosophy, and kids that buy in right away and are willing to put in work are going to find the most success. He was one of those kids, but at the same time, he was charismatic and took care of his teammates, is super selfless and no matter how his race went, he made a point to acknowledge other kids."
Get in the game with our Prep Sports Newsletter
Sent weekly directly to your inbox!