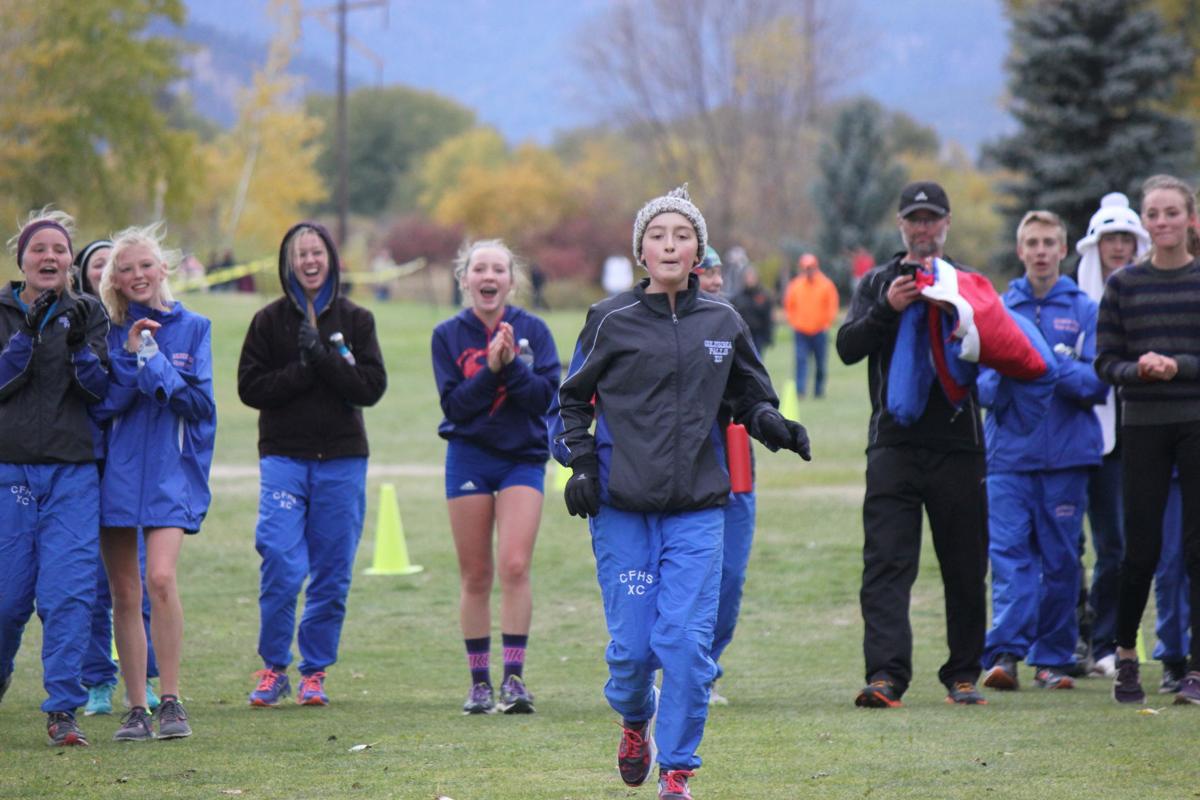 COLUMBIA FALLS — Something was off. 
Kimberly Peacock's ribs had been hurting for months. Breathing required concentration. 
While at church camp, she developed a cramp in her left leg that refused to dissipate.
Even before the leg cramp, running — something that's always been easy —  became difficult.
"I was really discouraged by that," Kimberly said. "I was afraid that I was going to be one of those people who was really successful early in their high school career and then just dropped off."
At first, Kimberly thought it was a rib injury from wrestling with her older sister, Haylie. Then, she thought she had mononucleosis, since those symptoms were all present.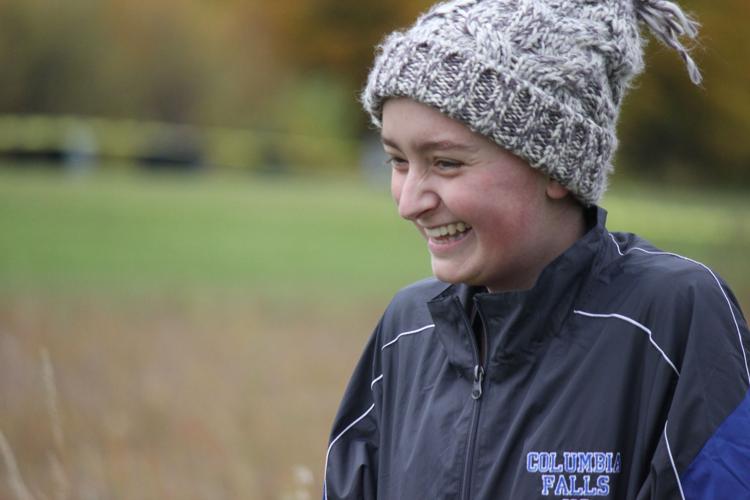 Kimberly, 15, had a doctor's appointment scheduled in the afternoon once she got home from church camp, but moved it up to earlier in the day because of the leg pain's progression. 
After Kimberly underwent a series of blood tests at a clinic in Columbia Falls, her doctor feared the worst.
"'I think we're dealing with something evil here,'" the doctor told Jim Peacock, Kimberly's father, and Columbia Falls cross-country coach. "'Would you like me to schedule an appointment with the oncologist?'"
Five minutes later, the doctor returned to the room to tell them Kimberly needed to get to the emergency room.
"You're just hoping that there's a mistake," her father said. "The drive down to the ER from here is about 20 minutes. You spend 20 minutes hoping we're just being overly cautious.
"You're also spending that time trying to talk with a daughter who's having a meltdown trying to explain, 'OK, you know what an oncologist means?' You're trying to find some new sense of reality because reality just flipped 180 on you."
She went through more blood tests at the hospital, confirming the first doctor's suspicions. 
Her bone marrow was 65 percent myleoblasts — the most immature cells in bone marrow. A healthy person has less than 5 percent of those cells in bone marrow.
"It was pretty advanced in its course already," Kimberly said. "Give it a couple more weeks and it wouldn't have looked good."
And to treat it, she needed to go to either Denver or Seattle. 
Natural talent
Running is second nature to Kimberly. 
She's stood out in nearly every race she's run — including the first.
Jim Peacock entered himself and the girls in a local fun run when Kimberly was 8 as a way to get them out of the house for the morning. 
Haylie and Kimberly sprinted out of the gate for roughly 100 yards before her father settled them down. 
"I said, 'Our goal is to see if we can run 5 kilometers. Let's see how little walking we can do,'" he said.
The trio ran at Haylie's pace but Kimberly started getting restless. When they were about a quarter-mile in, her father decided to let little Kimberly go for it.
"As soon as you get too tired and have to walk, I want you to stop and wait for us," he told her. "I figured she'd run 200 yards and stop and wait for us. She took off like a shot and I just watched her disappear, a little speck in the distance. I spent the rest of the race freaked out trying to figure out how I was going to explain to my wife how I lost my daughter at a race."
Jim Peacock and Haylie found Kimberly again about a quarter-mile from the finish line, standing on the side of the road. 
"I thought, 'Oh. She was right here," her father recollected. "'She stopped right before the finish. Why didn't she finish?'"
She did finish. She came back looking for them.
Once everyone finished, the participants gathered so those in charge of the race could hand out awards. Kimberly placed first, not just in her age group, but out of all the female participants. 
"I was blown away," her father said.
Kimberly continued running. 
She practiced with the junior high team as a fifth-grader, even though she wasn't old enough to compete with the team.
"She beat most of the kids," Haylie said, laughing. "She's been able to outrun me since she was a sixth-grader."
Kimberly was third-fastest on her junior high team as a sixth-grader and steadily progressed up the charts. By the time Kimberly hit eighth grade, she started winning races on a consistent basis.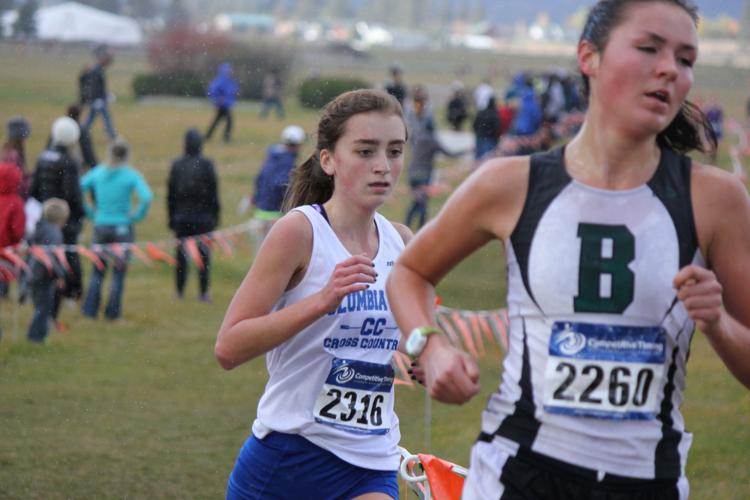 As a freshman, Kimberly "went directly to the top of the girls' varsity." She finished within the Top 10 in the early meets, then progressed to the Top Five. By the time state cross-country rolled around, she contended for the title. 
Haylie was one of the senior captains that season.
"I never got to see her run the year that we ran together because she was always way out in front of me and finished way before me," Haylie said of her younger sister. "We were both varsity. It was just fun to be on the same team as her."
At state that year, Haylie got to watch Kimberly — if only for a moment — from behind at Rebecca Farm in Kalispell. 
"It was really cool to see her up there working hard and running her heart out," Haylie said. "She's a good kid. She works really hard. She's the person I love the most out of everyone. I like to see her win and do well."
Kimberly finished second — 14 seconds behind a senior from Belgrade— to help her Columbia Falls team place fourth. 
Her time of 18:31.0 was just outside the Top 13 fastest performances of all time for a Class A girl, according to the MHSA. Kimberly's personal best of 18:19.8 — the first-place finish at the Whitefish Invitational — is Columbia Falls' school record. 
Kimberly followed her standout state cross-country performance with other stellar performances at state track and field. 
She placed third in the 2-mile and seventh in the mile.
Her time of 5:17.59 in the mile was a personal best by more than 5 seconds and her time of 11:35.90 in the 2-mile was a personal best by 7 seconds. 
Drastic changes
The Peacocks chose Denver for Kimberly's treatment.
The doctors wanted Kimberly to leave that day, but Kimberly's mom, Heather, said they weren't ready yet.
Jim Peacock and Kimberly flew to Denver on a medical flight two days after the diagnosis. They didn't know how long they'd be there. 
The hospital admitted Kimberly as soon as they arrived and put her on pain medicine to make her comfortable.
More tests showed that Kimberly had acute lymphoblastic leukemia, which affects white blood cells. Kimberly's bone marrow was producing too many immature lymphocites, so she couldn't produce red blood cells or platelets the way the body normally does.
That's why Kimberly had the shortness of breath, the bruising and the leg pain.
"The leg cramp was bone pain," Kimberly said. "My bone marrow was so crowded with leukemia cells inside of my bone. That's what all the symptoms were from. It was mind-blowing."
Kimberly was initially in the hospital for six days before starting her first round of chemotherapy. Originally, she was only supposed to be in the hospital for that week and then spend the rest of the time as an outpatient undergoing treatment nearly every day. 
Kimberly was discharged on a Saturday afternoon. That following morning, she was nauseous, but up and moving around. 
"We didn't know what it would look like or what to expect," her father said.
Jim, Kimberly, and Heather Peacock's sister went to the nearby Target to go grocery shopping. Kimberly quickly wore out. 
They assumed the exhaustion came from the chemo. Kimberly lounged around their room at the Ronald McDonald House for the rest of the day, getting up only to drink water and go to the bathroom. 
Her father let Kimberly sleep in that morning because she had a restless night. But when she got up, he saw a completely different version of his daughter.
"Overnight she went from being a sick kid that was losing a little bit of weight and a little weak to (looking) like a kid that had just walked out of a concentration camp," he said. "She was just skin and bones."
He went through the laundry list of phone numbers for people at the hospital to call. Finally, after a couple of hours of calls, one nurse OK'ed her return.
Twenty-five minutes later, Kimberly was surrounded by roughly a dozen medical personnel at the hospital. Her blood sugar was dangerously high. The combination of the chemo medicine and her steroids completely shut down her pancreas, so Kimberly wasn't producing any insulin. 
She lost 11 pounds overnight because "her muscles were digesting themselves," her father said. 
You have free articles remaining.
The 95-pound Kimberly spent the next 10 days in the hospital before being released again. She had to be re-admitted again three days later — and quarantined — because of a runny nose. 
Because of the muscle loss paired with the chemo, Kimberly needed to be pushed around in a wheelchair. 
"For her to get up and just walk from her room across the hall to the nurse's station and back was harder than any cross-country workout she'd done her whole freshman year," Jim Peacock said. "You talk about a different reality."
'The biggest race of her life' 
Kimberly returned home from Denver on Aug. 31. It was Columbia Falls' first day of school. While her classmates were off to their sophomore year of high school, Kimberly was off to an oncology appointment.
At the appointment, Kimberly told her oncologist she wanted to be able to walk the divisional cross-country meet.
"And they said, 'Well, that's a really good goal. You need to have goals,'" Heather Peacock recollected.
Kimberly added: "They did not think that was gonna happen."
She had seven weeks to get there — while fighting cancer. 
"I believed I could do it basically from the day I set it," Kimberly said of her goal. "I knew the day I set it that I wouldn't have been able to do it at that point in time, but I felt myself getting a little stronger."
To train, Kimberly and her mother did a circuit.
They'd walk around the cul-de-sac, come back inside, walk up and down the stairs and do three squats while holding onto the kitchen counter.
"I would have to hold her hand all the way around the cul-de-sac because she was pretty unsteady," Heather Peacock said. "Going up and down the stairs took her a long time because she didn't have the strength in her legs to lift herself up."
Training to walk wasn't the only thing she had difficulty with. Getting out of the car, walking up the driveway and up the two stairs to the porch felt like miles. 
Even getting out of bed was a big accomplishment, let alone carrying her backpack to school.
"Have you ever watched a reality TV show where they're trying to rehab somebody who's morbidly obese? It was like that in reverse," her father said. "It was amazing to watch."
Before they knew it, race day was there. 
Kimberly couldn't ride on the bus to Frenchtown with her teammates because her immunity was too compromised and she had a runny nose. Kimberly and her family arrived at the race venue before the team, so Kimberly got changed.
Since Kimberly was walking, she elected to compete in the JV race, rather than her usual varsity event. 
"I wasn't going to take somebody's varsity spot just to walk a race, especially a race so critical," she said. 
Kimberly and her JV teammates went up to the starting line, with Kimberly in the way back. As the gun went off, all the participants bolted out from the start.
All the participants except Kimberly. 
"Everyone else took out ahead of me," Kimberly said. Watching them "was torture."
A healthy Kimberly typically left everyone in the dust, not the other way around. 
But this race meant so much more.
"This was the biggest race she'd done in her life at that point," her father said.
Kimberly walked most of the race by herself, listening to the crowd mumble as she walked by.
The Columbia Falls parents knew what was going on. But to many spectators, a girl walking the course in sweats wasn't an everyday sight. 
"There were parents of other kids who had no clue who I was or what I was doing," Kimberly said, laughing. 
At about a mile into her 3-mile walk, some of the JV boys started to walk with Kimberly for a little bit, since they had finished their race. By the time she was halfway finished, her JV teammates began to finish and made their way back to Kimberly to walk with her. 
"Every two minutes there'd be a new teammate coming up," Kimberly said. "The varsity boys and the varsity girls were supposed to be warming up, but they didn't. They came and they joined.
"By the time I had a mile to go there was this giant pack of blue totally surrounding me. We were walking arm in arm and there were five rows of people just walking with me."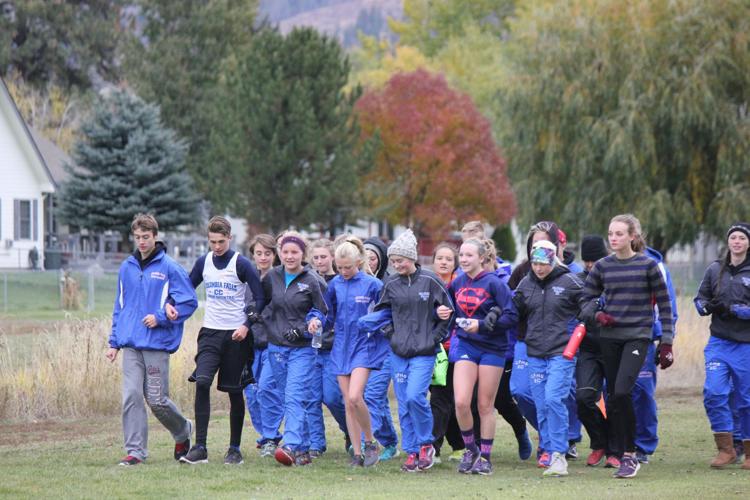 With the support of her teammates, Kimberly was close to the finish line. Her dad asked if she wanted to run. From 50 yards out, Kimberly picked up the pace and ran across the finish line — running for the first time since before the diagnosis.
At the end of the day, her time — 52 minutes, 23 seconds — didn't matter. It just mattered that she finished. 
Once Kimberly crossed the finish line, tears cascaded down her face. 
"It was overwhelming," she said. "It was weird because a month and a half (before), I couldn't get out of my bed to use the bathroom. But then I was able to finish at a run at a cross-country race. It was a big contrast. It helped me see how far I had come, even though I didn't feel like it. It felt like a long road with no ending in sight. It really put things into perspective."
Community support
Word spread fast about Kimberly's diagnosis. 
The day she was diagnosed, Kimberly had more than 80 visitors waiting to see her at the Kalispell hospital. 
"They completely overwhelmed the waiting rooms at the hospital," her father said. 
A nonstop line of people went in and out of Kimberly's room all day during the 12-hour visiting period.
"My mom limited everybody to 15 minutes of visit," Kimberly said. "I was so tired to the point where I'd be talking ... and I'd slowly be nodding off to sleep."
When Kimberly was in Denver, the support didn't stop. 
She had packages from cross-country teams out of Whitefish and Polson, to name a few. Some packages came from as far as Manhattan.
"That's a Class B school that she doesn't even race against," her father said. "Stuff was coming in from all over."
It didn't stop there. The Townsend and Manhattan cross-country teams put on a fundraiser 5K down in Townsend for Kimberly. 
And Columbia Falls had one of its own. 
"Hundreds of people, just a sea of people came out for that," Jim Peacock said. "Runners and non-runners alike, which included a bunch of cross-country teams."
Whitefish, Bigfork, Polson, Glacier, Eureka, Manhattan and Townsend were just some of the other towns' teams to show up in support. 
"I was reaching a point where I was questioning, 'What are people really like? What are people's natures like?'" her father said. "The last six months have been really rejuvenating for me with faith in people and humanity in general.
"I'm overwhelmed with how many people have shown genuine concern and empathy and how much the outreach is."
Future prognosis
As of this week, Kimberly still has disease present in her bone marrow. 
Stanford is currently trying a new non-FDA approved chimeric antigen receptor (CAR) T cell therapy. Kimberly has a place in the trial, and she is waiting to see if she can be a part of the study. 
Kimberly will be at Stanford in early February to do some eligibility testing.
She's crossing her fingers.
The Stanford study is supposedly easier on the body. If she gets into the study — and if everything goes right — within a month she should be feeling like a normal kid. Competing in track and field this season would be possible.
"It wouldn't be a track season that I had last year," Kimberly said. "It wouldn't even be close to that. But it would be a regular track season, which would be nice."
If that isn't fruitful, she can decide between an FDA-approved CAR-T therapy called Kymriah or a bone marrow transplant. Of those two options, Kimberly favors the Kymriah.
"I've given thought into what my life would look like if I had to get the bone marrow transplant and that seems like hell on earth," Kimberly said. 
She'd miss her junior year of high school and have high doses of chemotherapy and radiation. That radiation could likely affect her running ability. And Kimberly would likely have to get rid of her cat, Neville, who she loves dearly. 
"These are some formative years for everybody," her father said. "They're pretty impactful years on who you are."
But she does have a choice. 
Whatever happens, Kimberly's looking forward to being a normal kid again and is taking steps forward in that direction. 
Last week she ran on the treadmill for the first time since July.
"It was fun to actually be able to do something again, even though it wasn't fast and it wasn't pretty," Kimberly said. "But it was something, which was progress."
Amie Just covers Griz football for the Missoulian, among other things. Follow her on Twitter @Amie_Just or email her at Amie.Just@406mtsports.com.