Much of the state is focused on College Gameday and the Cat-Griz game, but kicking off a weekend of big-time football in the state of Montana will be the Helena Capital Bruins and the Bozeman Hawks on Friday in the Class AA state championship game.
It's one of five state championship games taking place this weekend, with the four other classifications in Montana playing their game on Saturday.
Class AA still plays its title tilt under the Friday night lights. Yesterday, we look at some of the storylines surrounding this game. Now, here's a look at some of the things to watch in terms of who will win the actual game Friday night in Helena. 
Run to win 
This might sound simplistic but running the football is going to be essential in terms of winning this game. The Bruins have averaged 243 rushing yards per game and went over 200 in both playoff wins over Butte and Sentinel. Tom Carter leads Class AA in rushing yards (1,132), rushing average (9.93) and is second in rushing touchdowns (15).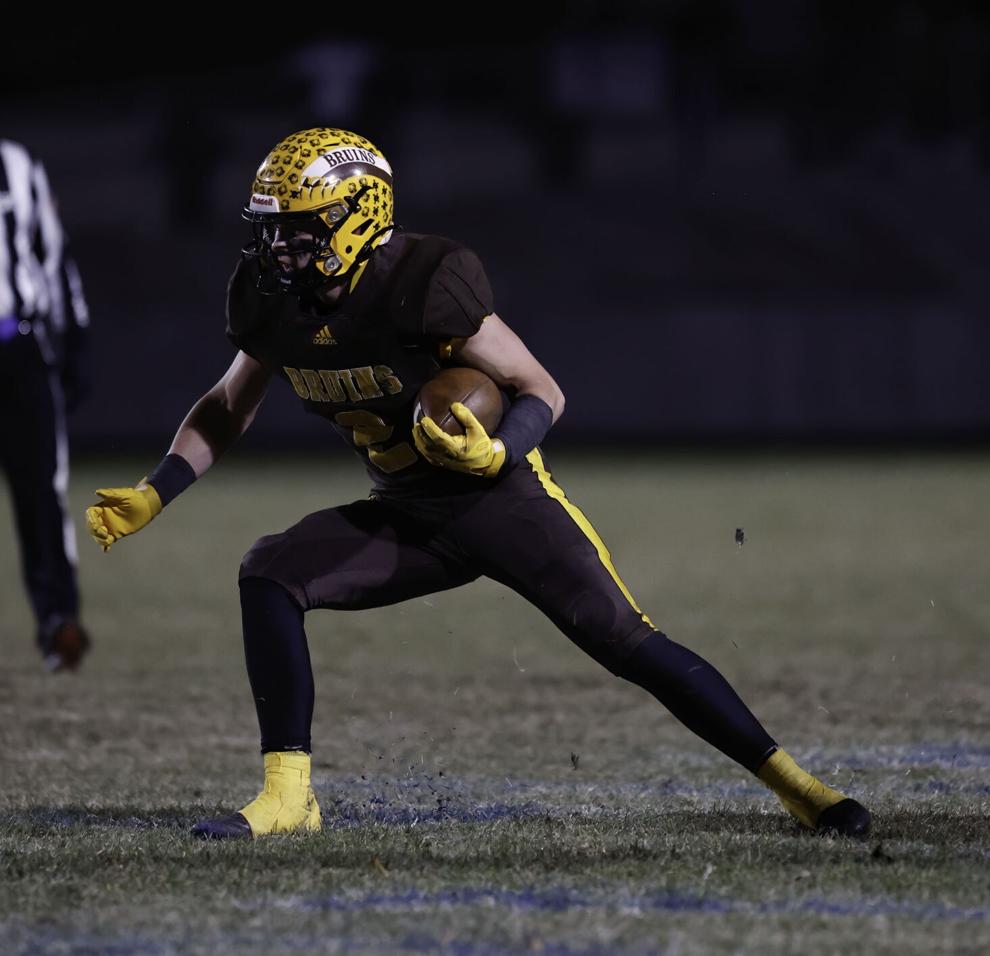 Yet, the Bruins also have the state's fifth-leading rusher in Dylan Graham (750 yards) and he's third in Class AA in yards per attempt (6.0) in terms of backs with at least 100 attempts.
Graham didn't play in the first game when Bozeman limited Capital to 103 yards on 28 attempts. Bozeman which averages 153 yards per game on the ground, also struggled running the ball with just 33 yards on 24 carries.
Connor Nye who has 489 total yards (6.19 per carry) also wasn't on the field for Bozeman or at least didn't get any carries against the Bruins. Since then, he's had five games with at least 50 yards including a 21-carry, 147-yard effort in the semifinals.
You get the feeling both teams will be hoping to improve on their rushing performance from the first matchup and whichever team is able to do that, is going to give themselves a good shot to win.
The fearsome Capital pass rush 
We've talked about it before, but it's worth repeating just how dominant the Bruins have been up front. 52 sacks in 11 games is unheard of and so are the 20 put up by Talon Marsh. Not to be forgotten, Henry Gross and Tyler Roberts have a combined 22 sacks and the three of them combined have 42.
Gross is sometimes overlooked but he batted down two passes last week and also matched Marsh with two sacks of Bozeman's Jake Casagranda back in August. Marsh added four tackles for loss (Capital had 12) and limiting the pass rush is a huge key for the Hawks. 
Casagranda has been among the most prolific passers in Class AA this season with 31 touchdowns compared to only four interceptions. Two of those came against the Bruins and you can bet the pressure he faced had something to do with it.
Two freakish tight ends 
Just so we are clear, in sports, the word freak is still a good thing and there are a couple playing tight end/defense on Friday night for Bozeman and Capital.
Luke Smith is Bozeman's top pass rusher and is second in the state in total pressures (hurries and sacks) behind Marsh. Yet, Smith also doubles as a tight end and there, he's been as good as anyone in Class AA racking up three 100-yard games and five with at least 85 yards.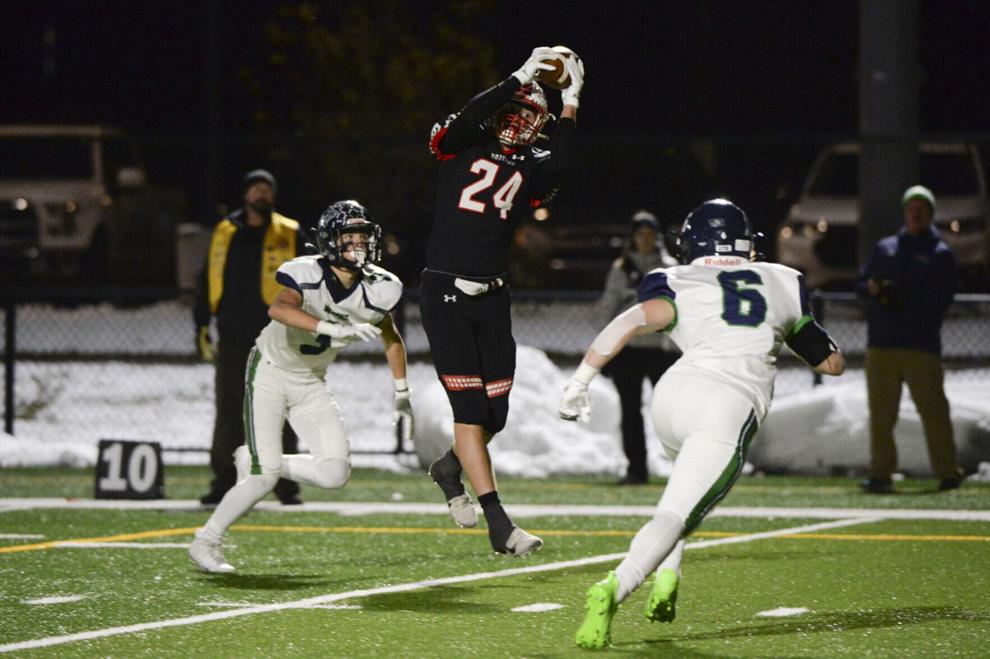 Smith has 40 total receptions for 778 yards and 11 touchdowns. He also averages 19.5 yards per reception. 
However, Capital also has a talented tight end, who plays well on the defensive side of the ball in Hayden Opitz, who is also a short-yardage specialist.
As a receiver, Opitz has hauled in 32 receptions for 471 yards (14.5 YPC). He's also caught five touchdowns, which gives him 12 total when you add in the seven rushing touchdowns he has scored this season.
The senior who was also an all-state performer on the state championship basketball team for Capital last season, has been a touchdown machine of late too, scoring four in the past three games — two rushing and two receiving. The University of Montana commit also has 72 tackles on defense, four tackles for loss, two sacks, two forced fumbles and two fumble recoveries. 
Optiz and Smith are both freaks — in a good way — and it shouldn't surprise anyone if their impact is felt on both sides of the ball Friday night. 
The deep ball 
While Capital is known for running the ball, its combination of quarterbacks have combined to throw 17 touchdown passes this season and many of them have covered a lot of ground, such as the 87-yard touchdown from Joey Michelotti to Nick Michelotti last week or the 39-yarder from Hudsen Grovom to Opitz. 
In addition to having over 700 yards receiving, Nick Michelotti is also averaging 27 yards per reception as his 26 catches have turned into 706 yards. Carter who plays receiver and running back, averages 22 yards per reception and have seven receiving touchdowns (22 total). 
Yet, Bozeman has wideout Rocky Lencioni in addition to Smith and over the past two weeks against Butte and Sentinel, the Bruins have allowed three touchdown passes of 30 yards or more, so defending the deep ball, as well as connecting on it, will be a big focus. 
Special teams and turnovers 
We saw how special teams can impact the game last week as the Bruins used a good kickoff return from Tom Carter to set up their opening score, while also surrendering an 86-yard kickoff return to Sentinel, which allowed the Knights to hang around until the final two minutes.
Each team has a dynamic returner as CHS has Carter and Bozeman has Avery Allen. A big return could be something to watch for, but so could a mistake such as a missed extra point or a blocked punt.
Folks want to sleep on special teams, but it's a third of the game and it could be the difference between two evenly-matched teams. 
And last but not least, turnovers tend to decide championship games. Capital won the turnover battle 3-1 in Bozeman and the winner of the turnover battle Friday night, just might walk away as the AA state champion.