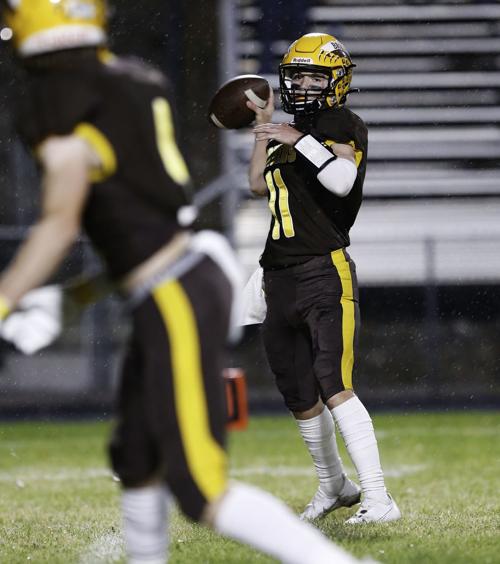 BOZEMAN — It wasn't a good time to be an 8-Man football power in Montana last week.
No. 3 Joliet was sideswiped by unranked Park City 48-34. No. 2 Fort Benton was ambushed by No. 7 Simms 41-29.
And top-ranked Drummond-Philipsburg was more than fortunate to rally for a 38-36 overtime home victory over unranked Charlo.
Naturally, that means a scramble in this week's 406mtsports.com rankings, just a few days ahead of 8-Man's first seeding playoff games in the Northern and Eastern divisions.
The West reigns supreme, with Drummond-Philipsburg (6-0) clinging to its top spot and Thompson Falls (7-0) in hot pursuit. Unfortunately, the two Western powers aren't scheduled to meet in the regular season and will have to settle their differences in the postseason.
The division's two biggest surprises of the season — Simms (7-0) and Culbertson (6-0) — are Nos. 3 and 4. Both were unranked to start the year.
The other classes saw little movement as the ranked teams held court across the board.
In Class AA, No. 1 Missoula Sentinel (6-0) and No. 2 Billings West (6-1) continue to show they're a cut above, though No. 3 Helena Capital (5-2) is surging and No. 4 Butte (5-2) and No. 5 Helena (5-2) have shown they can both flex their muscles and produce head-scratchers at the same time.
Upstart Great Falls CMR (5-2) is back on the outside looking in after falling 21-14 at Bozeman on Friday.
Upcoming Class AA game of the week: Capital has a chance to prove its mettle when it travels to Sentinel at 7 p.m. Friday. Honorable mention: West won't have a gimme at CMR on Friday.
Class A had no change as No. 1 Hamilton (6-0), No. 3 Billings Central (5-1) and No. 4 Polson (7-0) all coasted. No. 2 Laurel (6-0) fended off a challenge from dangerous Miles City 21-7 and No. 5 Whitefish (7-0), as expected, had to earn its 27-14 triumph at feisty Libby.
Lurking in the weeds ready for one of the five to falter is Lewistown (5-1), which has lost only by a touchdown to Laurel (28-21) and has not allowed more than eight points in any of its five wins.
Upcoming Class A game of the week: Speaking of lurking, Lewistown has another chance to prove it belongs in the top five when it travels to Billings Central for a 7 p.m. game Friday. Honorable mention: Arch-rivals Columbia Falls and Whitefish square off on the Bulldogs' home turf Friday.
In Class B, many observers have thought Townsend the greatest threat to top-ranked Florence-Carlton even after — or perhaps because of — losing only 20-14 to the Falcons in Missoula on Sept. 18, and the Bulldogs validated the assertion by thumping previous No. 2 Columbus 43-22 last week to return to the second spot.
Otherwise, the class remained relatively calm, with the other eight teams all winning.
Upcoming Class B game of the week: No. 3 Bigfork (6-0) puts its perfect mark on the line at No. 7 Eureka (5-2), which has lost only to No. 1 Florence-Carlton and No. 8 Fairfield. 
The 8-Man shakeup was almost entirely at the top, with the bottom half mostly holding firm. To make room for deserving Park City (5-1), the Panthers share the 10th spot with Chinook (6-1) — the team that dealt them their only defeat back on Aug. 28.
Upcoming 8-Man game of the week: Simms and Fort Benton get another crack at each other at 1 p.m. Saturday in a Northern 8-Man seeding game at Fort Benton; both teams have already qualified for the state playoffs. Honorable mention: Co-No. 10 Park City travels to No. 9 Sheridan (5-0) in a battle of Panthers.
Much quieter was 6-Man, where the only top-10 showdown saw No. 6 Shields Valley (4-1) handle now-No. 10 Broadview-Lavina 41-14. Dominant Froid-Lake (7-0), the defending champion, remains No. 1.
Upcoming 6-Man game of the week: Shields Valley travels to No. 3 Bridger (6-0) for what should be an epic battle between teams jockeying to challenge Froid-Lake. Honorable mention: No. 2 White Sulphur Springs (5-0) has an intriguing matchup at Noxon (3-2), which will be four days removed from its game Tuesday night at home against No. 7 Hot Springs (5-1).
The rankings (+/- = movement upward or downward):
Class AA
1. Missoula Sentinel (6-0)
3. Helena Capital (5-2) (+1) 
Class A
3. Billings Central (5-1) 
Class B
1. Florence-Carlton (6-0) 
8-Man
1. Drummond-Philipsburg (6-0)
2. Thompson Falls (7-0) (+2)
5. Fort Benton (5-1) (-3)
10. (tie) Chinook (6-1) and Park City (5-1)
6-Man
2. White Sulphur Springs (5-0)
5. Power-Dutton-Brady (6-1) 
7. Hot Springs (5-1) (+1)