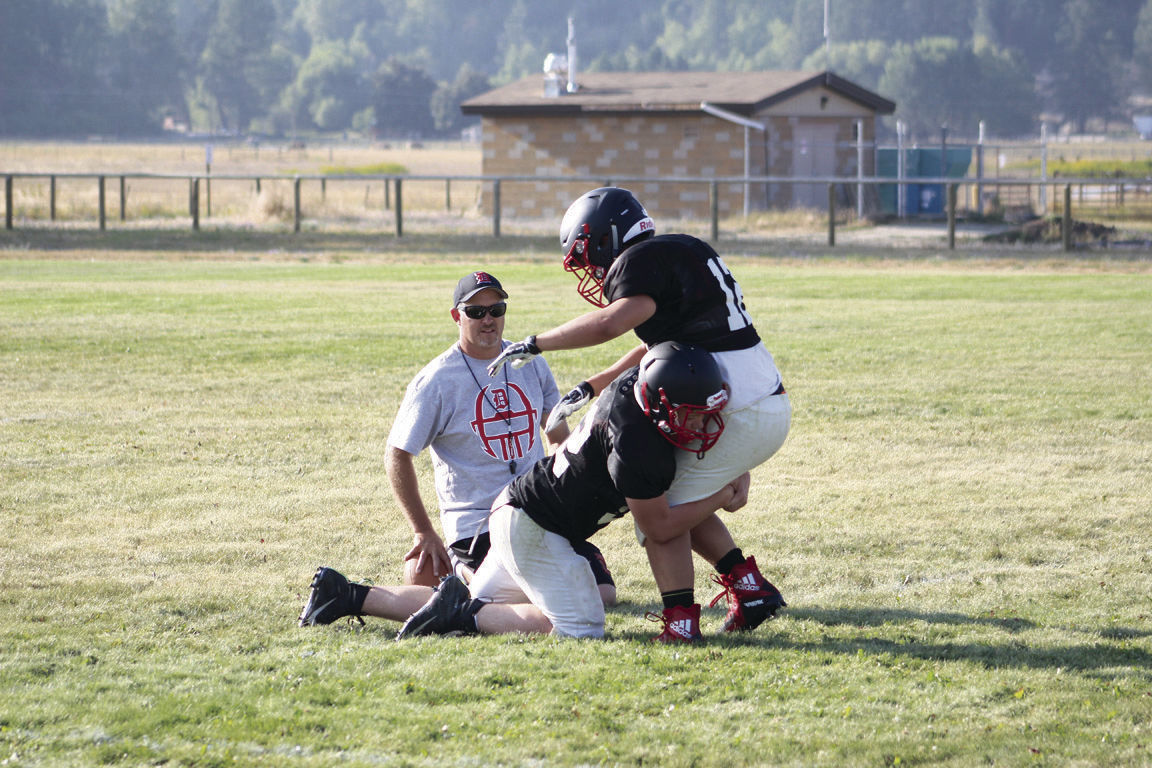 MISSOULA — Jeff Snavely has been suspended without pay for one year as head coach of the Darby football team.
The announcement was made in a press release on Tuesday afternoon. Snavely has served as coach the past seven seasons.
Snavely made a social media post on May 31 that allegedly suggested Black Lives Matter protesters in Salt Lake City should be hanged. Replying to an initial Facebook post in support of law enforcement, he wrote, "they should all be strung up and hang in the public like the old days. Lot less of that sh*t would go on."
The post has since been deleted.
"I'm deeply regretful that I posted that," Snavely said during Thursday's school board meeting, which was held via Zoom. "It could have been worded differently and none of this would have been an issue. That is my problem to bear.
"... I take full responsibility for my poor judgement posting a comment that resulted in criticism and embarrassment."
Snavely may not attend any practices or Darby football camps in 2020. If the 2020 football season is suspended due to the COVID-19 pandemic, the suspension will carry over to the next season.
Snavely will be required to attend and complete board-approved, one-on-one training or counseling on social/racial injustice at his own expense. He will also be required to attend and help organize at least four community conversations set up by the board chair and vice chair to improve the culture and climate in the community and Darby Public Schools.
One year suspension for Darby football HC Jeff Snavely

From the release: "We believe he has responsibility to this community to douse those sparks and make things right. Firing the coach would not have allowed us to make these demands of him." pic.twitter.com/YTP1SXqGwn

— Jordan Hansen (@jordyhansen) June 30, 2020
The school board offered the following statement in a press release:
"Coach Snavely's comments on social media were unacceptable. No effort to try to explain them or to put them in context erases the fact that he chose those words and made the conscious decision to share them with the world.
"Those words do not represent this school, this board, our teachers and staff, or the community of Darby as a whole. They have caused tremendous grief, pain and divisiveness in our community that will likely take a great deal of time to heal. But we must heal.
Although there were many people from our community and elsewhere calling for the termination of Mr. Snavely's employment, as a board, we chose a different disciplinary path and a proactive plan of corrective action that we hope will spark a change in the mindset, culture and climate of our school and our community."
Darby School Board member Christina Harrell chaired Thursday's two-hour open meeting. More than a dozen people, including five from Billings, voiced their concerns. Many are or were educators and almost all were in agreement that Snavely should be fired.
Harrell expressed disappointment that termination was not discussed more thoroughly at the meeting. But she also said Snavely's apology at the start of the meeting "really meant a lot to me."
"I've had quite a few nights when I haven't slept," she said.
"It's so much bigger than you and Darby school," she added, directing her comment toward Snavely. "It's bigger than the Darby community. I see comments about you. Comments about me. Comments about our community."
Snavely said Thursday he will learn from the experience.
"I believe I'm a good role model for these kids," he offered. "… It makes you a humble person when something like this happens to you."
Snavely said he and his family have dealt with a lot, including harassment and a death threat, since his social media post on May 31 was brought to the attention of the general public by media outlets. He insists he is not racist.
"I am truly sorry for my words," he said. "I can see how they can be construed into racism. I truly am not racist. I've played football in this valley with other races. I am sorry for the words I typed. I understand how they could be seen as racist."
Snavely is a seasonal employee with the Darby School District. He only holds the football coaching position and is not otherwise employed by the school.
A father-son duo from the Blackfeet Reservation called for a Darby football boycott in a story that appeared Monday night on Missoulian.com and 406mtsports.com.
Brandon Berthelson, an elementary school teacher and former high school wrestler who lives in East Glacier Park, and his son Noah, the valedictorian of the 2020 graduating class at Browning High School, launched the campaign.
The Berthelson father and son team emailed a letter to the principal of Darby High School and to the principal of each of the eight schools on Darby's football schedule for this coming season. The letter describes who they are, the aim of the proposed boycott and reasons they believe the boycott is justified.
" … (Our) educational institutions are places where children prepare to enter their adult lives productive and fulfilled, not filled with fear and misinformation about the role of protests to a functioning democracy," reads part of the document proposing the boycott.
"We hope that one result of the boycott will be canceled games," Noah told the Missoulian in a phone interview. "If schools refuse to compete against Darby, the legitimacy of their football program will come into question every week until the school takes the appropriate action and fires Jeff Snavely permanently."
The Darby School Board also announced Tuesday that it is requiring Snavely to prepare and distribute a public apology to the community as well as via social and traditional media outlets. A letter of reprimand will be placed in his employment file.
Frank Gogola and Jordan Hansen contributed to this story. 
Bill Speltz is Missoulian Sports Editor and has served as Sunday columnist the past 14 years. Do you have a story idea? Email Bill at bill.speltz@missoulian.com.