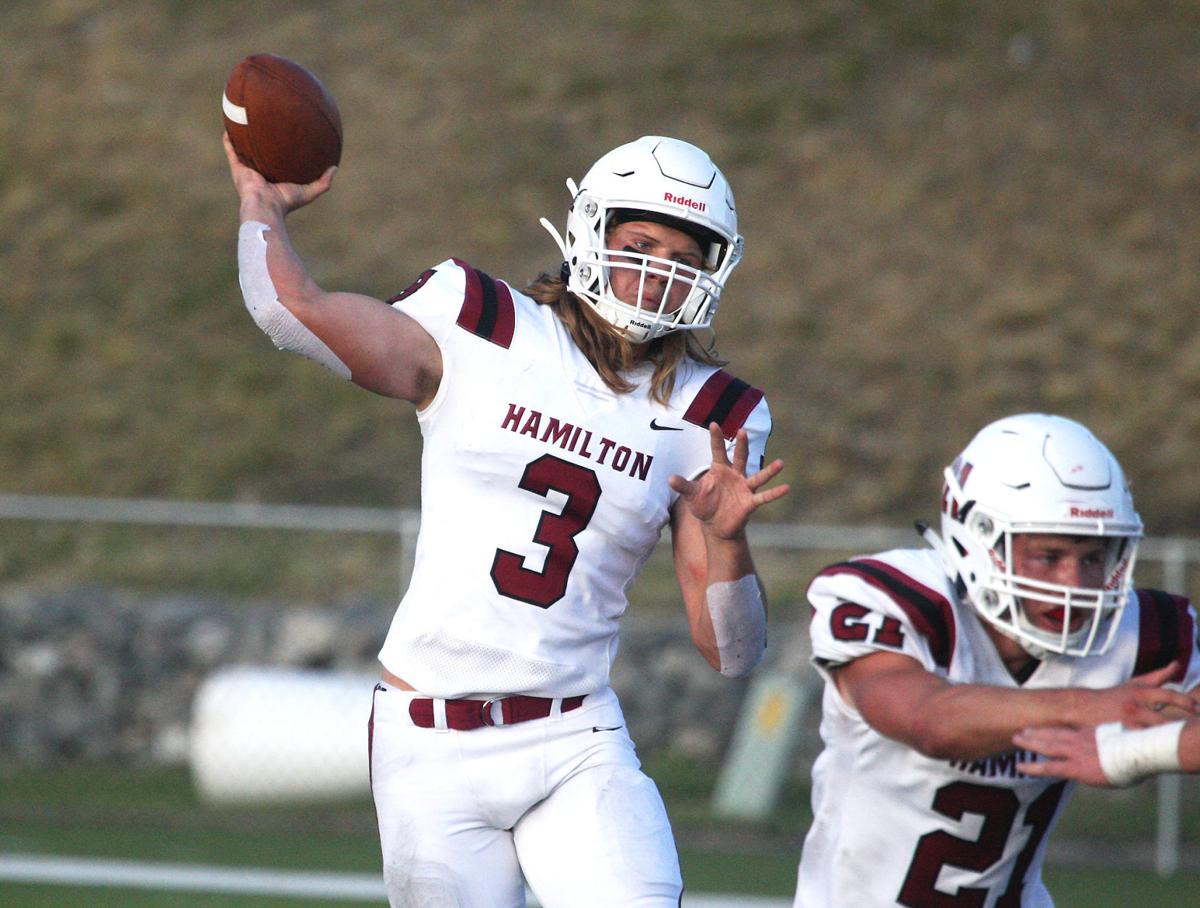 MISSOULA — With Carson Rostad, the stats truly do speak for themselves.
The Hamilton quarterback put up eye-popping numbers with the Broncs, helping lead to an offer with the Montana football team. A four-year starter, Rostad racked up 8,078 passing yards and 116 touchdowns through the air in the last three years.
In that same time span, he also rushed 271 times for 1,788 yards, adding on 29 touchdowns. Nearly 10,000 offensive yards and 145 total touchdowns over his final three years is simply incredible, especially playing high-level teams throughout the Class A ranks.
"He's a once in a long time athlete. Not just with his athleticism, but his mind and his brain and how smart he is," Hamilton coach Bryce Carver said. "I'm gonna miss his leadership. Obviously he did really good things athletically but the way he was able to lead, starting as a freshman, all the way for four years to be a senior, it was impressive.
"He was just a good leader, good to his teammates and is an all around good kid."
It was not just empty stats either. The Broncs won with Rostad under center and they won a lot. 
Over the past four years the Hamilton football team has gone 38-10 with trips to Class A playoffs each of those seasons. Rostad's freshman year, the Broncs made it to the state quarterfinals, before falling in a tight game to Belgrade.
The next two years were even better for Rostad and his team, as they made the state championship in both 2017 and 2018. A heartbreaking loss to eventual state champion Miles City in the 2019 state semifinals ended Rostad's prep career.
It eats at him just a little bit.
"I've always been competitive even just like playing board games or anything, even yard games." Rostad said. "I just hate losing and want to win at everything I guess."
He says when he was little he would look up strategies for board games and then use those the next time he played with his family. More recently, Rostad and a teammate were at final send-off for the senior class and there was a jar full of coins Hamilton students were supposed to guess the number of.
Putting their heads together, they started looking up strategies to put in a good guess.
The strategizing and analytical thinking carried over to football field. Rostad spent an incredible amount of time looking through football and basketball game film to give himself an edge. 
"Just watched film as much as I can," Rostad said. "Knowing what the other team is gonna do and when they're gonna do it to increase our chances to win."
At Montana, he should fit in just fine with the Grizzly football program. Carver is a former Montana wide receiver, while Rostad's cousin, Jordan Tripp, was a star for Grizzlies as well.
Rostad is the first player from Hamilton to join the UM football program since Ryan Wells from 2002-06.
"I've been watching Griz games as long as I can remember," Rostad said. "My cousin played for them and just talking with him about how cool it was. So it's always been a dream of mine."
For his efforts in 2018, Rostad was named the Montana Gatorade Player of the Year for football. He was the first non-Class AA player to win the award since 2007 and the first non-senior to win it since 2014.
Rostad says he plays to major in biology at Montana and wants to get into the medical field.
"He's a competitor and wants to win," Carver said. "He's all around great kid and is going to be truly be missed by me and the town of Hamilton."
Get in the game with our Prep Sports Newsletter
Sent weekly directly to your inbox!