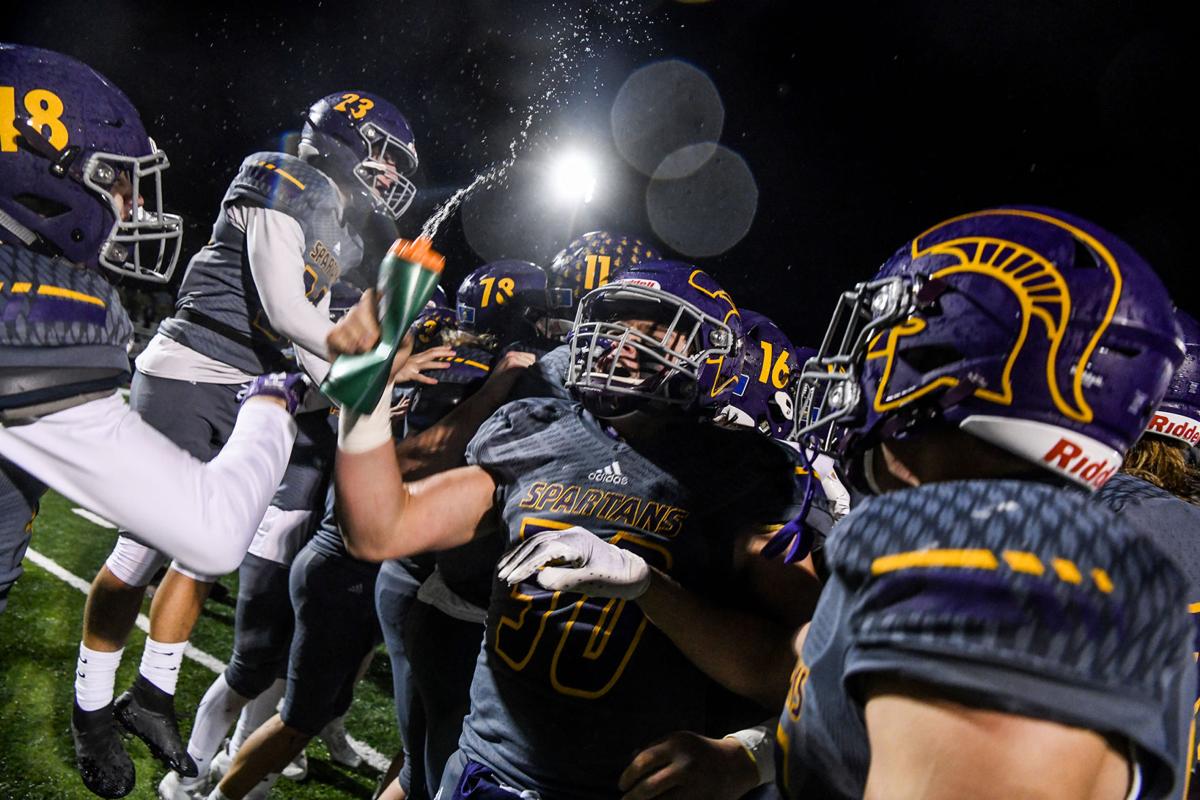 MISSOULA — This year's Missoula Sentinel football team is already one of the most successful in program history, according to the numbers, but the Spartans will have to win the state championship this weekend to go down in both the history books and fans' hearts and minds.
The Spartans will look to complete the first undefeated season in the school's 57-year history of playing football when they try to win their first State AA title since 1972 against Billings West at 7 p.m. Friday in Billings. It's their first trip to the title game since 1984 and the first by any AA school from Missoula since 1994.
This is Sentinel's fifth appearance in the state championship game since the school began playing football in 1964, when Missoula County split into Sentinel and Hellgate. The Spartans have won one outright title, shared a title because of a tie in the championship game and lost twice.
The Spartans' most recent appearance came in 1984, when they suffered a 7-6 loss to Great Falls CMR after winning a semifinal game over Helena Capital and quarterback Paul Petrino. They had a chance to win in the waning seconds, but Eduardo Allegre, an exchange student from Mexico, missed a 34-yard field goal with 15 seconds to play.
In 1973, Sentinel lost to Great Falls High, 37-0. The Bison ran for 414 yards, including 173 by quarterback Mike Roban. The Spartans — coached by Gene Leonard, the grandfather of current Sentinel senior Geno Leonard — won the Western AA title to get an automatic berth into the title game.
The Spartans beat Great Falls in 1972 for their only outright title, 29-16. Sentinel's Bryan Flaig, who went on to MSU, caught three touchdowns from Tim Kerr, who went on to UM. They gave up 41 rushing yards to Great Falls, which was missing the future Grizzly Roban with an injury and was led by future Griz coach Gene Carlson, whose staff included Mick Delaney, another future Griz coach. The Spartans got the title shot because Butte upset Great Falls in the regular-season finale, resulting in both teams ending 8-1 in conference play. There was only a title game if two teams were tied atop the regular-season AA standings.
Sentinel's first appearance in a title game came in 1966, also against Great Falls High. The teams played to a 7-7 tie and, with no overtime rules, they were co-champions. Randy Hahn had an 85-yard touchdown run for Great Falls. Sentinel, led by first-year coach Howard Johnson and quarterback Ken Staninger, scored on a 3-yard run by Phil Tawney. Great Falls was coached by Sonny Holland, who went on to coach Montana State, taking over that year for Carlson, who was on a one-year leave furthering his education at Air Force Command.
Before Missoula County was split into Sentinel and Hellgate, Missoula captured 10 state titles since football began in 1900. Still known as the Spartans, they went 9-5 in 14 title appearances and got another crown by winning the title with their regular-season record. Their 10th title came in 1963, the final year as Missoula County, when they finished 9-0-1 under coach Joe Roberts with a 21-0 win over Kalispell to avenge the tie. It was Missoula's seventh shutout of the year, and the Spartans ended the year with zero points allowed at home.
Rebounding from hard times
Before making the semifinals three times in the past four years, Sentinel fell on hard times after its last title appearance in 1984. The Spartans made the playoffs nine times between 1964-84 but made it just one time in the next 24 seasons and twice in 28 seasons through 2012.
During that stretch, Sentinel had an 11-game losing streak between 1988-89. The Spartans lost 54 of 55 games between late 1992 and early 1999, dropping 24 straight between 1992-95, beating defending champ Big Sky and then losing 30 in a row before opening 1999 with a win. Their longest losing streak was 32 games between 2004-07.
Sentinel's loss in the 1984 title game was its 10th playoff game in school history. They've played in 11 playoff games since then, with the next two coming in 1989 and 2009 and their past nine all coming since 2013.
Those past nine playoff games have come under head coach Dane Oliver, who took over in 2012. The Spartans' 2017 quarterfinal win was their first playoff victory since the 1984 semifinals. They had lost five playoff games in a row before that.
Oliver has made the playoffs five times and gone 5-4. That's the most playoff wins of any coach in the history of Sentinel, which is 7-13-1 in playoff games.
Playoff wins were hard to come by in earlier seasons. Eight playoff qualifiers were allowed starting in 2001. Only four teams qualified between 1977-2000. From 1973-76, the Western AA and Eastern AA champs were sent right to the title game.
Since Sentinel began playing in 1964 through 1972, there was only a title game if the top two teams in the standings finished with identical AA records; otherwise, the regular-season champ was declared state champ because every team played each other.
Off to their best start
At 9-0, Sentinel is tied for the best start in program history, matching the 1981 team that got off to a 9-0 start before losing in the semifinals. A 10th win will tie the Spartans for the most in school history, along with the 2019 team that went 10-2 and the 1972 team that finished 10-1. Five teams in 57 years of Sentinel, including this year's group, have won nine or more games.
In 1981, Sentinel made the four-team playoff featuring the top two teams from both the Western AA and the Eastern AA. The Spartans lost to Eastern AA No. 2 seed Butte, although it had looked like they might host Eastern AA No. 3 Billings West when the MHSA stripped Eastern AA No. 1 Great Falls CMR of seven wins for using ineligible players. CMR took the case to court, delaying the playoffs one week, and the Montana Supreme Court ruled in favor of CMR.
The 1981 team was the first team in Sentinel history to complete an undefeated regular season, going 9-0. No Spartans squad matched that feat until this year's team went 7-0 in a shortened regular season, which didn't include non-conference play because of the pandemic. At the time, the 7-0 start was Sentinel's best since 1983, when that team began 7-0 but lost its eighth game.
Sentinel opened 6-0 in 1972 but lost its seventh game and got off to a 5-0 start in 1979 before dropping its sixth game. The Spartans started 4-0 three times before losing their fifth game, began 3-0 four times before dropping their fourth game and got off to four 2-0 starts before losing their third game.
Sentinel started 1-0 nine times but then was beaten in its second game. The Spartans lost their season opener 32 times in 57 seasons.
Running away
Sentinel's points per game, points per game allowed and average point differential are among the best in school history, if not the best, when comparing them to the Spartans' previous eight seasons under Oliver and their eight prior seasons in which they won at least eight games and/or made the championship game.
This year, the Spartans are averaging 47.6 points and giving up an average of 6.0 points for an average differential of plus-41.6 per game through nine games.
Sentinel's 2018 team that went 5-5 and missed the playoffs averaged 36.5 points. The 2019 semifinal team had a differential of plus-16.6 per game in 12 games. The 1981 semifinal team gave up just 8.6 points per game across 10 games.
Frank Gogola covers Griz football and prep sports for the Missoulian. Follow him on Twitter @FrankGogola or email him at frank.gogola@missoulian.com.
Get in the game with our Prep Sports Newsletter
Sent weekly directly to your inbox!