After Friday night, the Class AA football regular season will be closer to the end than the finish and the schedule is starting to reflect that.
There are important divisional matchups on both sides of the state but things really heat up in the Western AA this week as the top four teams in the standings square off in Helena (Capital vs Kalispell Glacier) and Missoula (Helena High vs Missoula Sentinel).
And as we look ahead to every Class AA football game in Week 5, the Western AA showdowns are the starting point.
No. 3 Glacier (3-1, 1-1) at No. 2 Helena Capital (4-0, 2-0) Friday, 7 p.m.
The scoreboard at Vigilante Stadium in Helena could be lighting up like a pinball machine if the first four weeks of the season are any indication as the Bruins and Wolfpack come in averaging a combined 91 points per game.
Glacier suffered its first loss of the season against Missoula Sentinel (38-31) but grabbed a double-digit lead early before faltering to the Spartans. Still, Gage Sliter has been unstoppable this season passing for 321 yards per game to go along with 16 touchdowns and five interceptions.
The Wolfpack average more than 470 yards of total offense, however, Capital isn't far behind at 447. The Bruins are also more balanced, averaging more than 200 yards on the ground and through the air.
"This is going to be a huge test," Capital head coach Kyle Mihelish said. "Glacier is a really good football team. (Gage) Sliter throws the ball really well and they are definitely going to test us on the outside. The pass rush is going to be huge and trying to get pressure but our offense has also been able to score a lot of points and keeping them (Glacier) off the field will be important. We have stalled a few times, but we have moved the ball pretty consistently."
For much of the season, Capital has rotated quarterbacks but due to an injury to Hudsen Grovom, Joey Michelotti will handle the quarterback duties for the Bruins and so far, he's been up to the task averaging 129 yards per game. He's also got five touchdowns and just one interception. The senior has plenty of talented targets in the passing game and those include Tom Carter, Nick Michelotti (9 receptions, 239 yards), who was just offered by Montana State, Tyler Kovick and Grizzly commit Hayden Opitz. All four have at least seven receptions for 159 yards. 
"It's exciting," Kovick said of the Glacier game. "We haven't played a home in a while, so that's going to be nice. Tired of traveling on a bus."
In terms of defeating the Wolfpack, Kovick agreed with his head coach.
"I think we need to try and keep our offense on the field as much as possible," The two-way standout said. "If we can keep their offense off the field, we'll be in good shape."
Capital which hasn't allowed more than 21 points to any team this season, boasts a running game that features Dylan Graham and Carter, as well as a defense that has a total of 20 sacks -- eight of them coming from MSU commit Talon Marsh.
While everyone realizes it's an important game that could have a huge bearing on playoff seeding and the final Western AA standings, Mihelish said the focus is still one-game-at-a-time.
"We are trying not to get caught up in all of that stuff," he said. "We have talked to the kids about what it means to be a football player at Capital High and all the success this program has had. That's not a burden, that's something to embrace. But this game, it's just as important as all the rest." 
Helena High (3-1, 2-0) at No. 1 Missoula Sentinel (4-0, 2-0) Friday, 7 p.m.
The Spartans (34 points per game) might not be putting up gaudy numbers offensively, but they keep winning (25 in a row) each and every week in large part due to their defense, which has allowed just 59 points in four games despite facing Billings West, Bozeman, and Glacier in three of their four games. This week, Sentinel will host Helena High in a battle of 2-0 teams in the Western AA (Capital is the other). 
"It's a big game," Helena High head coach Dane Broadhead said. "But with our mentality, that's because it's the one on our schedule on Friday night. It will be a really good test though and a chance to see where we're at against one of the best teams in the state. The Class of AA football and it's always fun to play the best." 
Sentinel Running back Adam Jones is averaging 88 yards per game and the Montana State pledge has rushed for over 100 yards in back-to-back weeks. He was at his best in the win over Glacier, carrying the rock 17 times for 163 yards and scoring twice.
"He might be the best in the state with the ball in his hands," Helena High head coach Dane Broadhead said of Jones. "He's tough and they are pretty balanced, but we just have to try and contain him knowing that we aren't going to be able to stop them completely."
Riley Allen has also been solid for Sentinel. He's thrown for over 200 yards in each of the past games with five touchdowns compared to one interception.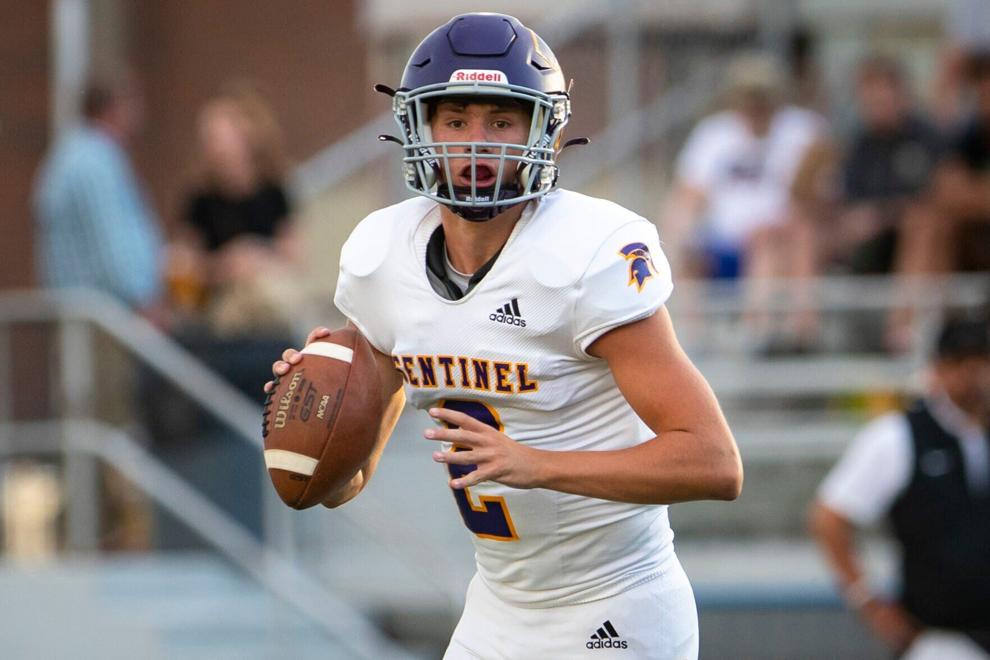 A really good defense and an effective running game can be a deadly combination, but it's one the Bengals will try to counteract with a really good rushing attack of their own led by Cade Holland.
The senior running back (and also linebacker) is averaging 93 yards per game on the ground and has gone over 130 yards from scrimmage in three straight for Helena, which is scoring 32 points per game and giving up 25.
Quarterback Carter Kraft has been responsible for a total of 11 touchdowns (8 passing, 3 rushing) and had five last week in a 42-point outburst.
The junior signal-caller has led Helena to 83 points in two Western AA games, so he's coming into his own but he will be tested this week by the two-time state champions.
No. 4 Great Falls CMR (3-1, 2-0) at Billings Senior (1-3, 1-1) Friday, 7 p.m.
The Broncs dropped a close game last week to Gallatin and it was their third loss by eight points or less this season (all three losses were by a combined 13 points).
Senior has surrendered just over 17 points per game but the defense will have its hands full with Cole Taylor, who has set some CMR records this season, in what's been an incredible start.
The Rustlers rolled past Skyview last week and so far, their only loss has been a 42-35 home defeat to Glacier. Taylor has accounted for 13 total touchdowns and averages 360 yards of total offense per game (tops in the state) with 307 through the air and 53 more on the ground.
Taylor is one reason why the Rustlers are tied for first in the Eastern AA with Billings West and Bozeman, and also why they are scoring 50 points per game. Yet, running back AJ Lafurge has also been highly productive on offense (107 rushing yards per game) and defense where he has an interception and five pass breakups.
CMR has surpassed 60 points in each of the past two weeks, while Senior is scoring just 22 points per game. Peyton Oakley has been a weapon at quarterback for the Broncs with an average of 220 total yards per game. BB Bergen is a two-way player to watch and Maclain Burckley is also the Broncs' leader in receiving yards and touchdowns.
Bozeman Gallatin (3-1, 1-1) at Great Falls High (2-2, 0-2) Friday 7 p.m.
The Bison had the misfortune of playing Billings West and Bozeman on the road in consecutive weeks and after scoring a combined 14 points in those games, the Bison are now 0-2 in the Eastern AA and in need of a win.
Gallatin escaped last week with a four-point win over Senior and that sets up a key matchup with the Bison as both teams are looking to improve their position within the conference.
Ashton Platt and Reed Harris have formed a dynamic combination at quarterback and wide receiver, while Rafe Longin has been one of the most productive three-way players in the state, running the ball well, returning kicks for touchdowns, and playing defense.
QB Garrett Dahlke heads a Gallatin attack that is scoring 28 points per game. His top target is Quinn Clark who is among Class AA's most dynamic wideouts and is averaging 104 yards per game. Bryce Mikkelsen is the top back for the Raptors and averages 68 yards per game. However, the real key for head coach Hunter Chandler's team this season has been a defense that's allowed just eight points per game and held all four opponents under 16.
No. 5 Billings West (2-2, 0-2) at Belgrade (0-4, 0-2), Friday, 7 p.m.
Don't look now but Billings West is starting to look like Billings West and after two games, the Golden Bears are sitting atop the Eastern AA standings with CMR and Bozeman.
They've done it with defense and the running of Daniel Teerink, who has a combined 36 carries for 168 yards over the past two weeks. The defense has been the real headliner for the Bears though as they have allowed just 14 points in two conference games after surrendering 63 to Capital and Sentinel in non-conference play.
West has been stout against the run but a playmaker has emerged on the backend of the defense too as Drew Humprhey has hauled in three interceptions over the past two weeks, including two against Great Falls High in addition to forcing three fumbles in those two games.
Missoula Big Sky (1-3, 0-2) at Butte High (2-2, 1-1)
Scoring points hasn't been an issue for the Bulldogs and so far in conference play, Butte has averaged 37.5 per game. Last week, the defense got on track with a shutout against Flathead while QB Jace Stenson continued his stellar season with 278 total yards (60 on the ground) and two touchdowns.
Stenson is averaging 265 passing yards per game and also leads Butte on the ground with an average of 59. The Bulldogs just need to find some consistency on defense and in both losses this season to Helena and Great Falls High they surrendered 41 points. Containing Big Sky QB quarterback Drew Martins and tailback Joey Sandberg will be key to that.
Billings Skyview (0-4, 0-4) at Bozeman (2-2, 2-0) Friday, 7 p.m.
Just like Billings West, Bozeman stumbled out of the gates due to a difficult non-conference schedule but is now rounding into form. The offense scored 49 points in a win last week over Belgrade and it was a stellar showing for QB Jake Casagranda as he tossed three touchdowns. He also threw for 209 yards and had zero interceptions.
Brady Casagranda totaled 83 yards on the ground and scored twice and outside of allowing a 70-yard touchdown run to Belgrade's Tre Randle, the Hawks didn't have much to complain about and facing 0-4 Skyview, a team that has scored just 14 points total this season, is another opportunity to build on that momentum.
Missoula Hellgate (1-3, 0-2) at Kalispell Flathead (1-3, 0-2) Friday, 7 p.m.
The Knights will be on the road for the second straight week and against Helena last Thursday, they held a 15-7 lead in the first half in search of their first Western AA win. Helena rallied in the second half and the Knights couldn't keep up but they will look for their second win on Friday night against Flathead, a team also searching for win No. 2.
Since beating Skyview 27-0 in Week 1, the Braves have only managed two touchdowns, both against Helena Capital in Week 3. Flathead has been shut out twice in the last three weeks.
Comparatively, if you take away Hellgate's shutout loss to Sentinel, the Knights have averaged 23 points a game behind dual-threat QB Conner Dick, who is averaging 266 yards of total offense per game.