MISSOULA — Count Jaden Dennis among those in favor of Montana's newest high school golf rule allowing spectators on the course.
With his grandfather following his foursome Monday at Larchmont, the Missoula Sentinel junior fired a 2-under score of 35-37-70 on the first day of the MCPS Invitational. Dennis will take a two-shot lead into Tuesday's final round at Canyon River in East Missoula.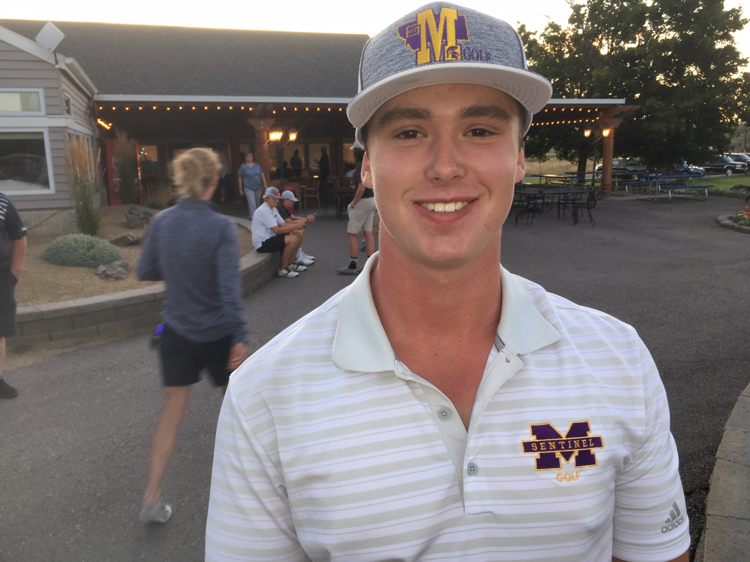 "I kind of like it when people watch and you hit a good shot and you just sort of feed off the crowd," said Dennis, whose team totaled 313 and will take a two-shot lead over second-place Helena Capital into the final round.
"I'm really happy my family is able to come out and just see. I'd explain to them about my rounds but they were never able to watch."
Dennis admits he was nervous when the Montana High School Association announced it would allow spectators on the course for the State AA meet last season. But like a lot of golfers, he ended up liking the experimental move that paved the way for all meets to be opened up to fans this season.
"It's good," Sentinel coach Craig Matosich said of the rule change. "I mean, you go to every other athletic event in high school and the parents get to watch their kids.
"It's a good thing and we haven't had a problem yet. I'm sure it's just like any other sport. We'll run into a problem at some point. But there were 15-20 fans at state with every group last year and it really added a lot to the event."
Dennis' dedication to golf goes way beyond playing a lot in the summer. He lifts weights regularly, just like his favorite PGA pro, Brooks Koepka. He also enjoys competing in the men's league at Canyon River.
You have free articles remaining.
Still, Monday's performance was a little unexpected.
"I was practicing (Sunday) and I didn't have that great of a range session. Then today not that great of a warmup," he said. "But then I came out and was playing with some really fun guys, so we just had a good time out there.
"Honestly I used to have a lot of anxiety and (playing) anger and I needed a way to channel that. It turned out that lifting weights was a really healthy way."
Butte's Kaven Noctor sits in second place individually with a score of 72. Hamilton's Bryce Reed is in third after a first-round 74.
Joining Dennis on the list of contributors for the Spartans on Monday were Andrew Hauser with a career-low 79, Joe Optiz with an 81 and Zach Hangas at 83. Hamilton is in third, with Reed's 74 followed by Tristan Hanson's 76, Max Cianflone's 83 and Tanner Hanson's 87.
On the girls' side, Kalispell Flathead's Marcella Mercer will take a three-shot lead into the final round after carding 80 at Larchmont. Macee Greenwood of Corvallis and Kodie Hoaglund of Butte are tied for second at 83.
Butte is running away with the team competition after a first-round 347. Helena is second at 377 and Corvallis third at 383.
Tuesday's final round will start at 8:30 a.m.