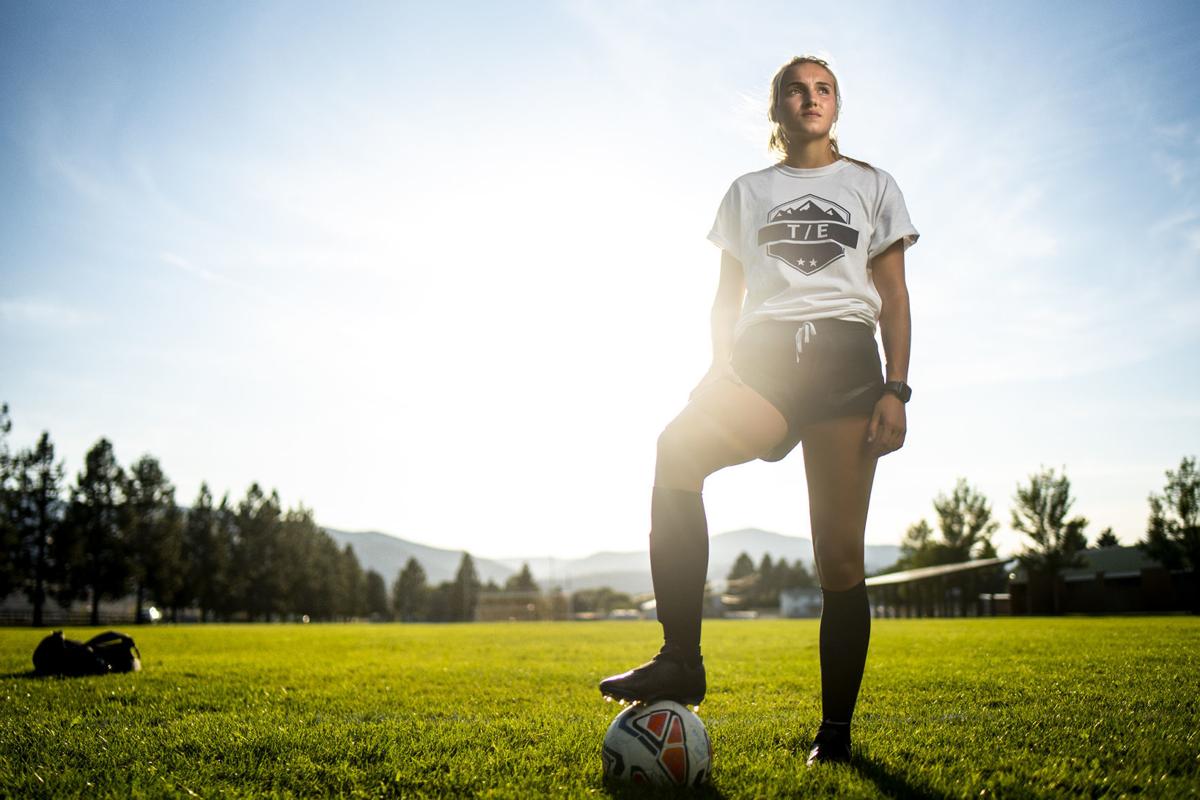 MISSOULA — Missoula Big Sky girls soccer coach Courtney Shields believes Whitney Morrison could've played NCAA Division I soccer in college if that's what she wanted to do.
Morrison instead decided she'll use her versatility and athleticism for track and field, earning a rare full-ride scholarship from Montana to stay home and compete in the Big Sky Conference.
Morrison's high-level play as a high school All-American in multiple sports is a rare blend, and it helped her earn recognition from the Missoulian as the overall area girls athlete of the year.
"She's one of those athletes that gives it her all every time and has a never-quit attitude," Shields said. "But her athleticism and her perseverance, that's what make her fairly unstoppable in whatever she does. She's just very tenacious."
Morrison's exploits on the track led to seven total podium finishes in five different events at her three state meets, where she earned all-state status each time. She holds the Big Sky girls records in the triple jump and javelin, was going to be in contention for multiple state titles this spring and was on pace to be Big Sky's all-time leading track scorer before the coronavirus hit.
Morrison earned All-American status on the track when she finished second in the javelin for the girls 17-18 age range at the USA Track & Field National Junior Olympic Championships in July. She was also named the USATF Montana Track & Field Athlete of the Year for the girls 17-18 group.
"She has a real nice combination of strength and speed," Big Sky track and field coach Dan Nile said. "She just is a smooth athlete. You can tell watching her that her athletic ability is bar none. You combine that with how she's incredibly coachable and how she has an incredible work ethic, it makes for quite the combination. She's a rare, rare kid that you don't get very often."
Morrison was also an all-state soccer player. But forget just being all-state; she was one of 75 All-Americans her junior season, when she helped Big Sky finish as the State AA runner-up.
That came one year after Morrison helped lead the Eagles to a fifth-place finish at state, their first placing since at least 2002. She led the team in total points and goals all four seasons and was second in assists twice and led in assists this past fall, when she provided even more leadership as a senior captain.
"She's one of those leaders that she's more of, 'I'll show you how to do it,' instead of, 'I'll tell you how to do it,'" Shields said. "She just showed the team her junior and senior seasons what it means to leave it all out on the field and sacrifice for each other. She'll definitely be missed."
Morrison's accomplishments aren't just contained to the athletic field. She earned a 4.0 GPA, volunteered with the Big Sky Special Olympics Soccer Camp and was involved in Student Government at Big Sky.
Morrison leaves quite the impression on Nile as she moves to compete in the heptathlon and pentathlon for the Griz. She was also wanted by Utah State, Montana State and the Air Force Academy, not much of a surprise for her coach who's excited to watch her try to dominate on the track across town in the coming years.
"One of the things we take pride in at Big Sky is being a leader and ambassador, and she's definitely the top of the line in that," Nile said. "Combine that with her athletic success, and there's not a better kid in the state overall. She's pretty deserving of everything she gets."
Get in the game with our Prep Sports Newsletter
Sent weekly directly to your inbox!