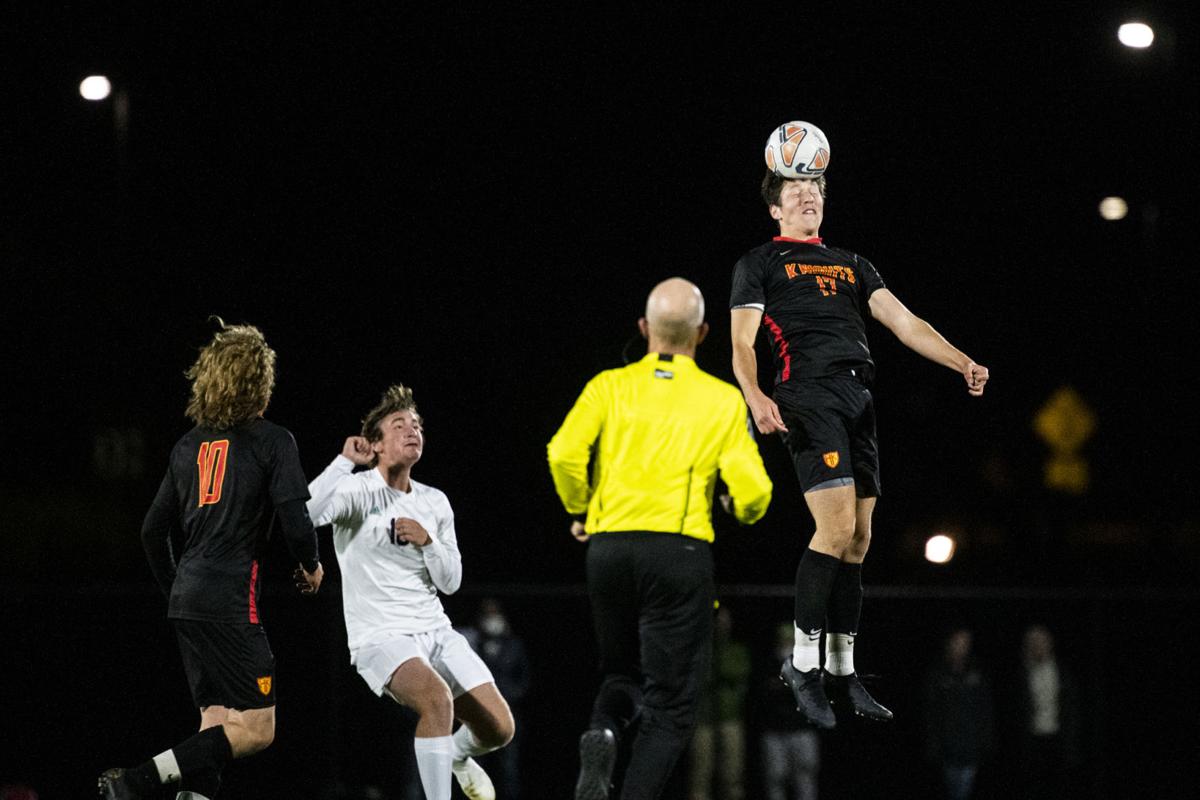 MISSOULA — On the soccer pitch, Missoula Hellgate's Beckett Arthur was a key piece in keeping a dynasty rolling and, on the hardwood, Arthur was a do-it-all, two-way guard, taking home the Western AA defensive MVP and first-team all-state honors.
Arthur meshed the two sports, using his stellar soccer skills, which netted him a spot at Whitworth University, to help another consistent Hellgate winner continue its storied success.
The senior led the Knights soccer team in scoring with 58 points on 20 goals and 18 assists, dishing out almost as many goals as the team captain scored himself. His 18 assists was the second most in the Class AA and was a big reason he is playing at the next level.
He eventually earned the Western AA boys soccer player of the year award along with three AA state soccer titles — getting the Knights to their fifth title in six years, continuing a run of dominance for the program over the AA. Arthur himself went 3-1 in state title games, losing only in his sophomore season.
To make it all sweeter for the departing senior, Arthur netted a PK goal and an assist in the title winning match to cap off his career in the brightest spot roughly half a year after his hopes for a basketball state title were snatched away due to the COVID-19 pandemic-forced cancellations.
As for his relationship between the pitch and the hardwood, Arthur takes what he learned playing midfield to guard, seeing the floor the same way he sees the pitch to telegraph plays and see things before others do.
He is a smooth player, his high school head coach Jay Anderson said, who is one of those athletes that can excel at any sport he goes at.
"He's just one of those natural athletes," Anderson said. " … He probably could have played either sport in college but I think soccer has been his love since he was little. He's gifted."
Arthur isn't the most vocal of leaders, a role he had to grow into. He is more of a do-by-example leader, letting his play and worth ethic do the talking. But when he needs to, or when the competition ramps up, Arthur will be heard.
"Really he is one of those leaders that does by example," Anderson said. "He can do a lot on the field. When he wants to he is very creative on the offensive end and can score goals, wrack up assists and things like that but also does work off the ball. This year as a senior, he definitely grew as one of those people working hard all the time. It's really important that the other players — either his age or mostly the younger players — see that out of a captain. More than anything he is just a good person."