MISSOULA — Armed with positive energy that served her well as a Montana Grizzly, Plains first-year head softball coach Dani (Walker) Crowe has the Trotters playing with an unsinkable spirit this spring.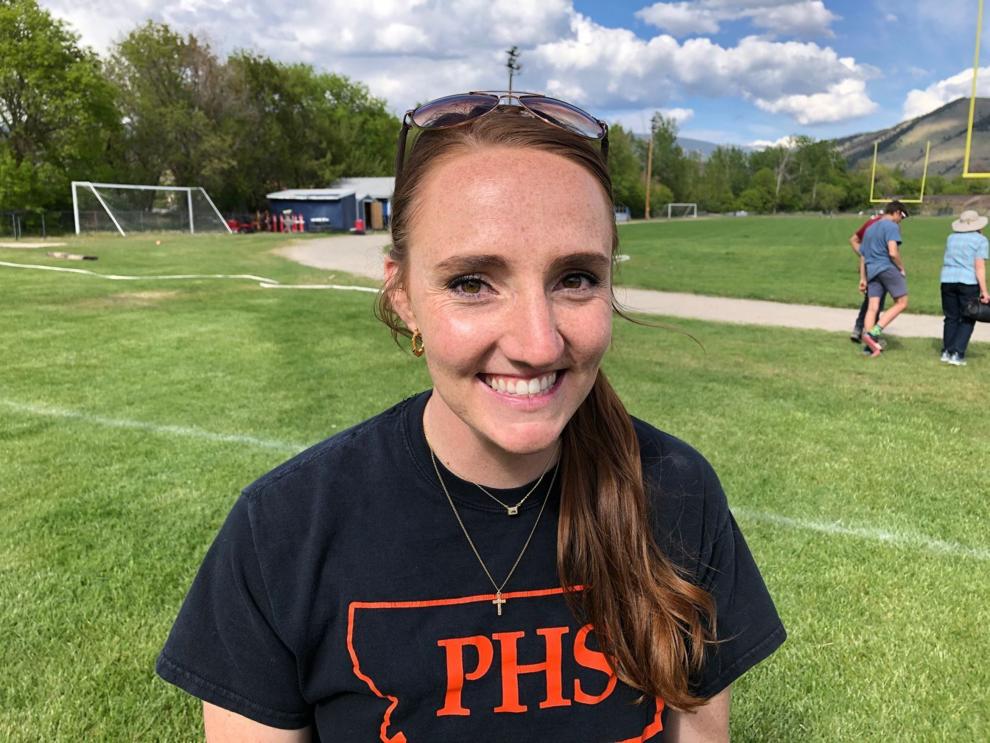 Never was it more evident than in the first game of a doubleheader at Missoula Loyola Friday afternoon. The Breakers had the potential game-winning run on third base with no outs in the bottom of the seventh, but Plains clawed out of the jam and won in eight, 4-3.
Crowe, a Deer Lodge product who played catcher for the Grizzlies, celebrated her team's perseverance in a group huddle afterwards.
"It was kind of our first close game all year and our girls just had so much heart," said the coach, whose team stands at 9-7 after splitting Friday's doubleheader. "They were able to focus in, forget about the runner that was on, and go get the outs that presented themselves."
Crowe, 25, admitted it felt good to get a win in her old stomping grounds against a team she knew well while playing for the Wardens.
"Loyola has been a rival of mine my whole life because I played Class B, Class C softball," she noted.
There's nothing real complicated about Crowe's coaching approach this season. In her words, she simply stays true to herself.
"As a catcher, I was a rah-rah, let's-go kind of person," she said. "Becoming a coach, I brought it with me. It's worked with these girls. They were a clean slate and they had great attitudes and there was a lot of skill there at the beginning. We just had to teach them some aspects of the game."
Friday's first game was played under blazing hot sun on Loyola's diamond. For a while, it looked as if the Trotters may not get a hit off Breakers freshman pitcher Isa Bates, who finished with 13 strikeouts.
But Plains, which managed an unearned run in the second inning but trailed 2-1 after five frames, refused to get discouraged. Then, finally in the sixth inning, Madison Elliott lined a one-out double, moved to third on a wild pitch and scored on a ground out to knot tho score at 2-2.
The Trotters took their first lead in the top of the seventh when Carlie Wagoner singled and scored after her attempt to steal third coaxed a wild throw that enabled her to hustle home.
Loyola answered with a run in the bottom half when Ruth Crosby reached on a bunt single, moved up on an error and scored on an errant throw to third. That sequence left a Breakers runner on third with no outs, but the runner was gunned down at home after an infield grounder, and Loyola had to settle for a 3-3 tie and extra innings.
Kenzie Blood scored what proved to be the winning run in the eighth. She led off with a soft pop fly between the pitching rubber and third base that caused a collision of Loyola defenders, giving Blood a spot at first. She moved up on a stolen base and ground out, and she sprinted home with some heads-up baserunning on a wild pitch.
Loyola started the bottom of the eighth on a positive note when Bates singled to right. But Trotters right fielder Gienna Deschamps made perhaps the smartest defensive play of the game when she tossed the ball to first baseman Kaylah Standeford. The throw was not in time, but Bates turned toward second, ever so slightly, and Standeford tagged her for a critical out.
Two outs later, Loyola threatened after a walk and base hit by Taylor Jansen. But Plains refused to rattle and recorded the final out.
"This whole season we've just been working on getting the extra out, not worrying about if they're on," Crowe said.
Crowe, like her team, said she's growing every day in her new role.
"I've been part of the game my whole life and I've been playing softball my whole life," she offered. "But now instead of just taking care of myself and doing a job behind the plate as a catcher, now it's just like all the roles of a coach and it's been such a learning experience. I've learned a ton." 
Loyola won the second game, 6-5. Sophie Forgey earned the pitching win, striking out four. Bates came on in relief and earned the save.
Senior Molly McHugh had a triple, double and three RBIs for the Breakers. She also had an unassisted double play in the seventh, snaring a line drive and diving to tag a runner off second base.