MISSOULA — Faced with a strong, prevailing wind capable of whipping the hat off your head, Montana's Class AA tennis teams concluded play in the two-day Missoula Invitational Saturday.
If it wasn't the wind making conditions difficult, it was rain that made play impossible. No championship matches were contested due to a late-afternoon downpour, although there were plenty of heated battles in the morning and early afternoon.
The event served as a sneak preview of the state meet, which will be held in three weeks in Great Falls. Three brackets were held in boys and girls singles and four in boys and girls doubles.
The No. 1 brackets featured the state's elite. For those with a vested interest in Missoula tennis, there were promising signs in both singles and doubles.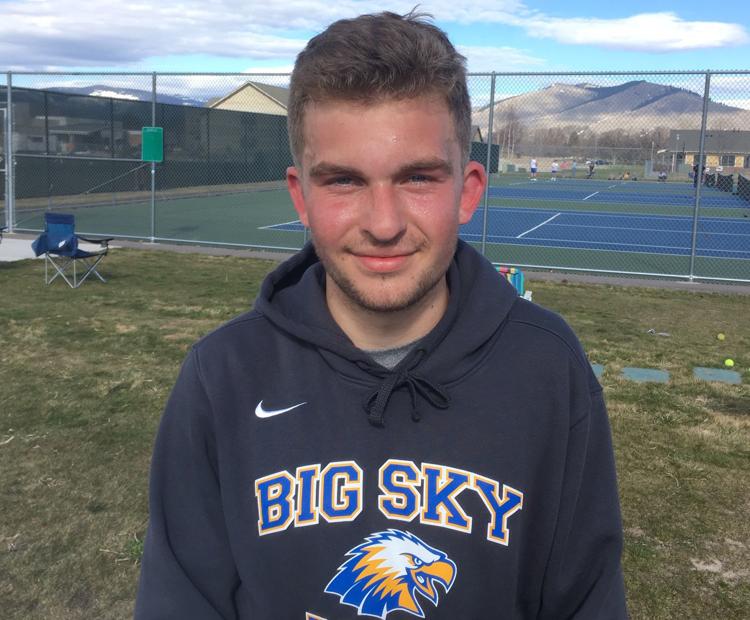 Start with No. 1 boys' singles, where Missoula Big Sky's Liam Johnson remained undefeated by reaching the championship match. The junior finished second in the State AA singles meet last season and he's even better this spring, with more powerful and dependable strokes and more mental toughness.
Johnson seemed to thrive in a wacky crosswind as he dispatched Kalispell Glacier's Rory Smith in the semifinals, 6-2, 6-2.
"Honestly I kind of like playing in the wind," Johnson said. "It's not your usual tennis day. You're going out and hitting the ball on the red and it bounces in the green and it's fun tennis."
The win set up a championship showdown with unbeaten Bozeman freshman Connor Joly. He outlasted Sentinel senior Ethan Violette in an epic semifinal, 6-2, 6-7 (5), 10-6.
Unfortunately, the title match was rained out.
You have free articles remaining.
"I can't wait for that match," said Johnson, who will have to wait until state to make it happen. "I've played him, but that was like three years ago. I want to play him again really bad.
"I think I'm becoming more mature with my game and my mental game. But I feel like I have to work on getting in better shape after this weekend. I threw up on the court playing Ethan (Violette on Thursday)."
Missoula Hellgate boasts an unbeaten No. 1 boys' doubles team in Wyatt Brown and Henry Ledyard. The seniors didn't get a chance to play their Saturday semifinal against Kyle Buckingham and Akhil Patel of Kalispell Glacier, but they did post a victory over Ethan Hawkins and Nolan White of Kalispell Flathead, 6-4, 6-1.
"Wyatt has been a three-time state qualifier, a basketball player that comes out here and works hard and does all the right things and he's playing great," Knights coach Brian Hanford said. "Then Henry Ledyard is like a seven-time state champion with soccer and hockey. His game is getting better every day.
"What I like about their doubles is they get their first serves in, they make their first volleys, they get their returns in and they communicate well together. If they play their game and play up to their potential, they can beat any team in the state."
Wyatt and Ledyard will get a good test on Tuesday when they face Sentinel's Cody Curtis and Connor D'Angelo, who also reached the semifinal round of No. 1 doubles Saturday. Those two teams played early in the season and Wyatt and Ledyard prevailed in three sets.  
Hellgate also had a semifinalist in the No. 1 girls' singles bracket Saturday in Hannah Worden. She was hoping to avenge her only loss of the season to Bozeman's Maicy McCarty when rain halted their warm-up serves.
Hanford was integral in bringing the new, expanded Missoula Invitational to town this weekend. He was pleased with the result.
"This whole weekend, having 29 courts, having all 14 (AA) schools here, it's been tremendous," he said. "The feedback from the coaches, they love the format. Steve Schwartz has done an amazing job with his no-elimination (format). I just wanted to give him an opportunity to let that shine here in this tournament."