MISSION VALLEY — One enticing aspect of Montana's State A tennis meet is the unpredictability — and not just because of the weather.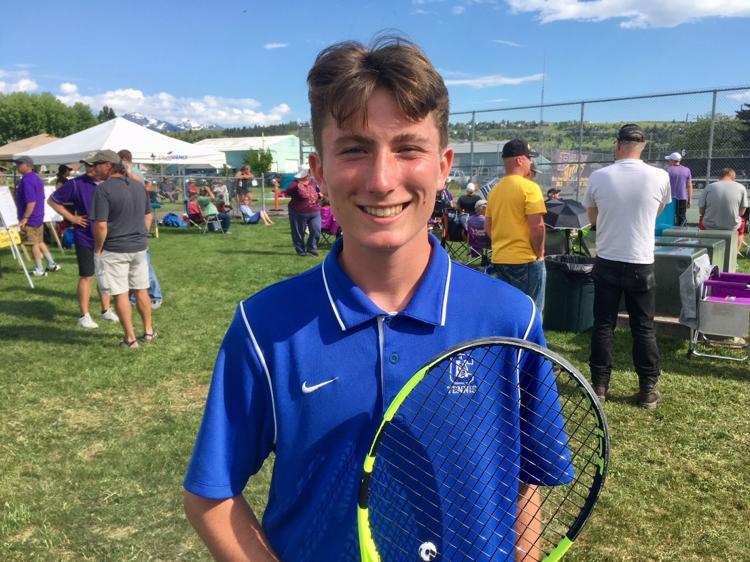 It's unlike softball, where the State A tourney is preceded by an event in Butte that includes every team in the class. It's not like state track where state-qualifying marks can be compared and it's not even like State AA tennis, where players gather for state two weeks after competing against one another in the all-inclusive Helena Invitational.
On the first day of the State A boys' tennis meet in Polson Thursday, there was a most unusual occurrence. All four singles players qualifying out of the Southwest divisional advanced to the quarterfinals.
That includes Marius Godard of Corvallis, a foreign exchange student from France who finished fourth at divisionals. He upset Eastern A divisional champion Gabe Passes of Hardin, 6-4, 6-0, to join fellow Southwest divisional qualifiers Brad Rakich of Dillon, Alex Raymond of Hamilton and Manuel Gonzalez of Butte Central in the second round.
Godard later stunned Eric Holdhusen of Whitefish, 7-6, 6-4, for a surprising semifinal berth. He will play Rakich Friday morning for a spot in the afternoon finals in Polson.
"Before the tournament I was thinking it would be a possibility," Corvallis veteran coach Chris Maul-Smith said of four Southwest divisional singles players making noise in the first round and three reaching the semis, including Gonzalez. "I felt like I saw four very strong No. 1 players all clustered in our division.
"I don't recall a time like this. It always seems to me there's somebody in the state that we look at and say, 'Well, we've got to beat him over here coming out of this division or that division. I just thought, well this state meet is going to be interesting."
Rakich might be the best player in the whole tournament, so Godard will have his work cut out Friday. Three times the two have played this season and three times Rakich has come away with close wins.
"He's playing his game right now and that's what I want him to do," Maul-Smith said of Godard. "The one thing that can happen to any player is they start reflecting what they see on the opposite side of the court.
"Marius has more of a clay court style. It's lots of topspin, working the corners, passing shots ..."
Corvallis and Butte Central are the only boys' teams that will represent in both the singles and doubles semifinals. The Blue Devils' unbeaten duo of  Caleb Warnken and Gabe DeLeo punched their ticket into the final four with a sweep of Hardin's David Evans and Ben Noteboom, 6-2, 6-2. The Maroons' Cameron Johnson and Guido Ossello reached the semis with a 6-3, 5-7, 6-1 win over Mark Anderson and Forrest Kohelt of Whitefish.
"They're playing very confidently from inside, in their hearts," Maul-Smith said of Warnken and DeLeo. "They know they can do this and that's the way they're approaching this. That's huge in doubles."
INTERRUPTED PLAY
Rain interrupted the boys' meet in Polson twice. The girls' meet started late in Ronan because of rain, then headed to Polson in the afternoon after it started raining again. The girls' action was interrupted a third and final time in Polson shortly before 6 p.m.
There will be a back log of matches Friday. That may favor the players in the best physical condition because temperatures are expected to reach 80.
None of the girls' semifinalists were determined Thursday. That means players like Polson junior Shea McGuinness, who is undefeated this spring, will have to win three matches Friday for a state title.
McGuinness is hoping to capitalize on her "home court advantage" in Polson. But just like everyone else, determining when to eat and how much to eat is a challenge when rain delays the tournament and match times are in limbo.
"Tennis is a really mental game, so I think of it as a chess match," said McGuinness who reached the quarters with a 6-1, 6-1, win over Hanna Stokke of Belgrade. "Sometimes switching things up can get you out of that but we've had rain so much this season that you just have to know when to get back in the zone.
"Sometimes nutrition doesn't make a whole lot of difference for some people. But I know it does for me, especially when I'm doing a lot of running. I have to allow time for the food to digest."
Eight different schools are represented in the girls' singles quarterfinals. Livingston has nailed down two spots in the doubles quarterfinals, with the teams of Katherine Kant/Bobbi Lima and Sylvie Schoenen/Kodie Vondra representing the Rangers.
The state finals are slated for Friday afternoon in Polson.