KALISPELL — For athletes accustomed to playing in 55-degree spring weather, the on-court temperature of 80 presented a new challenge Thursday at the State A tennis meet.
No one was using the heat as an excuse. But rest assured, it was a factor for almost every singles player at Flathead Valley Community College.
"For me it's just like a mental thing," said Whitefish senior Brendan Buls, who played one of the most grueling singles match of the day, outlasting Corvallis junior Caleb Warnken in the quarterfinals, 6-3, 4-6, 6-2.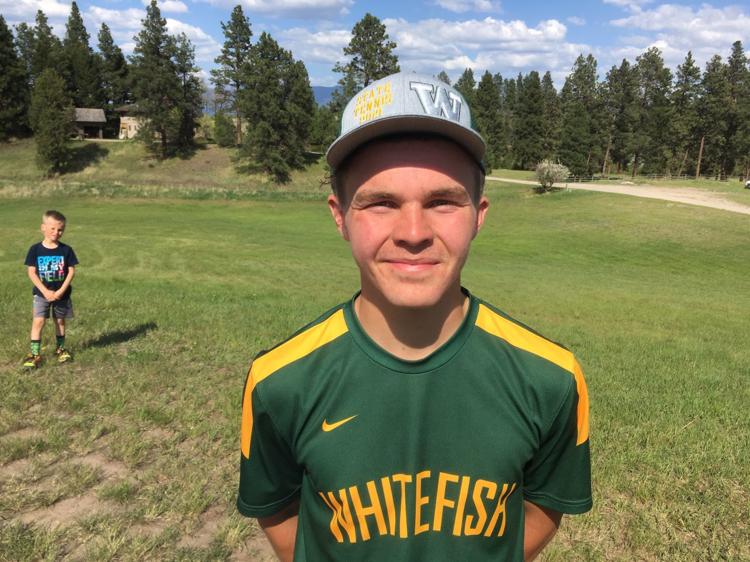 "If I'm going to blame the sun for the way I'm playing, then I'm not being a good tennis player. I've played in all different kinds of scenarios — indoors where there's no AC, outdoors where it's 90 degrees. You learn to adapt to it, then you're a little more careful to get everything you need during those breaks."
Buls is an entertaining player to watch. He wears his heart on his sleeve and pushes himself to the limit, even going so far as to slide into a fence in an effort to retrieve a wide shot.
His mental toughness comes from on-court experiences, both good and bad. He reached the state finals last season only to lose to Dillon's Bradley Rakich. The two are on a collision course again, with a championship showdown inevitable Friday unless Hardin's Famous Lefthand can upset Buls or Glendive's Ethan Carney can knock off Rakich.
Buls has a secret weapon: Supreme conditioning. He works by himself with a ball machine, digging up balls in the corners of the court until he's exhausted.
"You have to be willing to push yourself beyond what you think your body can do," Buls said. "I've been working on that the last month. When you're really tired, you just keep pushing, pushing, with whatever you have left in you."
Buls will be pitted against a physically imposing semifinal foe in Lefthand, who swept Corvallis foreign exchange student Aubrey Potier to reach the semifinals, 6-3, 6-3.
The 6-foot-2 Lefthand plans on playing football for the Bulldogs next season. But for now the junior is focused on the hardcourts, hoping he can improve on his sixth-place finish in doubles last season.
"Doubles is way different compared to singles. You don't have to worry about your partner getting after you or you getting after your partner," Lefthand said. "It's all about you. I just need to keep it in play (Friday) and attack weaknesses and see where it goes."
In doubles, Hardin's Jonathan Noteboom has a new partner this year after reaching the state finals last season with Caleb Mason. On Thursday, Jonathan teamed with sophomore Ben Noteboom to earn a pair of wins and a spot in the semifinals.
You have free articles remaining.
The Notebooms will play Havre's Tommy Brown and Tyrel Kjersem for a spot in the finals. On the other side of the draw, Dillon's Mark Southam and Nathaniel Leonardson will battle Whitefish's Mark Anderson and Colter Upton.
The Bulldogs are looking like a good bet to come away with a first- or second-place team trophy in both boys and girls competition.
In girls' singles, Whitefish sophomore Gracie Smyley is the player to beat with her exceptionally powerful strokes and perfect record. She dropped just five games in two matches Thursday, setting up a semifinal date with Tricia Joyce of Butte Central.
Knowing where Smyley was last spring, it's not surprising she's doing so well. She attended a tennis academy on Sarasota, Florida, working up to four hours a day on her tennis.
Smyley is happy to be back in her home state now.
"It's been really fun, really interesting," she said of her first season in the Treasure State. "There's so many different types of girls that I've played. 
"I really like the people here and I just love the sport."
One thing you notice right away about Smyley is she doesn't look the least bit nervous despite being a sophomore.
"I take it seriously," she offered, "but I try to stay relaxed. I've seen a lot of good girls in Florida and even here, too. So I just know what to expect. I've been around girls that are really good and have gone on to DI colleges."
The winner of the Smyley-Joyce match will earn a finals berth against either defending champion Shea McGuinness of Polson or Bobbi Lima of Livingston. Smyley beat McGuinness in straight sets in divisionals last week.
In doubles, Whitefish's Aubrey Hanks and Olivia Potthoff earned a monster quarterfinal win over the 2018 state runner-up team of Katie Murdock and Makiko Reisig of Hardin, 6-3, 7-5. The Whitefish duo will face upset-minded Ara Mercer and Megan Rost of Polson for a spot in the finals.
On the other side of the doubles bracket, Polson's divisional champion team of Berkley Ellis and Qia Harlan will face Livingston's Kodie Vondra and Sylvie Schoenen. The Ranger duo earned a hard-fought quarterfinal win over Cailei Cummins and Deidra Don't Mix of Hardin, 7-6 (2), 6-2.
The plan is to finish up the meet Friday. However, rain is in the forecast, which means it may extend to Saturday because only four indoor courts are available in Kalispell.