For the first time in five years, the State B-C girls' singles championship belongs to a western Montanan.
Bigfork senior Ellie Berreth secured the title with a 6-2, 6-1 win over Michaela Gunderson of Choteau Saturday at the Great Falls CMR courts. Berreth did not drop a set in five state victories.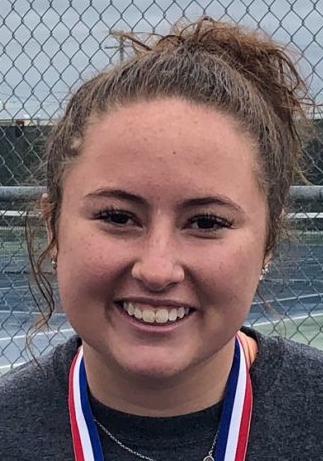 "It's unreal and I still feel like I'm processing it," said Berreth, who dropped just one match all season, that coming against Loyola freshman Grace Daniel. "It's been my goal since I started high school. My uncle has been my coach since I was little. I think about all the hard work and the help from my parents and my uncle."
Berreth's uncle is former longtime Superior tennis coach Rick Berreth, who used to make the drive north to Lakeside/Kalispell to coach Ellie while growing up. Interestingly, Rick also played a significant role the last time a western Montana girl won the B-C singles title — he coached Emma Wooldridge of Superior-Alberton when she mined gold in 2013.
Ellie has been in a mission to take first ever since last May when she took fifth in the State B-C meet in Missoula.
"I feel like this year my mental game has come a long way," she said. "I was putting action on shots when I needed to and playing smarter this year."
Bigfork also took top honors in boys' doubles. The Vikings' Colton and Clayton Reichenbach finished strong in a 6-3, 4-6, 6-1 win over Loyola's David Ramsey and Dan Kaleva. Ramsey made up half of last year's state champion doubles team.
The finalists had already met three times this season. The Vikings won the first one, but the Rams had taken the next two, so when they met for the state championship, they were familiar with what they were up against.
Bigfork managed to recover after a rocky second set.
"Feels good," Clayton said.
"A lot better," Colton echoed.
The juniors, who have played together for three years now, knew that they had to remain calm and not start bickering when the Rams started making shots and took the second set.
And when they scored the game winner, Clayton finally let out some emotion with a "Let's go!" with a fist pump as he grinned at his brother.
It's been a good couple months for Colton and Clayton, who also earned a state championship with the Vikings basketball team this past spring. The brothers also play football.
Choteau won its first ever girls' team title with 26 points. Fairfield was second with 23 points and Loyola third with 19.
Choteau first-year coach Carla May had seven players on the team this season and three made the state tournament.
"We don't have a state champion on our team, but this by far beats everything," said May. "Watching their faces was the highlight of my day."
On the boys' side, the team trophy was much less in question. Great Falls Central earned its first team title in its third year as a program, due in large part to the efforts of first- and second-place singles finishers Nick Scott and Roger Mai. Loyola took second and Bigfork rounded out the podium.
Lindsay Rossmiller contributed to this story