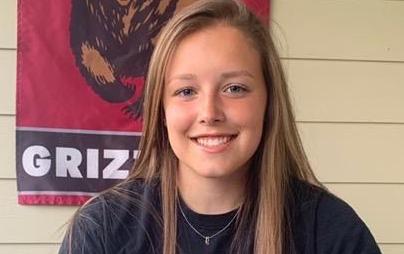 MISSOULA — Missoula Big Sky senior Jadyn Campbell wanted to do a high school sport in addition to gymnastics, so she tried out for track and field as a freshman.
Just over three years later, she's going to be a Division I athlete. Campbell recently signed with her hometown Montana Grizzlies to be a pole vaulter, becoming the third Big Sky senior so far to be joining coach Brian Schweyen's program this coming school year.
"It's kind of mind blowing," she said. "I never thought that I would be a Griz. It's always been a dream to go to UM and be a Griz athlete, but I was a gymnast, so that wasn't an idea because they don't have gymnastics there. But it's always been a dream, so it's kind of crazy."
Campbell is expecting to focus on pole vaulting at Montana, the niche she developed at Big Sky after starting out doing multiple events. This past February, she set a personal-best vault of 10 feet, 3 1/4 inches at the Simplot Games, tying for 13th place. That mark was nearly a foot better than her previous best after she put together a big summer and indoor track season with the Mountain West Track Club.
Campbell was hoping to improve another foot this spring season to get more college looks, but the season had been in doubt since mid-March and was canceled last week. She reached out to Schweyen, was excited to learn he had interest in her joining the team and will be walking on with the opportunity to earn some sort of a scholarship.
"I thought, 'I'm going to regret it if I don't try to reach out and at least I can say I tried,'" Campbell said. "I knew my marks weren't where I wanted them to be. I think he said he saw potential in me and had a spot on the team. We talked on the phone, and he sent me a letter to sign.
"I'm hoping I can prove that I'm a hard worker."
There's no doubt for Big Sky coach Dan Nile that Campbell will bring a relentless drive to the Griz. He's coached her all three years along with pole vault coach Dave Morrison, who had set the Big Sky pole vault record and went on to Idaho State, where he was a standout decathlete.
With Campbell's continued success, Nile expected her to eclipse 11 feet this spring and possibly clear as much as 11 feet, 6 inches. If she did that, it would've placed her as the No. 12 finisher at last spring's Big Sky Conference outdoor championships. But because there's no spring season, college coaches have to estimate what marks athletes could've put up this year when they use their instincts to decide on recruits.
"She's athletic, and they see a large upside," Nile said. "She's a very talented young lady. She's pretty athletic, is a great student, a great kid. She's got the whole package. With a normal improvement, I have no doubt she would've been a state placer."
Campbell will be the first person in her family to play a sport in college. She got her start with gymnastics around 3 or 4 years old because her parents saw she liked doing flips on the ground, she recalled.
Campbell did competitive gymnastics for 10 years, but it was too much balancing track and field as a freshman with about 25 hours per week of gymnastics and an increasing number of honors classes. So, she quit gymnastics in November of her sophomore year to focus on track and field.
"I tried track and field and fell in love with it and enjoyed it and decided that's what I wanted to pursue and try for that in college and thought there's a new opportunity," said Campbell, who also tried soccer for the first time this past fall.
Campbell initially started with the 100 dash, 100 hurdles and triple jump. She finally tried pole vault about halfway through her freshman season at the urging of Morrison, the father of fellow Montana track and field signee Whitney Morrison.
"I always heard that gymnasts were good at pole vault, so I thought I'd give it a try," Campbell said. "We're used to going upside down and landing on mats. It was something normal to me. Coach Morrison, he convinced me to do it because he said he knew I could do it."
Campbell began to focus on pole vault more during the middle of her sophomore season because she was excelling at it more than her other events. She stuck with it, finally got down the technique her junior season and the light bulb went on. She began to take off but still wasn't satisfied with her height, even after finishing tied for ninth at the State AA meet with a vault of 9 feet, 6 inches.
"I was really looking forward to this season," Campbell said. "I think from the end of my junior year until now, I just started to keep clicking. I thought I had this season to improve more. So, I'm happy that I get an opportunity to keep improving with the Griz."
Frank Gogola covers Griz football and prep sports for the Missoulian. Follow him on Twitter @FrankGogola or email him at frank.gogola@missoulian.com.
Get in the game with our Prep Sports Newsletter
Sent weekly directly to your inbox!