POLSON - It's funny how sometimes all roads lead home. Melinda Withrow knows this firsthand.
"I always said that I would never teach high school and I would never coach high school. Never say never," Withrow said with a laugh.
But now two years removed from the 2016 pole vault finals at the Olympic Trials and a career traveling all over the world competing, Withrow says there is no place she'd rather be.
"I love it," Withrow said. "Stand on this track and look at this view. I just feel like I've been all over the world and nothing feels home like Polson. My heart is here and it always has been."
Now as a teacher and co-head coach for the Pirates, the 2003 Polson graduate has brought back her experiences along with a desire to impart what she's learned to the community she loves.
"One of the biggest things I found in my training, especially getting to train with some of the greatest athletes in the world and living with them, is that you see athletes that are brought up just to be athletes and I want to bring young athletes up to be good people. That's my end-all be-all." Withrow said. "And that they believe in themselves outside of just their athletic ability. Be confident in all the gifts that you have and you'll be happier."
Coming Home
When she retired from elite pole vaulting after the 2016 season, she wasn't sure what was next. The three-time Olympic Trials finalist toyed with the idea of coaching in Scotland and was substitute teaching in Missoula while still working with USA Track and Field.
Polson High School had a special-education opening. Withrow was flattered, but didn't think she was qualified. She had an elementary education degree from the University of Idaho, but no high school or special-education experience.
But the Montana Office of Public Instruction has a program to earn the special-education endorsement within three years while working in the position.
"I was like, 'What am I going to do with my life?' to 'OK, I'll take this for the year and then it gives me stability and we can decide,' and it was awesome. I kind of fell in love with it," Withrow said. "I had no idea that I would want to teach special ed."
Little did she know how her competitive career had also prepared her for the emotions of the classroom.
"You have extreme highs and extreme lows and so dealing with that in this facet made it easier," Withrow said, "but still these highs and lows are peoples' lives and that was emotionally really difficult at first."
Withrow just finished her second year teaching and as co-head coach of the track and field team alongside people who first inspired her own interest in the sport.
But she didn't intend to coach at first, either. Though the vacancy was posted for most of her first year, Withrow was happy to just teach. She was concerned about the extensive time commitments learning a new job, schoolwork, pursuing certification and coaching would require.
As the season approached and no coach had been hired, she found herself saying yes to requests for help. Eventually, Withrow and Kris Sampson proposed being co-head coaches.
Saying Yes
Because of her passions, Withrow has found herself saying yes to multiple opportunities in the community.
Just this year, she began an after-school track and field program for elementary students. As some 45 kids ran around the track in variations of neon-colored gym apparel, members of the high school team taught them variations of the events.
Its genesis came because she knows all athletes learn when they coach. She also thinks teaching community service is important.
And because of her own injuries, she's passionate about developing all-round athletes.
"You see all these high school athletes with injury after injury and they're not strong enough where they need to be and if you can well-round that athleticism, then they get to enjoy the sports they're in," Withrow said. "And it's fun to be good."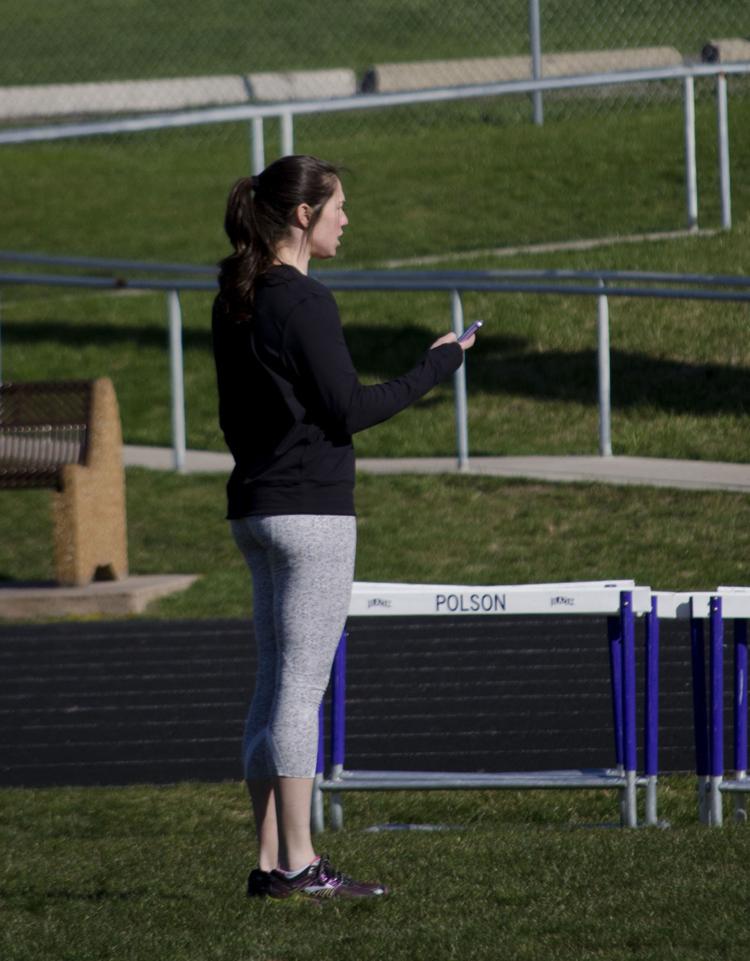 Withrow says coaches in her life were willing to open a gym, spend extra time and support her passions, so she wants to do that for others. Upon request, she began a strength and conditioning program last winter that is being expanded this summer to all of the Pirate teams. 
"We need good athletes to go out for multiple things. And then we don't want them to be just in the football sense or just be strong in basketball," she said. "So I'm really excited about that. I have my Olympic weightlifting certification as well so I love teaching cleans and I had a group of athletes that kind of piloted it this winter."
Withrow attributes much of her success to being a three-sport athlete in high school. She's so enthusiastic about it that when the volleyball team asked her in 2016 to help prepare for state, she blew out her knee playing with them on the second day and spent the past year and a half rehabbing.
She views skills she teaches on the track as building blocks for other athletic endeavors.
"I get all of these kids that have no running mechanics and then I get to watch them turn into runners and that's so exciting," Withrow said. "I had no idea how passionate I would be about watching these kids develop into athletes and all-around."
But the measuring stick isn't solely dependent on results on the court, field or track.
"It's hard work, but the most fun comes when you're doing well and succeeding at something even if it's for you," Withrow said. "I love that."
Passion Project
Withrow has a plan to bring one of the parts she misses most from her competitive career home to Polson.
"I miss that inspiration, that constantly being inspired so I want to bring that aspect into continuing our inspiration as adults and sharing that side-by-side with young girls," Withrow said.
Later this month, Withrow will bring to Polson some of her friends who are still competing or coaching around the world to a camp. She wants to expose young athletes to leaders in their sport and the community. 
Participants had to submit an application essay on leadership. The focus is skills and leadership development for girls in ninth through 12th grades. They will spend July 18-22 camping, hiking and spending time in and on Flathead Lake in addition to sport-specific development. 
"I love track so much," Withrow said, "but I also love what you get through that and that's leadership and gaining confidence as a young woman so I'm so excited."
And that fits with her larger vision.
"The biggest thing for me is most high school athletes, especially in Montana, won't go on," she said. "I mean the percentage is so small and so for me the most important aspect is building character; what can they get out of track and field that will help them with the rest of their lives."