BUTTE — Trailing first by footsteps to Frenchtown in the boys 1600-meter relay, Dillon's Treyton Anderson handed the baton to Dylan Cervelli.
It wasn't long before the senior had the lead. Running an incredibly impressive split of 48.03, Cervelli helped the Dillon relay (which also included Justus Peterson and Braden Anderson) to first place in a blazing fast time of 3:24.70. It's the fastest time in the state all-class this year and Beaverhead County High School record.
It also was a big reason why Beavers took the boys Western A Divisional track meet team title. Dillon finished with 118.33 points while the Broncs took second with 111. Corvallis just edged out the Beavers on the girls side to also take the Western A title.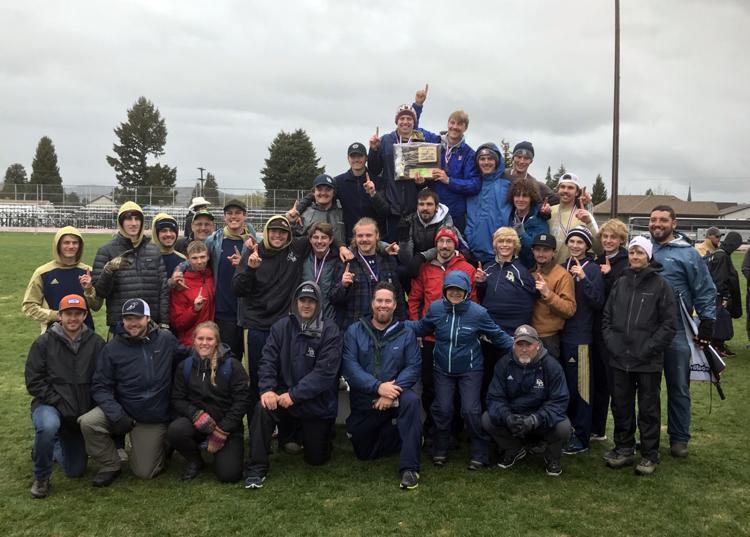 "It feels really good," Cervelli said. "I know it always comes down to the mile relay, it's one of my favorite races, whenever you have a team, and you want to help your team win in a relay, that's the best part."
Dillon, however, had to wait a bit before grabbing the first-place trophy. On account of afternoon rain storms, the boys pole vault was not able to be finished and it was ruled that team points would be given out by their pre-meet seed marks.
The Beavers had several athletes with high seeds in the pole vault and therefor were able to slip past Frenchtown. It was not perhaps an ideal way to decide a championship, but if the pole vault would have went on, it would have been highly likely the Beavers would have scored similar points.
Field events have been huge this season and Dillon, which got wins from Zane Johnson in the triple jump and Alfred Peterson in the high jump.
Peterson jumped 6-foot-2, despite a sudden downpour midway through the competition. With teammate Michael Haverfield finishing in second, those points ended up becoming critical.
"The bulk, or the core, the foundation of our team is coming from our field events," Dillon head girls and boys track coach Tammi Myers said. "We have some kids that are just gamers. I mean, gosh, they work hard in practice and when it's time to compete, they compete."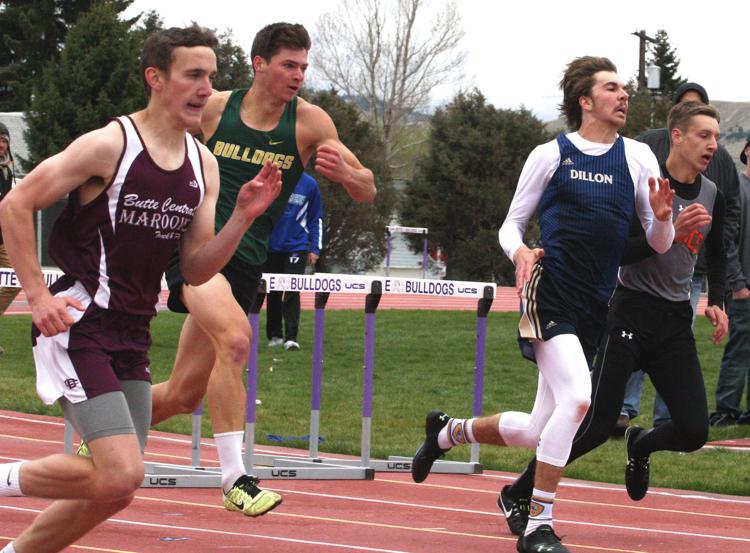 Corvallis wins late too
With the team race on the girls side of the Western A Divisional coming down to just Corvallis and Dillon, both squads needed to make something happen in the final relay.
The Blue Devils were able to make their move and won the 1600-meter relay in 4:08.08. Corvallis ended with 105 points on the back of solid Day 2 performances, just slipping past Dillon, who finished with 97.
With only the final meet of the year left, Corvallis is a team with high expectations and aspirations.
"We're just gonna get state, we're gonna win," Blue Devil senior Alyssa King, a member of the 1600 relay, said. "We didn't last year, so we're going to make up for it."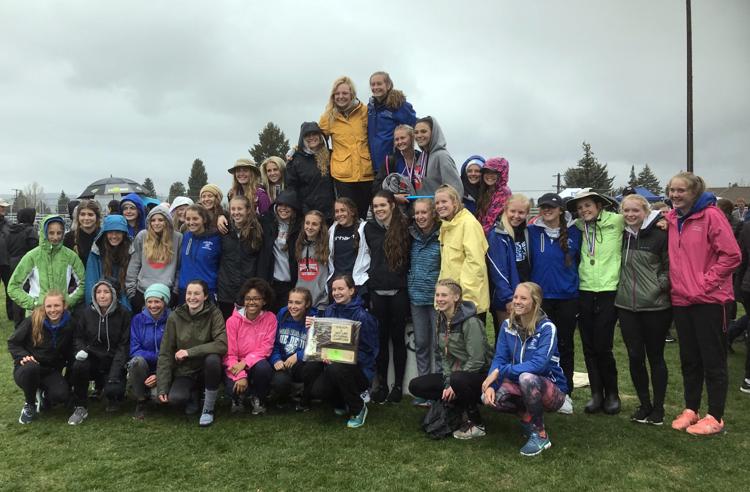 The Blue Devils got a win in the girls discus from Calla Haldorson (138 feet, 3 inches) to help kickstart the day. That mark is off her best on the year, but the victory was a sign of things to come.
Battling through sickness, Hannah Hutchinson picked up a win in the high jump with a mark a 5-foot-0. Lilli Day also took second in the 3200-meter run to grab even more team points.
"(My team) is all out here to working hard today," Hutchinson said. "The weather's been really crappy so we've just tried to support each other.
Klucewich sweeps boys sprints
Despite a downpour reaching its worst point during the boys heats of the 200, Jace Klucewich was able to complete a sweep of both short sprints on Saturday afternoon.
After running an 11.15 in the 100 (which followed a preliminary time of 11.17), Klucewich ran a 23.07 in the 200, just edging out Cervelli's time of 23.15. The talented sophomore also finished third in the long jump on Friday.
"That first stretch, that first 100, it was eating me up," Klucewich said of his 200. "I was worried I was going to slip, but I knew I had the race once I got in the lead."
After false starting at the state meet last season, this season has been something of a revenge tour for Klucewich, who is expecting quite a bit at the state meet.
"I'm super excited for state," Klucewich said. "This is kinda my redemption year, from the 100, false start, I've got to win it all."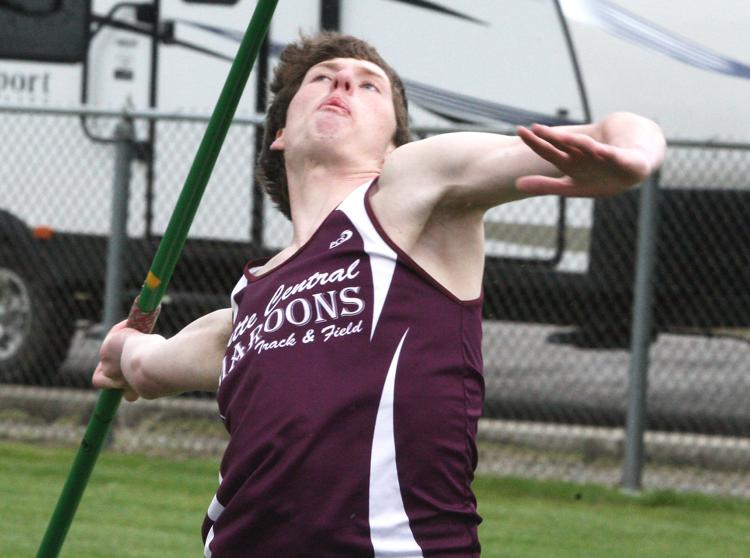 Last throw, big win for BC
Butte Central's Aaron Richards was a little bit nervous after he took the lead in the boys discus on his final throw of the day.
He tossed a 142-6 to take the lead over Hamilton's Jacob Campbell, but the Bronc thrower still had one chance left. He could not quite hit the mark and Richards won by a foot and two inches.
"It was nerve racking," Richards said. "I knew he still had his last throw because I was before him in the order, sitting there waiting. But Jacob's a really good thrower and I was happy to win today."
Richards' best mark of the year is 143-3.5 and he will have a chance to top that mark at the state meet next week.
And that's Lee Washburn (Whitefish) juuust edging out Butte Central's Cutter Thatcher. Washburn finished in 40.14, Thatcher's was 40.37 — a season best by almost three seconds #mtscores pic.twitter.com/fw1lGiP03A

— Jordan Hansen (@jordyhansen) May 18, 2019
The Butte Central boys finished fifth as a team with 51 points, just 3.5 back from fourth-place Whitefish. Cutter Thatcher took second in the 300 meter hurdles with an impressive time of 40.37, a personal best in the event by almost three seconds — and the second best time in Class A and ninth all-class. He also finished fifth in the 200 meter dash.
Cade Holter took third in a talented javelin field, hitting a mark 175-4, though he did say his best throw of the day he ended up scratching on.
Other notes
Lee Walburn's time in the boys 300 of 40.14 is the best mark in Class A this season.
Speaking of hurdles, Dillon freshman Ainsley Shipman completed a sweep in the two hurdle events when she won the 300 meter race on Saturday afternoon. It left her coach very impressed.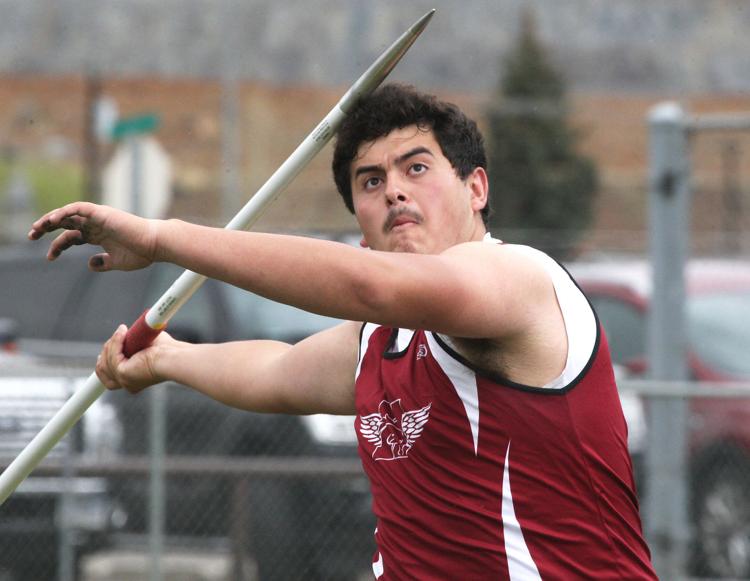 "I'm just so impressed with her composure and demeanor as a freshman," Myers said. "Extremely composed, she doesn't show a tremendous amount of emotion."
Will Flowers took the 3200 meter run on the boys side, while Columbia Falls' Lara Erickson took the race for the girls. In the other distance race run on Saturday, Frenchtown's Tyler Schmautz won the 800 — Hamilton's Brynnli Poulsen took the race on the girls side.
My coaches came up to me today and said, 'do it like practice' and I went out there and did it just like practice," Schmautz said. "Hit my 56 (seconds) on the first 400 and then really gutted it out the last bit to finish it off."