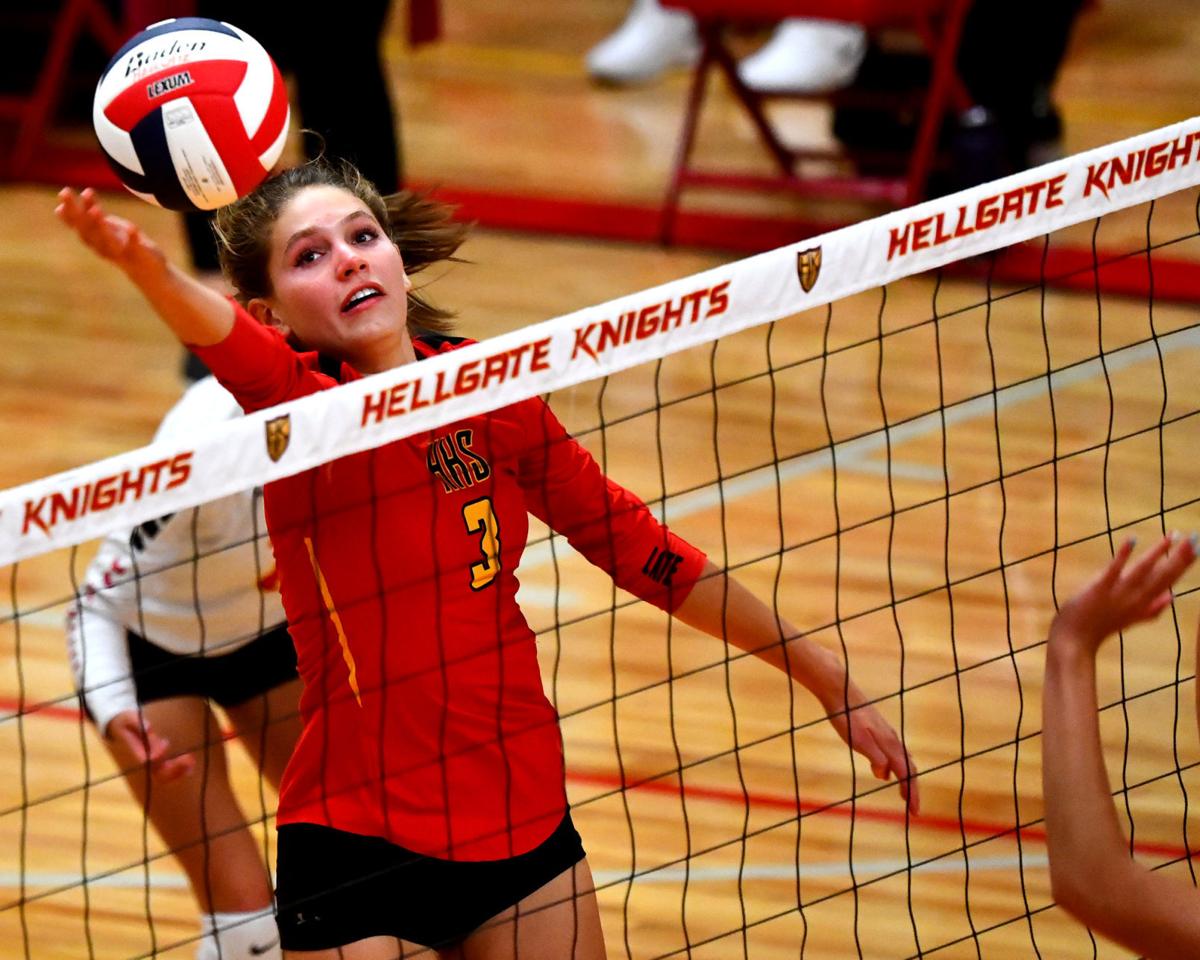 MISSOULA — The shouts of joy from the Missoula Hellgate volleyball team following its three-set win over Kalispell Flathead on Tuesday night as head coach Brittany Tilleman walked into the locker room could be heard from the gym floor.
Wins have been hard to come by for the Knights over the past few years, but Tilleman, in her first season as head coach, has one in game three. The Knights downed the Braves, 25-17, 25-17, 25-18, behind standout performances from sisters Camille and Gillian Sherrill and clutch moments from a variety of other players on Hellgate's senior night.
"I'm obviously really happy with the win," said Tilleman, who played for the Montana Grizzlies volleyball team from 2017-18. "I know there's a ton that this team needs to work on and do, but their team chemistry right now is awesome. They're playing really well together."
There was some sloppiness, mistakes and nerves from the Knights during the first set, and Flathead jumped out to an early 7-4 lead. Hellgate, though, took advantage of the Braves' mistakes through the middle of the first set and took a 17-14 lead on an ace from Camille Sherrill, a sophomore.
Her defining moment of the set — and perhaps the game — came a few moments later after the Braves won a point to make it 21-17.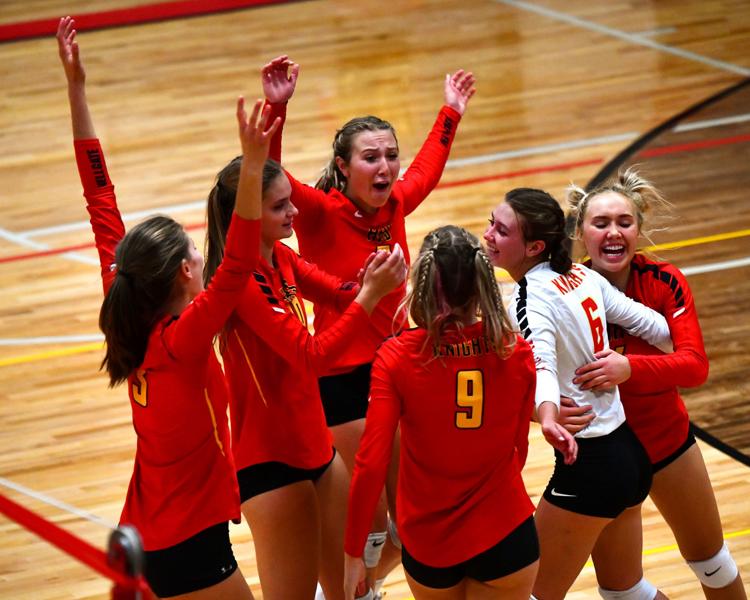 She had an impressive kill to the side of the court, and it completely switched the momentum in the Knights' favor. Hellgate libero Maggie Vann then compounded that with a tremendous save on a ball that was flying into its bench, and Gillian Sherrill helped finish the point with a block to make it 24-17.
One Flathead mistake later and the Knights had won the first set.
"We kind of had a little slow start and it, was kind of back and forth," Tilleman said. "There were some of those big moments that the girls were like, 'OK, we can do this,' they took a timeout and I told them, 'You're going to beat this team, believe in yourself' and then they started playing with a ton of confidence and began controlling it from the service line, which was awesome."
Serving dramatically favored the Knights, who tallied 20 aces. Camille Sherrill led the team with six, while Wren Fillardi added four more.
Flathead had issue controlling the Knights' service and gave up several points due to those mistakes. The aces for Hellgate also seemed to come at key moments, especially as the game went along.
Serve receive was something Flathead spent a lot of time on over the past few days of practice, leaving Braves head coach Emily Russell — who is also in just her third game as head coach — to wonder if they had almost spent too much time on it.
"Then it gets to the game and I don't know what it is. We're young, we have a lot of young kids and only a couple with varsity experience," Russell said. "It's just trying to figure out ways to work on that pressure. Maybe we're overemphasizing how important serving is. It's just the one time you have complete control. We'll get there."
The errors piled up for Flathead, but the Knights had their struggles too. Flathead was with Hellgate through most of the second set, but Camille Sherrill again had some impressive plays down the stretch to push the second game out of reach.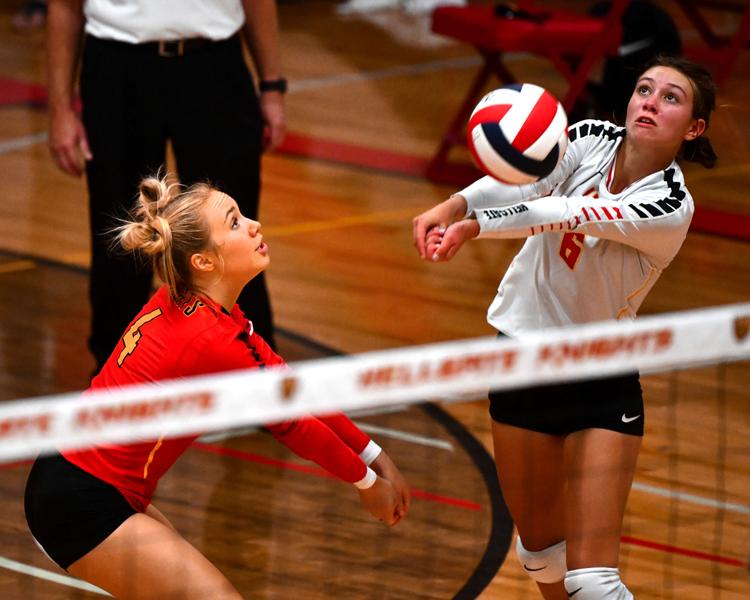 She finished with six kills to lead the team and added three digs. Vann ended with 10 digs, also a team high.
In the third set, it was the other Sherrill sister — Gillian — who stepped up to close out the game. Flathead closed the third set to 18-16 following a Hellgate attack error.
Following the break, the Knights got a point on a ball close to the line. Camille Sherrill served twice, with her older sister grabbing a kill on the first. Flathead won two points and then Gillian Sherrill stepped up to the service line.
A kill and two aces from Gillian Sherrill later, Hellgate ran off the court win its first win over the year.
"The energy was really high and it was a nice pickup from the start of that (third) set," Gillian Sherrill said. "You know, the pressure was on, but, I don't know, the team just kept it really fun and light through those last couple points."
NOTES: Hellgate is 1-2, Flathead is 0-3 ... Alliyah Stevens had seven kills to lead the Braves, Alayna Creekmore tacked on eight digs ... Next up for the Knights is a road game at Kalispell Glacier on Thursday.
Jordan Hansen covers a bunch of stuff for the Missoulian and 406 Sports. Shout at him on Twitter @jordyhansen or shoot him an email at Jordan.Hansen@406mtsports.com
Get in the game with our Prep Sports Newsletter
Sent weekly directly to your inbox!