MISSOULA — Hot Springs hosted its first home volleyball match of the season on Sept. 3, a rivalry test against Charlo, and Taylor Salmi walked into the Savage Heat's gym for the first time in over 10 years without a game to coach.
Back in May, Taylor and her husband Matt's five-year old daughter, Harlee, was diagnosed with diffuse intrinsic pontine glioma, an aggressive and noncurable cancerous brain tumor. Taylor had to leave her post as a coach and the Hot Springs community rallied for the Salmi's, as a GoFundMe was started that has, to date, raised nearly $25,000 for the family as they navigate the expense's that came with Harlee's treatment.
But the Savage Heat volleyball team, coached by Alisha Pablo, did something else on that early September evening volleyball match against the Vikings. Everyone was wearing gray, 'Hope for Harlee' clothing. Both teams were decked out in warmups bearing Harlee's name. It was almost too much for their former coach.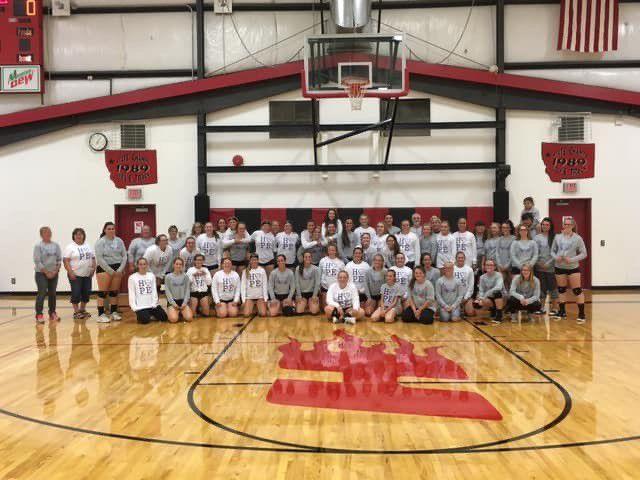 "It was a really super powerful moment … I was just overwhelmed with the outpouring of support and love for Harlee, especially from a bunch of people that don't even know her," Taylor Salmi said. "For two teams to come together, for all these teams to come together and support her when everybody has lots of stuff going on in their life, I just think it's so cool.
"It was just a really meaningful gesture for our whole entire family. Every time I walk into the volleyball gym now, it's really hard not to cry."
Every volleyball match since that point in District 14-C play, which includes the teams of Charlo, Hot Springs, Noxon, Plains and St. Regis, has included the two teams warming up in 'Hope for Harlee' long-sleeve t-shirts.
But that has not been the only thing they've done — there's been numerous fundraisers as well.
Bake sales, teacher donations and even a 'Hulu Hoops for Harlee fundraiser' have been just a few of the money-raising efforts the small communities in western Montana have done. Noxon even had a 'hat day' where students could donate a dollar and wear something on their head throughout the day. Every penny went to the Salmi family.
In addition, there have been fundraisers for pediatric cancer research. They are part of large efforts across the state and nation to raise awareness for childhood cancer. The American Childhood Cancer Organization and the National Cancer Institute estimate that 15,780 children are diagnosed with cancer in the United States each year and over 300,000 each year globally.
You have free articles remaining.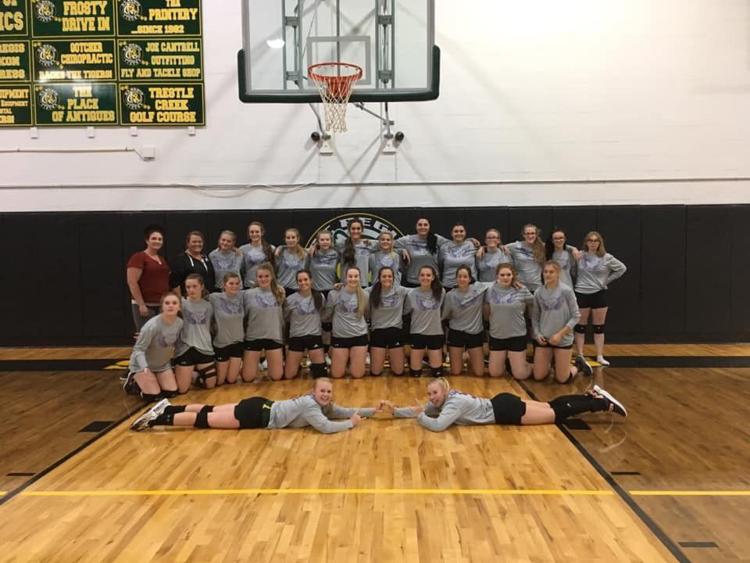 "I just think it's so cool even in small-town Montana that so much awareness is being brought to a cause," Salmi said. "Even in the midst of all the bad things that you read in the news and see going on in our world that there's still really, really good people out there doing really, really good things."
The support has meant everything to the Salmi family, as Taylor and Matt have had to take time off work to care for Harlee as well as their other two children.
Long trips to Denver for treatment at the Children's Hospital of Colorado started in the late spring, when Harlee was life-flighted from Kalispell, the place of her diagnosis, to Colorado. Six weeks of intensive radiation treatment followed before the family was able to get back to Montana.
Harlee and family still go back once a month for an experimental treatment.
"We just take every day one day at a time," Salmi said. "We're just focusing on her and our other two kids and spending as much time together to make as many memories as we can. Doing the best we can with what we've been dealt."
A concert — performed by Missoula-born country artist Sam Riddle — at the Hot Springs Rodeo Grounds on June 28 followed the family's return to the town, with all proceeds benefiting the family. Riddle, who has opened for acts such as Luke Bryan, Hank Williams Jr. and Dwight Yoakam, put on the concert for free.
"Going through such a traumatic experience and all the hardships we've been faced with, just the emotions and having support like this, walking into a gym, or walking down the street and seeing people wearing the Hope for Harlee stuff...," Salmi said. "I mean it just it lets you know that you're not alone in a journey like this."
The hope is to have Harlee at the district tournament, which begins on Oct. 31. The teams would love to take a photo with her and everyone else all decked out in the Hope for Harlee gear.
She has been doing better as of late and her mother is hopeful this will be able to happen.
"It's just been really amazing to see rivals come together to come for a common cause," Salmi said. "They didn't even question it. They're not in any of the team school colors, they go out there and proudly wear them before every match."