BOZEMAN — The Great Falls CMR Rustlers have been building towards a state championship for years, decades really.
And after taking third two years ago and second in 2020, the Rustlers wrapped up their first state title since 2000 on Saturday at the Brick Breeden Fieldhouse and it didn't even matter that it took getting to championship point eight times, following a 14-10 lead in the fifth set, to finish off a pesky Billings West in a 3-2 victory (25-18, 14-25, 19-25, 25-15, 19-17). 
"I was really comfortable at 14-11," CMR head coach Patrick Hiller said. "I won't lie to you. I remember I called a timeout and I don't even remember what I said. But I've coached in a few of these and lost a few of them and to win one with my girl on the floor and Kelly (Lindseth) on the floor and my second daughter Lauren (Lindseth), it was pretty special."
Tennisen Hiller, Patrick's daughter, put home the final point for CMR, which was fitting since this is a moment she's dreamed of her entire life.
"It's pretty cool," she said. "I have been watching this game since I was born and my dad has been coaching since...as long as I can remember. So to share that with him is just an awesome feeling."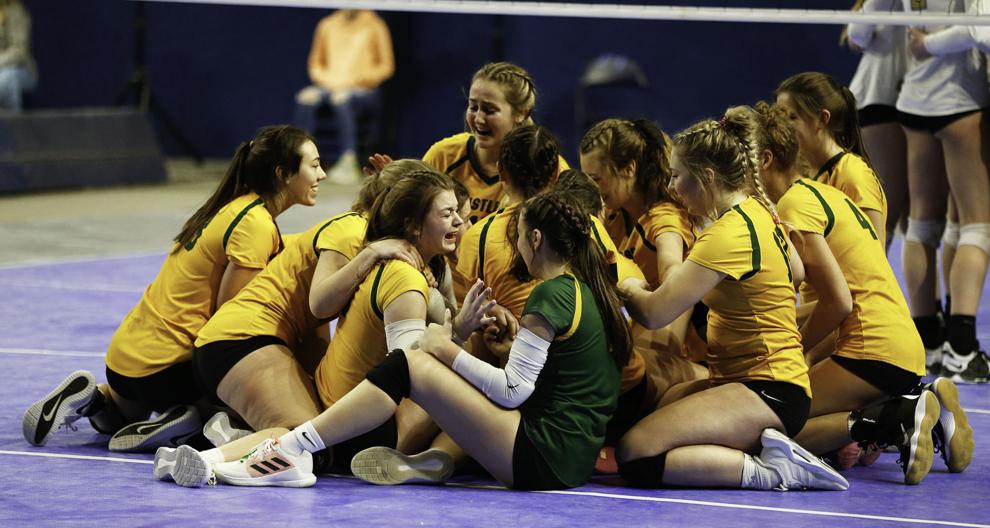 Her dad was emotional and held back tears as he spoke.
"I went and found her first to hug her," he said. "This has been a dream since the day she was born and when I found out I was going to have a little girl. I have all the pictures on my phone of her pushing the ball cart around for me and when she could walk under the net without ducking.
"She's been to every one of these," he added. 'I remember when she used to curl up in my sweatshirt when she was cold or bored. I've carted her and my son around everywhere, because when you are a stay-at-home dad, you have to bring them with you, so from the day they were in a car seat they have been doing this."
Lauren Lindseth, a future Montana State Bobcat, shined on the floor she will call her home court next season and wrapped up her stellar CMR career with 28 kills in the title match to go along with four aces. Hiller contributed with 48 assists, two aces and two blocks, while fellow senior Ella Cochran also came up big with 13 kills.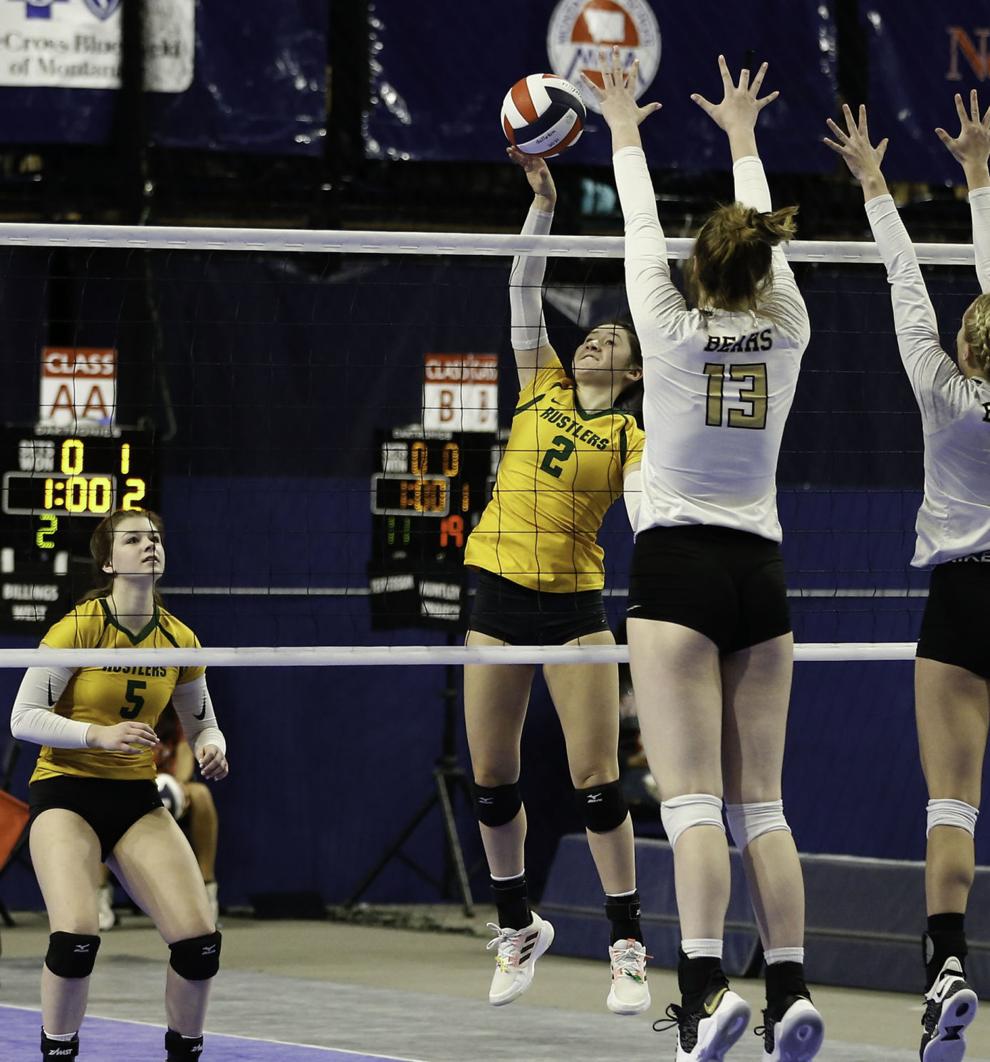 "It feels so good — just surreal," Lindseth said. "We have been working towards this for so long. Our entire team has been working so hard and this has been our goal the entire time we have been in high school."
The senior also reflected sharing the championship with her mom, as well as Tennisen Hiller.
"Tenni and I have been playing together for so long," she said. "It feels so awesome and to share it with my mom who has coached me forever and with Patrick, who has also coached me for so long, it's just really cool."
Billings West settled for second, but since CMR has dropped just a handful of sets all year and the Golden Bears took two straight of the Rustlers to take a 2-1 lead in the match, it was impressive all the same. 
Kaitlin Grossman put forth an inspired effort and notched 22 kills and 27 digs in the loss. Sydney Pierce added 19 kills and three blocks, while Addie Allen pitched in with six blocks and two aces. 
"That was a state championship performance," West head coach Monica Smith said of her team's five-set loss. "I couldn't ask for anything more from them. They put their whole hearts into it and left everything out there and it was amazing to see that fight from these girls, especially at such a young age."
Even in defeat, it was a significant weekend for the Bears, who reached their first title match since 2010 on their way to a runner-up finish. 
Billings West 3, Billings Senior 0 
For the second time in the Class AA state volleyball tournament, Billings West beat Billings Senior. Only this time, the win sent the Golden Bears to the state title match.
Kaitlin Grossman has been a key player for West during its run over the past two seasons — the Bears lost in the semifinals a year ago — and she was clutch again Saturday in the second-third place match.
In the first set, Senior pushed West to set point twice. But both times, Grossman answered and tied it up before the Bears eventually won 28-26. They then won the remaining sets 25-22 and 25-9 to earn a rematch against CMR at 12 p.m. inside the Brick Brenden Fieldhouse.
Sidney Strieff who scored the winning point in the first set, led the Bears with 15 kills, two blocks and nine digs. Grossman also pitched in with 11 kills and three aces. 
"It's just super exciting," Grossman said. "We have been working hard all year and to get there feels pretty awesome."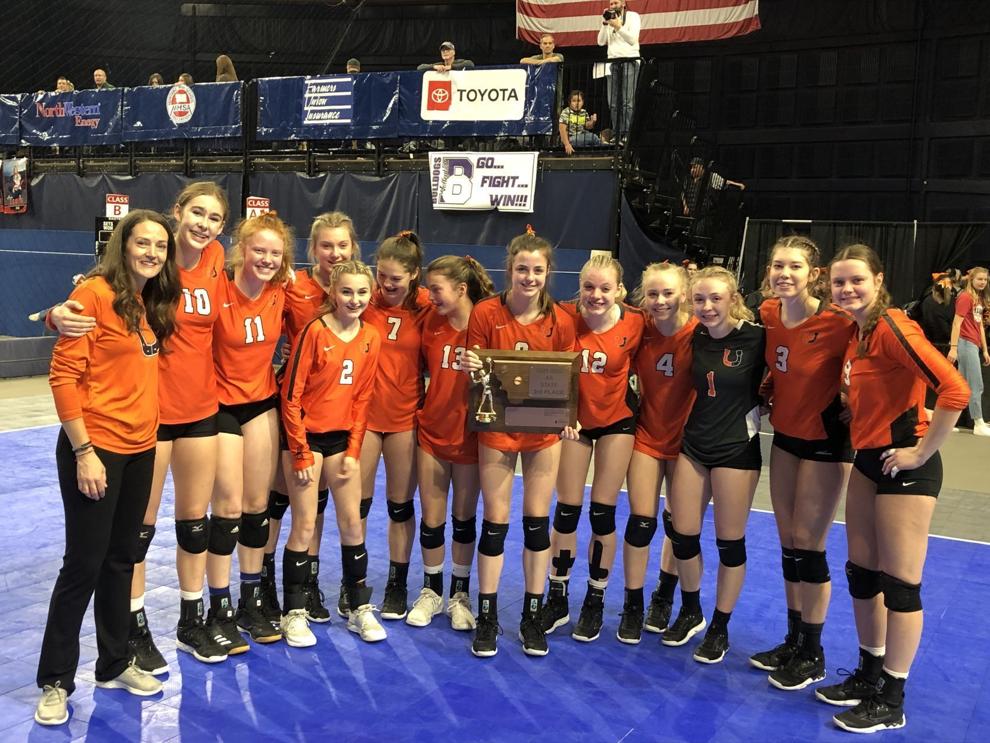 For Senior, the loss is disappointing but the Broncs still brought home their first trophy since 2017 and with a bunch of youth on the roster, the future is bright. Leela Ormsby led the way with four kills and five blocks. 
"I'm so proud of this team," Senior head coach Karen Switzer said. "There was a point in the season when we were really struggling and I wasn't even sure we would make it to state, so for us to come here and get third is just awesome."
Chris is the sports editor and lead preps reporter for the Independent Record and 406mtsports.com. Follow him on Twitter @cmpetey406