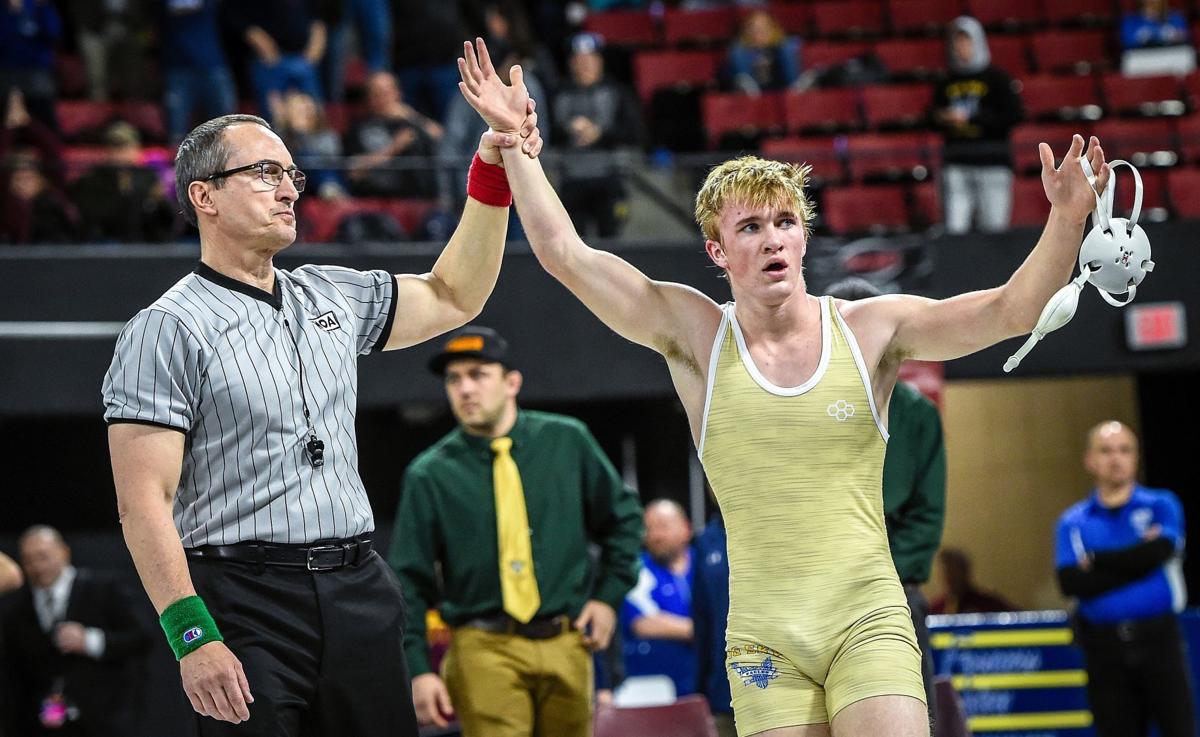 MISSOULA — There's no denying the talent of Missoula Big Sky's Hunter Meinzen, the preeminent high school wrestler in the city over the past three years.
The senior-to-be burst onto the prep scene as a freshman when he took second place at the State AA tournament. He pulled off that feat despite missing the first half of the season because of a football injury in which he broke the tibia in his right leg.
Driven and determined, Meinzen followed up that year with state titles as a sophomore and a junior. In between those seasons, he competed at national wrestling events around the country, and high-level college programs took notice of him heading into his junior campaign.
The first school to reach out to Meinzen was Oregon State, a top-four finisher at the Pac-12 championships in March. He later picked up offers from Wisconsin, a Big Ten member, and Northern Colorado, an affiliate of the Big 12 for wrestling. He also talked with Minnesota.
Meinzen found the right fit at Oregon State, committing Tuesday and becoming the Eagles' first Division I wrestling commit since Luke Entzel went to Iowa State in 2015.
"It was just the environment and how it's close to home," said Meinzen, who'll have an academic scholarship to supplement his partial athletic scholarship. "It's only like an 11-hour drive there, so my parents can come watch home duels and see me. I can still do the same outdoor activities that I like to do here, and I can hunt and fish. It came down to all that, just the lifestyle."
Family is important to Meinzen. His father, who also wrestled at Big Sky, got him started in the sport when he was 5 years old. He's felt his father and mother, Les and Stacey, have been his biggest fans and helped make it possible for him to travel around the country for offseason Freestyle and Greco-Roman tournaments, where his dad is his coach. He's won two gold medals at the Reno World Championships and earned All-America honors in Greco-Roman competition at the 2019 United World Wrestling Cadet U23 World Team Trials.
Meinzen relied on advice and support from his parents throughout the recruiting process. It was even more important because he couldn't visit schools due to the extended dead period the NCAA implemented during the pandemic. He instead developed a connection with Oregon State's new coaching staff through Zoom calls and texts.
Meinzen was initially recruited by then-OSU head coach Jim Zalesky, who was fired and replaced by Chris Pendelton, a two-time NCAA champ who was most recently an assistant at Pac-12 champ Arizona State and continued to recruit Meinzen to OSU when he was hired. Pendleton brought on two assistants in Isaiah Martinez, a two-time U.S. Open champ with international experience, and Nate Engel, the USA Wrestling Greco-Roman coach of the year in 2019.
"They all seem like great guys to learn from," Meinzen said. "They're all nice, funny. And they like to do outdoors stuff too."
Meinzen is projected to wrestle at the 157-pound weight class, the fifth of the 10 classes at the college level. He's had a steady rise up the weight classes, being the 138-pound runner-up in 2018, capturing the 145-pound crown in 2019 and winning the 152-pound title in February.
Meinzen may potentially redshirt his first year at OSU because the Beavers will have a senior in his weight class when he'll be a freshman. But he's up for the challenge of trying to earn a starting spot right away. It's an attitude of not settling that Big Sky coach Rick Moreno has seen in Meinzen over the years.
"One thing with Hunter that's always impressed me is he's got skills, but he has the things you can't coach," Moreno said. "Kids have to figure out on their own how to compete at a high level. That's not get shook and stay calm, cool, collected. It's going to be a transition for him for sure, and he's going to have growing pains like any freshman, but he's a competitor."
Meinzen, a Florence native, has learned under Moreno for nearly a decade. He joined Moreno's Sudden Victory Wrestling Academy around third grade, getting to learn from former Division I wrestlers who were invited to help teach at the club.
Moreno saw potential early on for Meinzen. As a wrestler, Meinzen has the physical capabilities with his athleticism, strength and ability as a technician on the mat. He also possesses the mental resources of being a strategist who goes in with a game plan but has the skills and abilities to adjust and adapt if the situation calls for it.
"He's a student of the game, is constantly studying, constantly wrestling and looking to get better," Moreno said. "The other thing is he's not stagnant. He's trying to learn new things. He just really fits the college mold. He had that at an early age."
Meinzen will get back on the mat for the first time since the state tournament when he heads to the Western States Championships from Wednesday through Thursday in Farmington, Utah. Competition had been shuttered because of the pandemic, which has led to some uncertainty about the high school season.
Whether Meinzen can add to his prep legacy in the winter, he's grateful to have a plan set for the next several years of his life, wrestling for the Beavers while likely majoring in either kinesiology or pre-med.
"It was a relief," Meinzen said about making his college decision. "It's less stressful that way. I can focus on wrestling my senior year, and that way I don't have anything on my back, don't have to worry about anything. But it was a good feeling. It's awesome. It'll be great."
Frank Gogola covers Griz football and prep sports for the Missoulian. Follow him on Twitter @FrankGogola or email him at frank.gogola@missoulian.com.
Get in the game with our Prep Sports Newsletter
Sent weekly directly to your inbox!