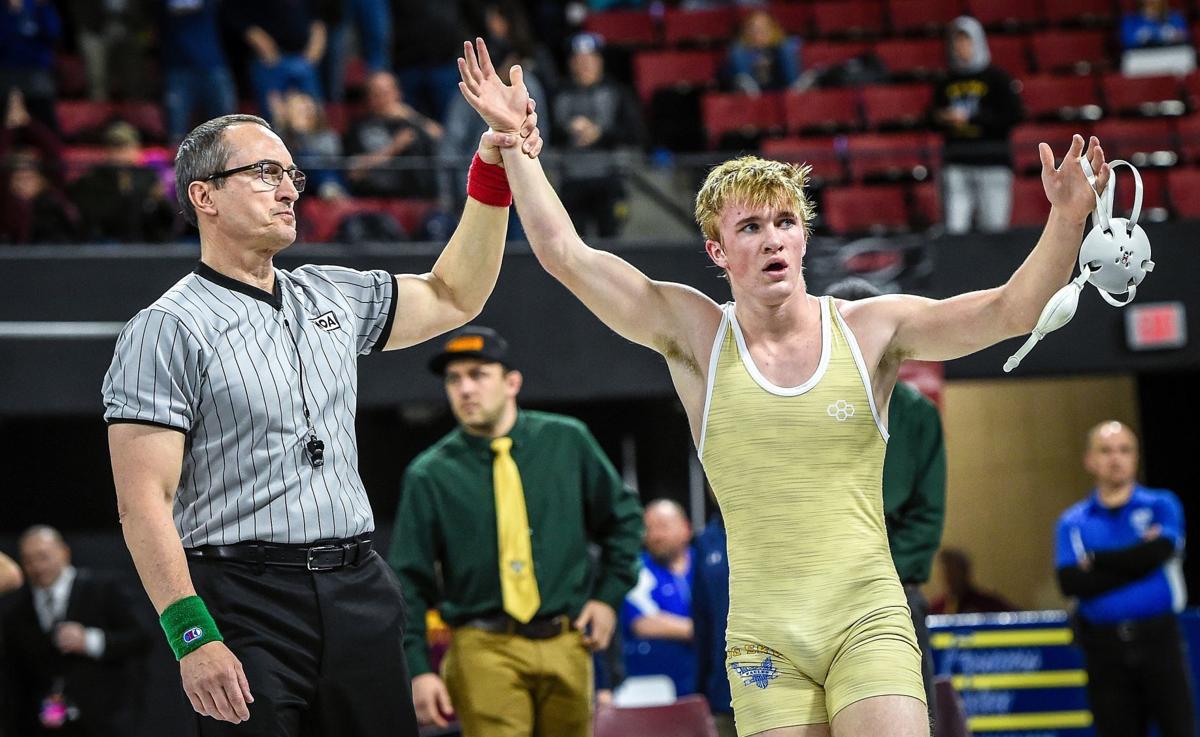 MISSOULA — One of the best wrestlers in the state for the past two seasons, Missoula Big Sky's Hunter Meinzen still has one more to go.
That's a good feeling for Eagles head coach Rick Moreno, who has watched Meinzen transform himself into a truly special wrestler.
"He brings a positive attitude every day. He's never down in the dumps," Moreno said. "There's things that are just instilled in the kid and that's what you get with Hunter. And on top of that, he's a coachable kid."
Meinzen wanted to wrestle for Moreno, which was part of the reason he transferred to Big Sky from Florence ahead of his freshman year of high school. 
Moreno, who also coaches Meinzien in club wrestling, has known the soon-to-be senior for years. That journey has taken Meinzen to a variety of places across the United States for tournaments.
A fixture at the Fargo Junior Cadet Nationals — which was unfortunately canceled this year due to COVID-19 — Meinzen is a three-time All-American at the cadet level. 
He also took eighth in the Greco-Roman competition last June at the United World Wrestling Cadet U23 World Team Trials in Akron, Ohio.
"I've done this pretty much my entire life, since I was five years old," Meinzen said. "Wrestling, at first, it was just something I liked to do, but then it became part of my life. Without wrestling I wouldn't be the person I am today. That's for sure."
A win over Billings Skyview's Paolo Salminen at the Class AA state wrestling tournament in the 152-pound weight class gave Meinzen his second state championship of his career.
"There's honestly probably no better feeling than winning a state title," Meinzen said. "There's no better accomplishment in high school sports than being a state champion."
It was his third time in the state championship bout, as he fell to Great Falls Kai Stewart in an ultimate tiebreaker. That's the only thing stopping Meinzen from look at an elusive four-peat, though three in a row would be quite alright with him.
Already being looked at by top-tier Division-I wrestling schools, there is little doubt Meinzen will have much of an issue finding a place to wrestle following his senior high school season. Minnesota, Wisconsin, Oregon State and Northern Colorado are all schools that have been in contact with the talented young wrestler. 
Whichever school he decides on next year is certainly going to be better off for that decision.
"He's been in that room through my club and then in high school, so it's a bond," Moreno said. "He's made a great example of, 'Hey, this is what you need to do to be successful.' It's buy-in and you're always going to miss that."
Get in the game with our Prep Sports Newsletter
Sent weekly directly to your inbox!