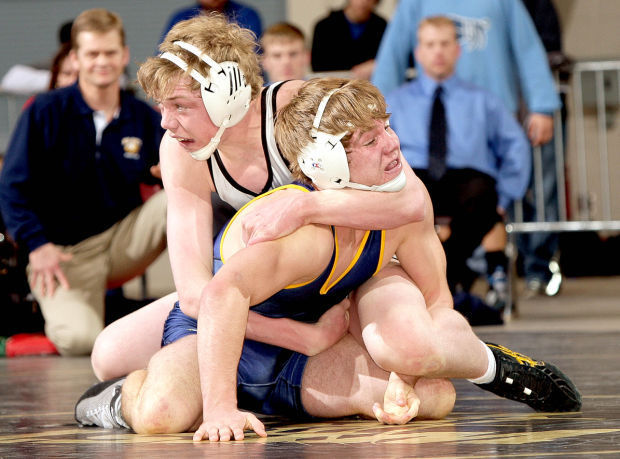 Gold -- or silver for that matter -- was out of reach for western Montana wrestlers last winter, save a select few who go there on their own as individual champions.
The 2014 high school wrestling season begins Friday around the state as the haves hope to fend off the plucky have-nots on their missions to dethrone the champs.
Here's a look at the wrestling landscape in western Montana:
Class AA
Great Falls High has become the behemoth of AA with back-to-back championships the past two seasons, the most recent edition by more than 100 points. The Bison may not quite be of legend, but their reputation still spreads to the corners of the state.
"Great Falls, I've heard the stories," Missoula Big Sky veteran coach Lanny Bryant said. "They've got like 12 kids that are returning from state placing."
Great Falls appears the favorite to slip on the crown once more, but the rest is a race up for grabs.
Big Sky, which finished fourth last season, returns five state placers. That includes defending 170-pound champion Luke Entzel and 138's runner-up Logan McGreevey. Entzel, a senior and two-time champ, is right back there while McGreevey is up to 152 pounds this winter.
Jon Conklin, a state champ at 98 pounds two years ago, beat teammate Wyatt Gordon for fifth place at 106 pounds last year and both boys are back this year. So too is Conner Gordon, a state fifth-placer, now at 205 pounds.
Missoula Sentinel, which was fourth behind the Eagles by a slim four points last February, graduated three boys who wrestled in AA's championship matches. That included heavyweight champ Jaydn Wilson and Justin Harbison, who fell to Entzel 2-1 in the 170 finals.
"Losing three state finalists is rough, but I'm pretty optimistic," said Sentinel coach Jeremy LaPorte, who guided the Spartans to a third-place trophy two years ago. "The kids I've rattled off are gonna fill a few of those holes, though."
Among the rattlers are a pair of bronze-winners from last season in Jake Hegel (106 pounds, now at 120) and Dylan Duffalo (126, 138). Chance Stack (fourth at 152) and Jace Kovalicky (sixth at 120) also return big state points and an improved state showing from senior Colin Hammock should replace some more crucial points.
Hammock did not place at state after a successful regular season that included a fourth in the highly competitive Tri-State Tournament at Coeur d'Alene.
Missoula Hellgate is once again hoping to climb the state ranks after a 14th- and last-place finish at state. But after taking their first dual meet in five seasons in 2013, the Knights are trending upward, albeit slowly.
Three of the four state-qualifying Knights return: Asa Hoerner, Ken Woods and Shawn Olson. Hellgate gets some reinforcements as well from a few boys who missed last year's state tournament -- or the full season -- with Derek Baker and Dylan Lewis back on the mats.
Class A
Columbia Falls was a distant third last winter at state to second-place Sidney and champion Havre, which has won two straight and six of the last eight, but MatCat Shonn Roberts is on the verge of some history individually.
Roberts has won State A titles in each of his first three seasons and can do what only 23 others in Montana history have done by adding a fourth at the all-class state wrestling tournament in Billings in February.
You have free articles remaining.
Roberts rolled to his third last season at 126 pounds to complete a 40-0 year and help C. Falls capture the only wrestling trophy for western Montana on the year.
Corvallis, which interrupted Havre's title streak in 2012 with a gold, is looking to get back there after finishing sixth last year. Chase Conner (120-pound runner-up) leads a group of strong senior Blue Devils. Tyler Olsen, who like Conner was a state champ as a freshman in 2012, Gunnar Fairbrother and Riley Jessop also placed as juniors last February.
Right behind Corvallis at state was Frenchtown, which brings back two state placers. Lightweights Caleb Bagnell, fourth at 98 pounds, and Cody Warner, sixth at 106, both return.
Polson's Thunder Morales was fifth at 106 pounds and is up to 126 this fall, while Tele Seemann (170) and Isaiah Williams (heavyweight) will even out the Pirates' lineup on the top end after placing sixth last time.
Both Hamilton state placers from last year are back. Justin Hinson was fourth at 160 pounds and Michael Bumgarner took third at 195.
Libby has a pair of seniors back looking for more state hardware. Garret Chapel is the defending 170-pound champion and Zach Crace is coming off back-to-back third placings and will wrestle at 145 this winter.
Neither Whitefish nor Stevensville, now in its second season wrestling after a 30-year hiatus, had a state placer last season. Sophomore Ben Crews (152 pounds) and juniors Braden Loveless (160) and Kordale Behner (205) have a shot to do so this year.
Class B-C
Seventh-place St. Ignatius-Charlo was the closest western pursuer of eventual State B-C champ Colstrip, but the Mission boys will be coming back at it without Jacen Petersen.
Petersen, who now wrestles for Arizona State, won back-to-back titles with undefeated junior and senior seasons. They will have 126-pound third-placer Jamie Mullins (now at 132) and Steven Bravo (fifth at 182, now 205) back in house.
Plains-Hot Springs could have a good shot to jump up the standings after finishing 10th at state and third in the Western B-C division. State champ Russell Kujala is back at 138 pounds for his senior season and Logan Goodwin (145) and Kane Lawson (152) are both returning divisional champs to fill out the middle weights.
Eureka's Garrett White was a runner-up placer at 113 pounds and is up to 120 for his senior try. He and senior Zach Durden (fifth, 120) head a team of talented underclassmen that could make a run with added experience.
Ronan's Michael Irvine took second at divisionals at heavyweight and then fifth at state -- only after losing in overtime in the semis. He's a senior now and leads the Chiefs, who got a promising transfer from Oregon in middleweight Jared Neiss.
Torren Lawson is looking to get back to where he was as a freshman when he finished second for Florence in 2012. The senior was sixth at state last year and is now a 138-pounder.
Connor Rogers was sixth last year for Deer Lodge, but broke his ankle during football season. The senior is expected to return midway through the wrestling campaign and compete for a state spot.
Superior lost fourth-place finisher Anthony Parkin to graduation, but his younger brother Blaine is looking to improve on a sixth-placing at 98 pounds last winter. With some help the Bobcats could maintain their position in the Class C standings after finishing third among such programs at state last year.
Drummond-Philipsburg's Tony Bergerson is coming off a fourth-place finish at 138 pounds and Arlee's returning Alex Bertolt was sixth at 160 pounds.
Noxon lost its only state placer, John Onofrey, who was sixth at 220 pounds.
Thompson Falls had three state qualifiers last year but no placers.