BILLINGS — Most everyone seemed to be comfortable Saturday at the home of Treasure State championship wrestling, First Interstate Arena at MetraPark.
After a one-year hiatus due to the novel coronavirus, 1,920 youth wrestlers ages 6 and under through 18 and under were registered to compete over three sessions Saturday and another Sunday at the Montana Open.
The folkstyle double-elimination tourney will conclude Sunday. Wrestling begins at 9 a.m. and should finish by approximately 3 p.m.
"I enjoyed this wrestling season a lot more than last year and thought I'd give it a shot," said Bozeman Gallatin sophomore Kameron Amende (138 pounds), who was competing at the Open with the Summit Wrestling Club. "The more experience, the better you get."
Gallatin junior Landry Cooley (160), also with the Summit team, was competing in the Montana Open for the second time and also hopes it prepares him for next winter.
"I'm looking forward to improving next year and getting better and placing at state," he said. "I'll keep working over the summer."
"We're happy to be back," said Montana Open tournament director Jason Wiers of Bozeman.
'Super-regional event'
Wrestlers were entered from Montana, Wyoming, Idaho, Arizona, Utah, Colorado, North Dakota, South Dakota, Nebraska, Iowa, Texas, California, Oregon, Washington, Georgia, Wisconsin, Michigan, and Minnesota, Wiers said.
Due to attendance restrictions, originally only 1,800 wrestlers were allowed to enter. But the guidelines were adjusted recently, allowing more people in the facility, so another 120 wrestlers were added to the draw from a waiting list.
"There are tournaments out there that call themselves national events," Wiers said. "It's a personal definition, but we don't see us as a national-level draw. The tourney has evolved from a regional event into a super-regional event."
This year marked the 15th Montana Open, which had set participation records three consecutive times before this tourney. In 2019, 2,115 wrestlers competed. There were 1,945 wrestlers in 2018 and 1,640 in 2017.
Wiers said that if this had been a normal year, he believes more than 2,500 wrestlers would have entered.
Regardless of participation numbers, organizers were tickled to once again be able to hold a meet.
"We don't care about the size this year," Wiers said. "It's unbelievable. We all missed our wrestling family. I've heard that all this weekend. … We are back around our wrestling family and all the smiling faces."
Girls participation levels increase
There were 325 girls entered in the event. In 2019, there were 235 girls registered. In 2018, a girls-only division was offered for the first time and 171 females wrestled.
Miles City freshman Mayse Fox is preparing to wrestle in Des Moines, Iowa, next weekend as a member of Team Montana. She said wrestling at the Open will help her ready for the dual event.
"Last weekend I placed first in my weight bracket and I qualified for Iowa," Fox said. "I wanted to come here for practice and to wrestle different women and see their technique and to stay in shape."
Kya Gilmore is a sophomore at Miles City and she also participates in track and field, competing in the pole vault, long jump and relays. She said wrestling is one of the best ways to stay fit for her track and field endeavors.
Gilmore said she likes wrestling because of "the competition."
"I started wrestling to get in shape for track and grew to love it," Gilmore said. "The community treats you so well."
According to Gilmore, wrestling really helps her in the pole vault because the sport has helped strengthen her core and upper arm muscles.
"I'm in the best shape I've ever been in," Gilmore said. "Our coaches push us so hard to stay in shape."
#MollyStrong
Many wrestlers, coaches, parents and supporters of Team Champs were sporting pink T-shirts with the phrase "#MollyStrong" on them in support of Molly Bridges Hale.
Team Champs coach Jason Aguayo said Bridges Hale, a mother of two wrestlers on Team Champs, was battling breast cancer.
Aguayo said "it sounds like the prognosis is good" for Bridges Hale.
"We are trying to support her," he said. "We were able to raise some money for her fight and medical bills."
Overall, Aguayo said 140 t-shirts were sold by Team Champs, a club based in Billings. By selling the t-shirts, the club raised $1,400 to donate.
While most of the shirts were sold to people affiliated with Team Champs, there were people from outside the club who also purchased shirts.
"The wrestling community is tight-knit and small and if we can, let's help," Aguayo said.
Family reunion
It was shaping up to be a memorable weekend for the Varner family of Baker.
Chad Varner, an assistant coach with the Baker Wrestling Club, had three children participating in the event — Lex (3), Gradin (6), and Livia (7).
The children's grandparents, Todd and Vicki Overton, flew in from Phoenix to watch Lex, Gradin and Livia compete. Other family members, including aunts and uncles, also traveled to Billings for the event.
"They enjoy every minute of it, watching them grow and wrestle," Chad Varner said.
Varner said his children are enjoying the visit.
"It means a lot to them for everyone to come watch them," he said. "Just to have the support."
Watch for an open division next year
Wiers said that in 2022 the Montana Open plans on adding an open division. 
"They'll have to get in shape," Wiers said. "There will be no age limit. It's for your first year out of high school to however old. If it grows big enough, we'll add a masters division to separate the ages, but initially it will be wide open. 
Wiers said people have inquired about an open division.
"We get asked about it, people seem to want it," he said. "I don't know if it will be three people or 300, but we'll see." 
The tourney, which usually is held during the last weekend of March, is scheduled to return to Metra in 2022. 
Enthusiastic in Miles City
The Miles City Wrestling Club and Team Champs both had 66 wrestlers entered in the tourney. The Butte Wrestling Club had 65 entrants, Darkhorse from Billings had 59, Summit (Bozeman) had 58, the Glasgow Wrestling Club had 53 and the Sidney Wrestling Club had 45.
Miles City also had a star wrestler this past year in senior Damian Leidholt, who won his second state title and was a four-time State A finalist.
Mike Etchemendy, the head coach of the Cowboys and a representative of the Miles City WC, said the future looks bright for the Cowboys.
"We are returning five all-staters and we have a really good junior high class coming in," he said.
Overall, Etchemendy estimated there were between 110-120 wrestlers out in Miles City for this year's club season.
Etchemendy thought one of the reasons there were so many wrestlers from Miles City competing at the Metra was "we are finally getting to do something and the kids are excited."
Those involved in wrestling in Miles City are proud of a new wrestling facility close to the track at Miles Community College, said Etchemendy.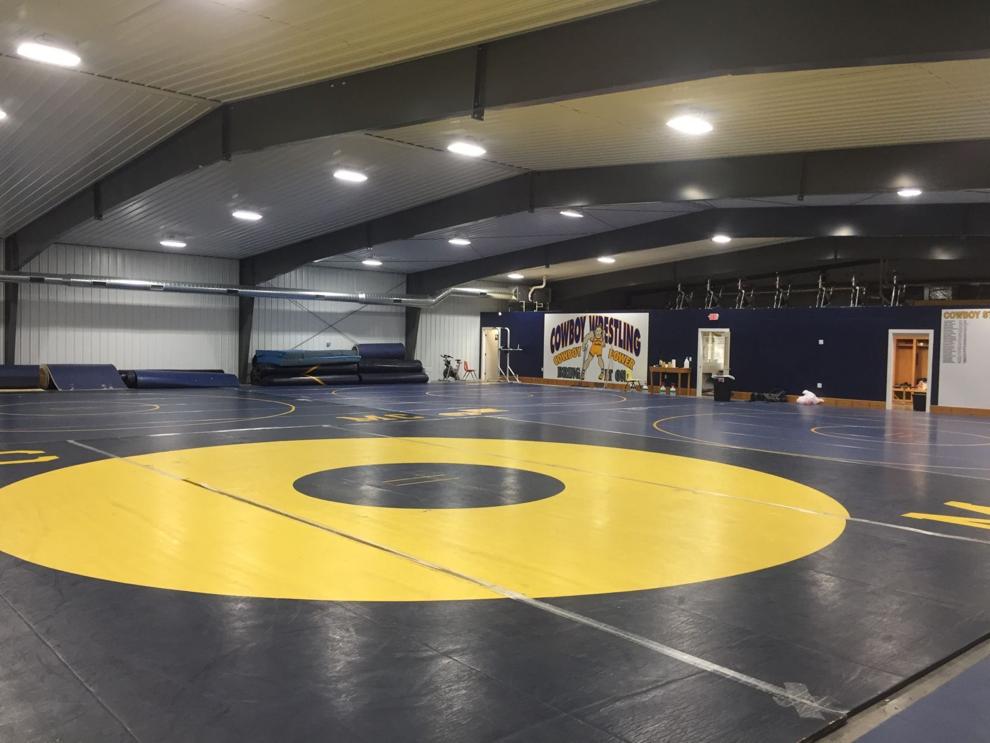 Four mats fit inside the wrestling center and the club and high school team both use it. Etchemendy said the community supported a fundraising drive by the club team and the facility was completed last summer.
"It's unreal. It's beautiful," Etchemendy said of the facility.