BILLINGS — The Billings Bulls are a fading memory but never a footnote in the meandering hockey history of this fair city. For 24 seasons they skated, first as a bona fide Junior A club producing NCAA Division I talent and later at a lower level before going dormant in 2017.
During their heyday in the 2000s, a young Cam Strong served as a stick boy for the Bulls — his father, Doug, was part of the team's ownership group — and dreamed of playing hockey one day himself, perhaps even at the top tier collegiately.
With plucky on-ice skills, enduring leadership ability and staunch character, Strong eventually parlayed his youthful ambition into reality, and he is now an invaluable member of the team at D-I Dartmouth preparing to enter his senior season.
From those early days in Billings to headier times at Dartmouth's Hanover, New Hampshire, campus, Strong has grown both on and off the ice. And he credits that to a life spent in and around hockey.
"I got to be around those players at a really young age and got to learn from them," Strong said. "I also learned a lot of cuss words early on. My mom didn't like that so much. But there were a lot of positives, too, just to learn from those guys.
"It's been an incredible experience and I've been appreciating it more and more throughout my years. This was my ultimate goal."
Strong, 24, is the only Montanan on a Division I men's hockey roster and the first Treasure Stater to ever play at Dartmouth. He is spending the summer in Monument, Colorado, training for the upcoming season in a high-altitude, high-intensity setting.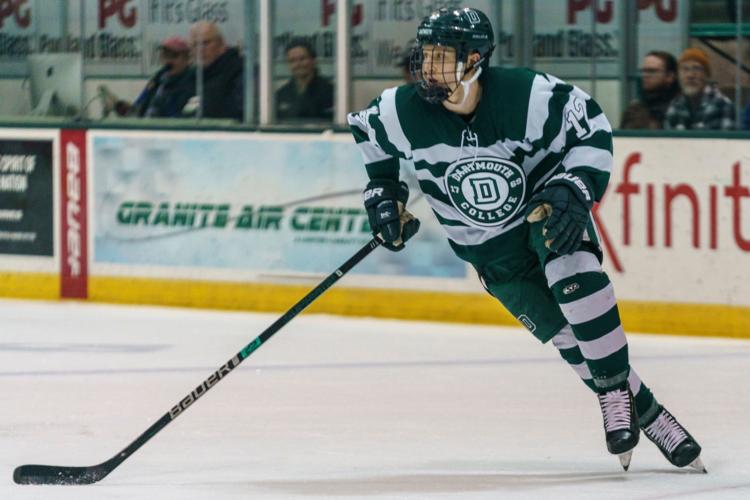 It's a place he knows well, having played midget hockey there for the Colorado Rampage as a 17- and 18-year-old prior to a two-year junior career with the Topeka RoadRunners (now Pilots) of the North American Hockey League, the same league the old Bulls skated in years ago.
Discovered by Dartmouth assistant coach John Rose, Strong burst on the scene as a freshman in the East Coast Athletic Conference with the Big Green, scoring 10 goals, including one at Michigan in his first career game. He was voted Dartmouth's rookie of the year.
In three years, Strong has accumulated 24 points (16 G, 8 A) and has found a niche as a hard-working secondary winger.
There's been no shortage of praise heaped upon Strong by those that know him best, and it's about much more than goals and assists.
Bob Gaudet, head coach at Dartmouth for the past 23 years, said Strong is "one of those guys that lights up the room when he walks in. It's nice as a coach when you have a guy that loves the game so much and is serious about it and is going to do everything he can and appreciates the opportunity. He represents Montana very, very well."
Even Patrick Salvas of the Dartmouth athletic communications office wrote in an email: "Cam is one of my favorite players to come through here in the decade I've worked with the team. You can print that!"
Character counts
If hockey builds character, Strong has a ton of it. Perhaps that was no more evident than during his sophomore year, when slumping scoring totals, a nagging knee injury and an arduous engineering sciences workload as an Ivy League student took its toll.
Strong scored six fewer goals and had 22 fewer shots than the season before, and the Big Green suffered through a seven-game winless streak early in the season. It was then that Strong was faced with his biggest mental and physical challenge.
"They really stretch you to your limits every day. They demand the most out of you academically and athletically. That was the biggest thing, trying to balance that. You really have to prioritize," he said.
"My sophomore year I went through a slump on the ice. I wasn't playing great. School was really tough and I was really stressed out. I also had a little bit of a knee injury. I think it affected me mentally more than anything. I had some tough times and some tough phone calls to my parents and my sisters. But they helped me get through it."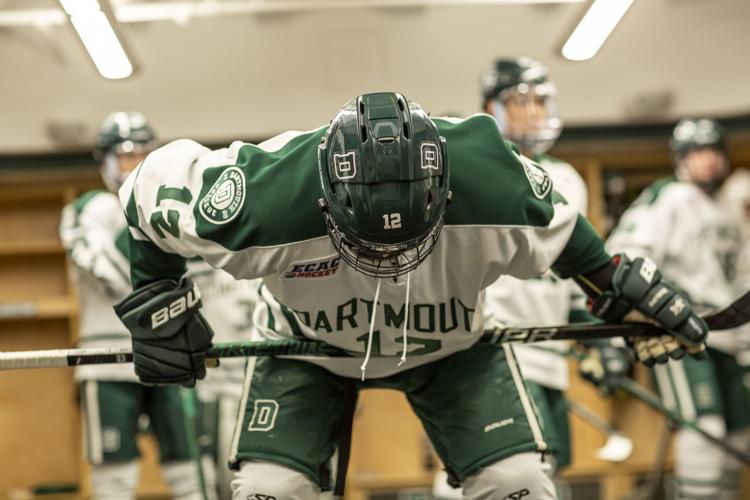 Strong helped spur a big comeback win against defending national champion Denver that season, scoring a goal that helped the Big Green eventually erase a 3-0 deficit.
Strong scored on a deflection in front of the net, then later assisted on a goal that gave Dartmouth a 4-3 advantage.
It was a game that Strong, who had nearly 20 family members watching inside Magness Arena that night, said remains the highlight of his career to date.
"I'll be honest with you, I just got the goose bumps when you mentioned that game," he said. "With how tough of a season it was for me, that was the coolest game of my entire career. Just an epic comeback. Any time you're part of a comeback win it's amazing, but especially when it's against Denver on the road."
Strong has shown an ability to make big plays, and has scored one game-winning goal in each of his three seasons at Dartmouth.
After his sophomore year, despite his trials, Strong was given the team's McInnis Award for sportsmanship.
Leadership has been one of Strong's best qualities. Case in point, Gaudet tells a story about an ECAC clash last season at Union (N.Y.), a game the Big Green lost in overtime, after which a few members of the team left the ice before the traditional postgame handshake between the teams.
Strong, Gaudet said, raced to the dressing room to make sure they returned.
"All of the sudden those guys are coming back, and here's Cam Strong bringing them back," Gaudet said. "Very, very few guys would do something like that. It's not like they were being poor sports. It's the emotion of the game. They were disappointed. Cam had the wherewithal to say, 'Hey fellas, get back on the ice. We're shaking hands.'"
"It's about playing the game the right way, playing hard but playing fair, and when it's all said and done being respectful to your opponent and the game of hockey itself," Strong said.
"No one's happy to lose that way when it's so quick. Some guys left the ice. I really do think that the guys just forgot about the handshake line. It's not like they purposely wanted to skip that. The first thing I thought of was that we had to go shake hands with the other team and tell them that they played a great game and they deserved to win."
Team leader
Gaudet, careful not to interfere with what is a players-only vote, said Strong would be a fine choice for captain next season, or at least as an assistant captain.
"In terms of the respect of his peers, there's no question about it. He'd be an outstanding representative for our team," Gaudet said. "Regardless if he has a letter or not, he's a guy that's going to be a leader anyway. He just has a lot of pride and a lot of character."
With his final collegiate season on the horizon — Dartmouth's first game is scheduled for Nov. 1 at ECAC rival Harvard — Strong still has a lot in front of him.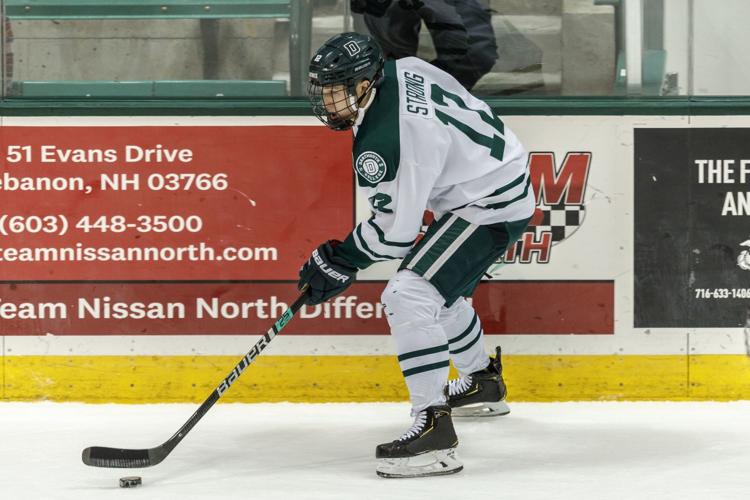 The Big Green have their top three scorers returning (Quin Foreman, Drew O'Connor and Will Graber), as well as starting goaltender Adrian Clark. So a run through the ECAC playoffs and a berth in the NCAA tournament are the goals.
Strong will also graduate on time with a bachelor of arts in engineering in the spring. He currently boasts a 3.64 GPA in the face of academic stress.
Ready for one more run, Strong says he's feeling as good as he ever has, and he's prepared to do whatever it takes to help Dartmouth go as far as it can.
"I had a good junior year this past season. I was able to manage my time really well and I had some great classes that I was really into and really doing well in," he said. "I settled into my role finally on the team, where I'm a third- and fourth-line kind of a grinding role player that I'm happy to be in.
"It took me a while to accept it but I'm happy to be there because I feel like I can make an impact. I really realized that this year. I didn't put up a ton of points, but I think I made an impact in more ways than just goals and assists."
That's where leadership and character come in, and those qualities will never be a problem for Strong.