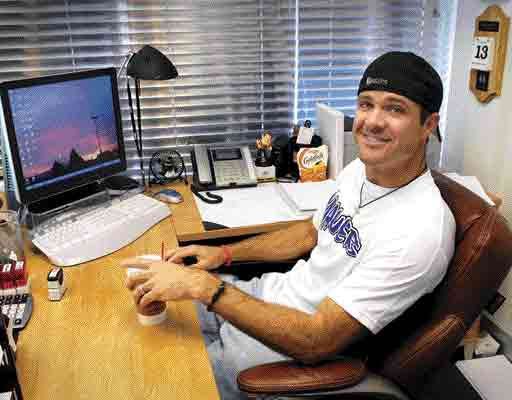 If there was ever any doubt whether the Missoula Maulers were finished, owner Michael Burks slashed it Friday.
The man who introduced Junior A hockey to Zootown nine years ago has had enough of what he believed was a lack of consideration by the Missoula Area Youth Hockey Association (MAYHA), which runs Glacier Ice Rink. For all the Maulers did to bolster the local hockey community and improve its indoor venue, he says he deserved better.
"I'm sick and tired of getting kicked in the gut," he told the Missoulian. "Right now the hate coming my way for something I've put a million dollars into, I don't deserve it.
"I go into the Butte rink and 50 people shake my hand saying, 'Thank you for bringing Butte hockey back,'" he added, alluding to the fact he owns the Butte Cobras Junior team. "I come in here and it's like, 'Yeah, there's your five weekends (for scheduling) and we're going to increase this and starting taking this and doing this.' They (MAYHA) hate me and I don't know why."
On Thursday Burks' lawyers sent a press release to local media outlets indicating the Maulers had played their final game. The ax fell after shortly after the MAYHA informed him he would be charged more money for prime ice time this coming season.
Burks stressed he and the MAYHA had not been in lease negotiations for the upcoming season. He provided the Missoulian with an email he received Wednesday from attorney Thorin Giest on behalf of the MAYHA.
Giest used the phrase "we're at an impasse."
"The lease itself the rink presented is not catastrophic at all," Burks noted. "What's catastrophic about it is the respect for what I have done for the rink and the fact they weren't willing to concede to that other than say we appreciate what you've done."
Laura Henning, executive director of the MAYHA, said the increase in fees for designated ice times for 2016-17 comes out of necessity.
"They're based on operating costs and so when operating costs increase -- we had to replace a compressor last year that was $60,000, we had to replace a condenser this year that's $70,000 -- we increase our ice fees," she offered. "Many rinks do this. One of the models we're looking at is a prime time ice fee versus on an off-time ice fee. The ice fee for the (Maulers) games went up but we were reducing the practice costs. If you want to save some money, one of the things I suggested was we could cut the hour before (the Maulers) take the ice to 45 minutes and it would save him $2,000 off of last year's cost."
Burks' list of beefs with the MAYHA dates back for years. He says he's lost money every year since starting the Maulers and the sum total is just under $1.2 million.
He says he kept the team afloat for the benefit of Missoula.
"When I got to Missoula and started this team it was a sheet of ice and dirt, that's it, a barn," Burks said of Glacier Ice Rink, which sits on property leased from Missoula County. "They had the green (wood) bleachers that are outside now. No upstairs, no concessions, nothing.
"All the locker rooms were those pressboard things. That (Burks' initial investment of $563,137.85 in 2005) put in concrete, the concessions, the Maulers' locker room, the upper deck, the rink office I built, the sound system and the light system."
In retrospect, the beginning of the end for the Maulers probably started in 2014 when they switched from the old American West Hockey League (AWHL) to the Tier III Western States Hockey League. In the former, Missoula was travelling to places like Billings and Helena and Great Falls. In the latter, the travel trips were much farther and home scheduling became very difficult.
Burks said he pulled his team out of the AWHL -- now known as the North American 3 Hockey League -- because "basically I caught Helena cheating."
"I submitted 72 documents showing illegal players, point fixing ... I was voted down 7-1 by the league to do anything about it, so I said peace out," Burks offered. "They (Helena) were cheating our fans and everybody knew it. If you go to Helena you don't have to pay. Ordinarily a player pays between $6,500 and $8,500 to cover team operating costs."
Burks was disappointed in the MAYHA's lack of flexibility when it came to his WSHL scheduling woes. He was forced to work around youth hockey tournaments, figure skating and a curling event.
"The scheduling of hockey in this city and that rink is the worst nightmare you could ever experience because of the Griz football schedule, the massive amount of tournaments and everything else," Burks said.
"What really worked in that league (AWHL) was the Friday home, Saturday away. That's when attendance was 1,700 a night. The Helena-Missoula rivalries were spectacular. That's the only reason I did Butte. I wanted that rivalry back. That league would be perfect here."
Burks' relationship with the MAYHA became exponentially more complicated this past winter when he took issue with his son's youth coach and a locker room shouting match ensued. Burks wanted the coach to comply with his wishes regarding a disciplinary measure he took with his son.
Burks was temporarily banned from Glacier Ice Rink and appeared before a disciplinary committee, where he apologized. His punishment will carry into next winter -- he is required to follow the guidelines of a zero tolerance policy.
"I went to the last (youth) tournament of the year and was asked to leave in front of family," Burks recalled. "Getting my (butt) ripped at a rink I built."
Henning said Burks was treated like anyone else would have been treated in the same sitaution.
"When it happened, we have youth hockey policies that we follow," she said. "What I kept explaining to him is I am not doing this personally. We are following policies that are set.
"I did tell him multiple times I'm treating you as I would treat any other parent. I can't discriminate against you being Michael Burks versus Joe Schmoe over here. If they break the code of conduct, then we form the discipline committee. That was not anything different."
Burks listed a number of other incidents in which he felt disrespected by the MAYHA, including one in which a Maulers championship banner was taken down at Glacier Ice Rink and "tossed into a corner like a used tissue." At this point he says he merely wants to be a hockey dad and support his son.
"I want Missoula to have (Junior) hockey here," he said. "I'm just not the guy anymore.
"The moment the press release went out (Thursday) they hammered me. Is Missoula open (for Junior hockey) now? I told them yes, I'm not signing a lease and I gave them information to contact the rink."
No one disputes the fact Burks -- a successful businessman who owns Big Sky Specialized Carriers, Fuel Fitness, Garden of Read'n, Stitches and Hockey World -- has made a positive impact on Missoula hockey by introducing the Maulers. Interest in youth hockey has sykrocketed and kids love to watch the Junior A level of play.
"We're sad to see the Maulers go," Henning said. "To me the whole thing is sad. We've had a good relationship with them.
"But the Missoula market is very appealing to a lot of these Junior hockey teams. Michael (Burks) has done a good job in creating a very strong hockey fan base so I think we will not have a problem attracting another Junior hockey team. But until we have a board meeting and get a plan of action, I don't even know which direction we're going to look at."
Even though his disappointment will linger, Burks says he will continue to live in Missoula and loves the area. He said he'd be happy to help out the next Junior hockey team that comes to town in any way he can.
For now though, the wound is still open.
"This is catastophic for my personal life," he offered. "I had to watch them tear down that Maulers banner (Friday). I was driving by (Glacier Ice Rink) and I just texted my guy, 'Get it down.'
"I can't drive by that anymore. I can't even see Maulers stuff. I can't even see the word."