MISSOULA — The 46th annual YMCA Riverbank Run — affectionately known as the Bank Run — is on the horizon. 
The race, which began in 1967, prides itself as Missoula's oldest footrace and will begin Saturday morning downtown. 
There are four race options for Saturday's event — the 1-mile, the 5K, the 10K and the trifecta. Trifecta participants run the timed events at all three distances. 
All of the races begin in front of Liquid Planet at Higgins Avenue and Broadway Street and they all finish in front of the bear statue at Boone and Crockett on the Kim Williams Trail.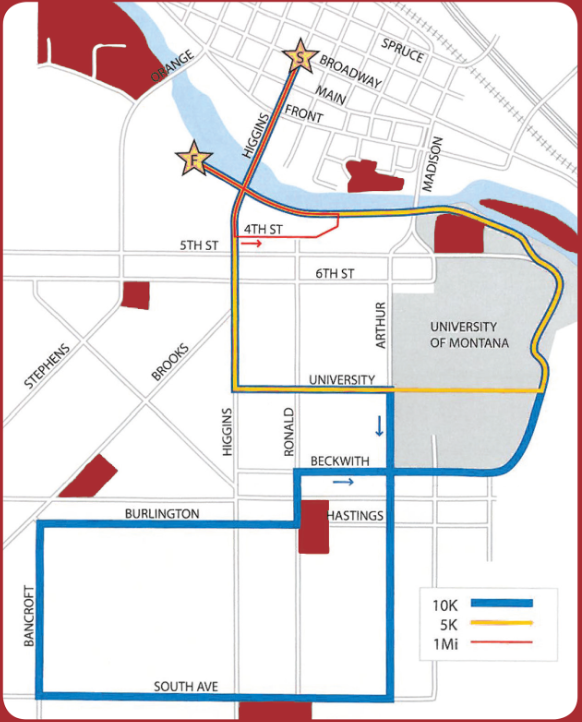 The 10K race is the first to begin at 9 a.m., with the 5K following at 10:30 a.m. The timed mile run begins at 11:25 a.m., while the 1-mile fun run starts at 11:45 a.m. 
The 5K and 10K routes run south on Higgins to University Avenue and then go toward UM's campus. At Arthur Street, the two routes diverge. The 10K route turns south on Arthur Street, while the 5K route continues through campus until reaching Campus Drive. 
The 10K route takes Arthur Street all the way to South Avenue, runs west to Bancroft Street, north to Burlington Avenue, east to Ronald Avenue, north to Beckwith Avenue and follows that street until it converges with Campus Drive.
The 5K and 10K route meet up again on Campus Drive and stay together through the rest of the race. The race follows Campus Drive until it turns into Fifth Street and takes the Kim Williams Trail along the south side of the Clark Fork to the finish line. 
The 1-mile route starts at Liquid Planet on Higgins, runs south to Fourth Street, east for a little over two blocks and winds its way to the Kim Williams Trail before running back west to the finish. 
Last year there were 1,009 participants: 135 entrants in the trifecta event, 265 in the 10K, 740 in the 5K and 535 in the mile. 
As of Thursday evening, there were 1,789 participants registered for the 46th Riverbank Run. Race registration will remain open until 7 a.m. on race day. 
Most of the participants hail from Montana, but there are people registered who are from Texas, Colorado, Oregon, Idaho, Washington and California.
The current forecast for Saturday is a high of 72 with a low of 44 with a chance of scattered thunderstorms in the evening.