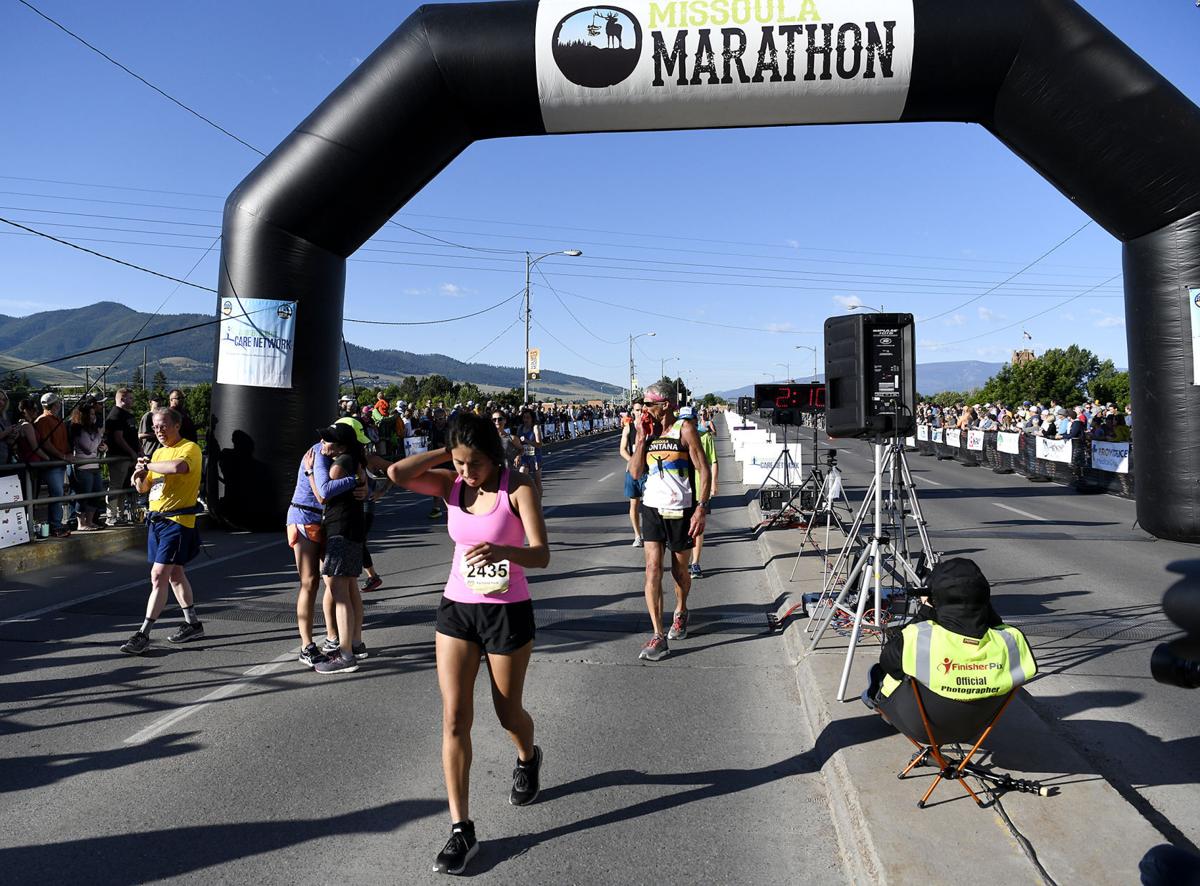 MISSOULA — The rainstorm that saved the 2015 Missoula Marathon might just have saved the 2021 version, too.
In the weeks leading up to the 2015 Marathon, Tony Banovich, the executive director of Run Wild Missoula, which oversees the race, was understandably nervous.
It was his first year in charge and heavy smoke from Pacific Northwest wildfires had crept into the Missoula Valley, threatening the competition. Late in the week the weather broke for the better — or, worse, depending on your opinion of rain — and the race went on as scheduled.
Somehow, it was the first time it had ever rained during the marathon weekend.
"We were thrilled about it because it cleared the air," Banovich said. "But coming out of the backside of that, our board said, "You know what, we really need to think about, do we have adequate reserves if we had to cancel the marathon."
Fast-forward five years to the 2020 Missoula Marathon, which was scheduled for June 26-28. It was canceled due to concerns relating to COVID-19. But months later, Run Wild Missoula has yet to lay off any employees and has continued to move forward with its mission of supporting the running and walking community in the Garden City.
That decision to start making a more concentrated effort to plan for a cancellation paid off.
Banovich and the rest of the organization assumed it would have to do with wildfire smoke or a lightning storm. A viral pandemic was a little out of left field.
"It's been a weird summer," Banovich said.
But the staff at Run Wild Missoula have been busy trying to keep its members active and engaged. With virtual racing becoming a booming part of the running community, there has been plenty to keep them busy.
And that's not to mention the 900 virtual Montana Marathon runners who needed t-shirts and medals mailed out. In a surprise, over 400 runners actually registered for the virtual marathon who had not been registered for any previous marathon, providing a small boost to the non-profit organization.
It was a long process to both put that together and mail everything out, but it kept the Run Wild Missoula staff busy.
Now, they're starting to get ready for the fall. In-person racing might be a stretch, but they are coming up with options.
"Traditional racing just does not seem to be on the docket for this fall, I think the industry is kind of coming to that conclusion," Banovich said. "I think we've developed a plan where we're currently working with the health department for some potential to do a modified version of a couple different races and then some virtual races."
Run Wild Missoula is preparing for a marathon in 2021 and has set the dates for June 25-27 of next year. The marathon and half-marathon are scheduled for Sunday, June 27.
While informal discussions among the staff have taken place, planning will truly begin this week when they have their first formal marathon committee meeting. This is far earlier than the usual September or October meeting.
But COVID-19 is actually giving the race organizers some extra time, which they plan to exploit.
"We're going to plan we're going to have a race next year. As an organization, there are a lot of different reasons we have to go down that path and be prepared to do it," Banovich said. But we'll put those contingencies still in place … lots of questions like, "What if COVID is still around? What will that look like? If it's not in-person and has to be done virtually, what does that look like?
"What do we do as far as beyond 2021 and there are a lot of unknowns there. Every major event in the country is having those discussions right now. We're going to keep moving ahead."
That plan has served them well and seems as if it will continue to do so. But it is not only the organizers who are looking ahead, it's the runners and the Missoula community as well.
Banovich said around 2,300 people registered for the event moved their entry to the 2021 race. There were several options for runners once the event was canceled, including a 50% refund or the choice to donate to Run Wild Missoula to be used in the community.
Many people chose the donation option — far more than Banovich had anticipated — and Run Wild Missoula was able to raise $23,000 for a variety of charities, as well as $1,000 each for the local Class AA cross country programs.
The Missoula Food Bank, Missoula Youth Homes and Opportunity Resources each received $5,000 from Run Wild Missoula. An extra $5,000 was put in reserve for other giving opportunities in 2020.
"It makes us feel good that we have that type of commitments from our participants and that kind of buy-in and they continue want to be part of it," Banovich said.
Looking toward the future is tough for any organization right now, much less for individual people.
The Run Wild Missoula and the Missoula Marathon, though, are going to keep pushing forward. That's in large part due to the community commitment, but also due to some forward thinking five years ago when planning for a rainy day was far different.
"I never thought we'd be in this position, but here we are," Banovich said. "I'm glad we did what we did so we can continue to be around for the Missoula running and walking community."
Jordan Hansen covers a bunch of stuff for the Missoulian and 406 Sports. Shout at him on Twitter @jordyhansen or shoot him an email at Jordan.Hansen@406mtsports.com
Be the first to know
Get local news delivered to your inbox!