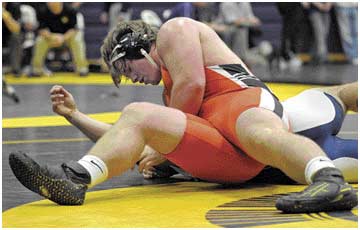 It's hard to imagine Tyler Thomas as a basketball player, looking at him now. Yet that's exactly what he was until fairly recently.
The 6-foot-3, 280-pound senior is one of Montana's top high school wrestlers and once he graduates from Kalispell Flathead this spring, he's bound to make his mark as a college football player in the coming years. Thomas would probably be the first to tell you that indoor hoops is the furthest thing from his mind now.
Then again, anyone who's seen the Oregon State recruit could tell you that's no basketball body.
"He's probably one of your bigger heavyweights, but not in a chunky way at all," said Matt Owen, Flathead's first-year wrestling coach. "He's definitely very athletic and a very well put together kid. He could excel at wrestling in college if he wanted to pursue that."
But grappling wasn't even on Thomas' radar until three years ago.
All through his youth and even during his freshman year at Flathead, Thomas played basketball, but something - or some body - changed. The teenage giant, who cramped his body between the bleachers and the rafters at Sentinel High School, chalked up his sport swap to circumstance.
"I don't know," said Thomas, who lounged with teammates Friday while enjoying a first-round bye. "I just wasn't liking basketball as much as I used to and we have a great wrestling program, so I gave it a shot and loved it, and here I am now."
Here he is: the defending champion at the Jug Beck Rocky Mountain Classic, one of the state's most prestigious wrestling tournaments. Thomas credits his sudden affection toward wrestling to good coaches, good teammates and a good lineage of heavyweights, like his immediate predecessor Dan Ogden. Ogden is one of three Flathead wrestlers (Brandon Hoffenbacker and Tiger Harris being the others) to wrestle in the heavyweight finals at state in every year since 2003.
Thomas carried on that tradition by earning runner-up honors in his first full varsity campaign last season, but he wasn't always certain if wrestling was the right path for him.
"I wasn't sure if I'd like it," said Thomas. "I'd always played basketball. I was kind of nervous. Having a kid like (Ogden), and that caliber of wrestler, kind of take me through my first year was pretty big. He hadn't been wrestling that long either, so it was kind of easy to relate."
Ogden also played basketball and his tutorials helped ease the way for Thomas.
"I worked with him a lot and he showed me a lot of stuff," said Thomas. "He was kind of in the same boat. He did all the same sports I did, so it was easy to take advice from a guy like that."
Ogden was a state runner-up twice, while Hoffenbacker won a title and Harris brought home two. Now Thomas is doing the best he can to carry on that tradition. Despite a four-hour wait on Friday, Thomas pinned Great Falls High's Matt Cable and Devin Norland of Clarkston, Wash., to move into Saturday's semifinals, and now sits two wins shy of his second Rocky title in three years.
Some might say Thomas is toiling away in the heavyweight division before he begins a college football career, while others might say he's just toying with his weight class. Either way, his future college coaches are not concerned.
"The coaches all really like wrestlers," he said. "It's a good sport for keeping your muscles going and just getting good workouts in, so they kind of recommend that you keep playing sports, and I just wanted to, too. It's a great group of guys to be with and and a great team to be on."
While Thomas says he's staying in shape for football, the man-child also has a little redemption on his mind. He wants to win a state title and knows that road goes through Toby Erickson, that mat cat from Helena, who beat him during state last year.
"Oh, I can't wait for that match. I haven't even seen him this year," said Thomas, who'll miss his first chance next week in Great Falls because he'll be out of town. "I'm taking my official visit next week so I'm going to miss those State AA Duals. I might see him at the Helena duals before our divisoinals, but that's about it. I'm excited for sure though."
"He's still really jacked about the sport," Owen said. "He's been focused and worked hard since Day 1. There's a kid in Helena that he has his eye on. He would like to get some revenge. He definitely has some goals. He's trying to push himself and get that state championship before he's done here."