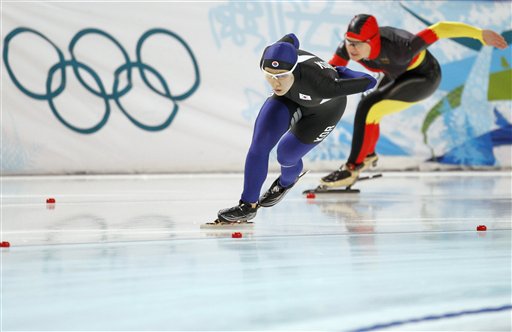 RICHMOND, British Columbia - Lee Sang-hwa wanted to keep up with her friends.
She wound up with a gold medal.
The 20-year-old South Korean stunned favorites Jenny Wolf and Wang Beixing on Tuesday to give her country a sweep of the 500-meter events at the Richmond Olympic Oval.
Through the first four speedskating events, the Asian nation has won two golds and a silver - none of them expected. After all, South Korea has never won a Winter gold in any sport other than short track until its dominant opening run at the big oval in suburban Vancouver.
"All my friends won medals, so I had a little bit of pressure," Lee said. "I was a little bit worried."
Wolf, the world-record holder, and Wang came in expecting to battle for the top spot on the podium, having swept all eight 500 races during the World Cup season. But Lee held off Wolf by five-hundredths of a second, winning with a total time of 1 minute, 16.09 seconds.
"The feeling has not sunk in yet," she said. "I cannot believe I have won the medal. I am very emotional and I feel like I am going to cry."
Wolf had the fastest time in the second race, but it wasn't enough to erase Lee's lead from the first heat, leaving the German with a silver at 1:16.14. Wang took the bronze in 1:16.63.
"Right now I'm a little bit confused," Wolf said. "I wanted to win gold."
Lee grabbed the lead in the first race, putting up a time of 38.249 for a 0.058 lead over Wolf. Wang was a disappointing third in 38.487, essentially ending her hopes of winning gold unless the top two both made a major mistake while going out in the final pair of the day.
They didn't. Wolf stuck out her blade to edge Lee at the line in 37.838, but the Korean's 37.850 was good enough for gold.
"I cannot explain why I was so slow over the first run," Wolf said. "I was not aggressive enough, with the slow time as a result."
She knew Lee was a threat.
"She improved on her top times a great deal this year, and she kept improving as the season went on," Wolf said. "I knew she can skate really fast and in her mind, she is very strong. She doesn't care, she just skates. Wang and me, we think a lot, and we analyze a lot."
Lee got a hug from her coach and grabbed a South Korean flag for the victory lap, an increasingly familiar celebration at the oval in suburban Richmond.
"I practiced for the big games," said Lee, who didn't focus on her World Cup results. "It worked out well."
Lee will be back on Thursday to skate the 1,000, but that wasn't an immediate priority.
"I want to rest," she said.
Lee finished off a South Korea sweep of the 500s. Mo Tae-bum captured gold in the men's race a day earlier and is expected to be one of the top challengers to American world-record holder Shani Davis in Wednesday's 1,000.
Mo's victory put some heat on Lee to keep up.
"I really was happy for him, but I was also very anxious and very nervous," she said. "Actually, I did not sleep very well last night."
Now, she'll sleep just fine. In fact, the whole South Korean team must feel like these games have already been a huge success, with eight events still to go.
In addition to winning a pair of golds, they also collected an unexpected silver in the men's 5,000 from Lee Seung-hoon.
"Where did these guys come from?" said Eric Heiden, who won five gold medals at Lake Placid in 1980 and now serves as doctor for the U.S. team. "Their coaches and administrators are on cloud nine."
Wang was satisfied with her result, even though her country is still seeking its first gold medal in long-track speedskating.
"This my first time standing on an Olympic podium," she said. "I am very glad."
There were no problems with the two ice resurfacing machines after major malfunctions during the men's 500 caused a delay of about an hour and left officials considering whether to postpone the event to another day. A backup machine was brought in from the Olympic oval in Calgary, but it wasn't needed.
The top American was Olympic rookie Heather Richardson, a North Carolina native who made the inline-to-ice transition in 2007 and expects to make a bigger splash at the Sochi Games in 2014.
She finished an encouraging sixth in 1:17.17, shaving two-tenths of a second off her time in the second heat. The other Americans were far back: Elli Ochowicz was 17th, four-time Olympian Jennifer Rodriguez 21st and Lauren Cholewenski 30th.
"I nailed my start in both races," said Richardson, who considers the 1,000 her best event. "I didn't expect to do so well in this race."
The U.S. team has yet to win a medal at the oval but has big hopes for Wednesday's race with Davis leading the way.
The Dutch were denied a potential medal contender when Annette Gerritsen lost an edge in the first race and tumbled into the padding.
"The second race was OK. But for me, it was over after the first race," she said. "After I saw the times of the other girls, I thought I could do a good job here. I am really disappointed."