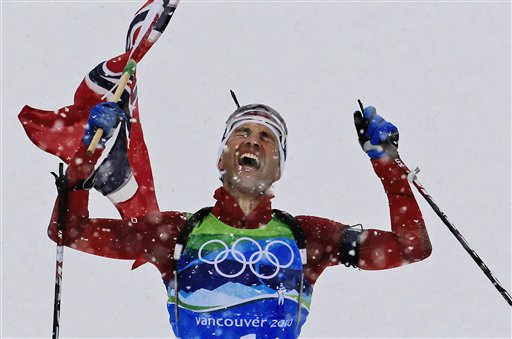 WHISTLER, British Columbia (AP) - A flag-waving Ole Einar Bjoerndalen anchored Norway to a resounding victory in the men's biathlon relay, the sixth gold medal for the most decorated biathlete in history.
Behind Bjoerndalen's brilliant final leg, the Norwegians covered the Whistler Olympic Park course in 1 hour, 21 minutes, 38.1 seconds in steady snowfall Friday.
Christoph Sumann edged Russia's Evgeny Ustyugov, giving Austria the silver. The Austrians were 38.6 seconds behind Norway. Russia was 38.8 seconds back for the bronze.
After finishing fifth at the Turin Games four years ago, the Norwegians made a gold medal in the Vancouver relay their No. 1 goal.
And with a dazzling race in which he blazed across the glazed snow and feverishly knocked down all 10 of his targets, the 36-year-old Bjoerndalen delivered after outstanding performances by teammates Halvard Hanevold, Tarjei Boe and Emil Hegle Svendsen.
This was Norway's eighth gold medal of the Vancouver Games.
Bjoerndalen now has 11 Olympic medals overall but this was his first Olympic victory since sweeping all four events in Salt Lake City in 2002. He won his first gold in Nagano, Japan, in 1998.
Bjoerndalen, whose amazing final leg in Turin four years ago wasn't enough to make up for his teammates' poor performances, started the anchor leg in first place this time.
He was just 0.2 seconds ahead of Sumann, and they skied into the range together for the prone shoot, where they both showed some nerves.
Bjoerndalen, whose shooting has been shaky these entire Olympics, missed two of seven shots - but Sumann missed four of eight and had to ski a penalty loop, dropping him into third, behind Ustyugov.
In the relay, competitors get eight bullets to hit five targets on each of their shoots. If they don't knock down all the targets, they have to ski a 150-meter penalty loop. After their five-bullet magazine is emptied, they have to hand-load .22-caliber bullets from their rifle stock, which takes eight to 10 seconds for each.
Ustyugov was 5 for 5 on the range and skied out 12.4 seconds behind Bjoerndalen with Summan leaving the range 39 seconds after the leader.
Still one of the fastest skiers on the circuit, however, Bjoerndalen opened a big lead and skied into the range for his standing shoot well ahead of his pursuers. This time, he shot cleanly, knocking down all five targets.
Bang! Bang! Bang! Bang! Bang! The crowd cheering with each one.
As he slung his rifle over his shoulder and pushed off for the final leg, it was clear Bjoerndalen had his first gold medal since 2002.
Beginning the final lap, Sumann was 45.6 seconds behind and Ustyugov was 46.8 seconds back.
Trying to defend its title from Turin, Germany fell too far behind when Andreas Birnbacher missed five of eight standing shots on the second leg of the race. The Germans finished fifth.
Never a threat, the Americans finished 13th out of 19 countries.
Coming off last year's world championships in Pyeongchang, South Korea, where he won three individual titles - giving him 14 - and anchored Norway's winning relay team, Bjoerndalen was among the favorites in every race at these games.
He tamped down expectations by saying his personal goal was to win two medals - and that, he did.
Bjoerndalen's gold medal was a fantastic finish to his up-and-down Winter Games that included a silver medal in the 20-kilometer individual race but also a 27th-place finish in the 15-kilometer mass start, where he missed an astonishing seven shots.
Bjoerndalen remains two gold medals short of ranking as the greatest Winter Olympian. Having won five gold medals in first two Olympics, Bjoerndalen was widely expected to one day break Norwegian cross-country skier Bjoern Daehlie's record of eight. But he was shut out in Turin and nearly shut out in Vancouver.
He said he'll compete in Sochi in 2014, when he'll be 40.