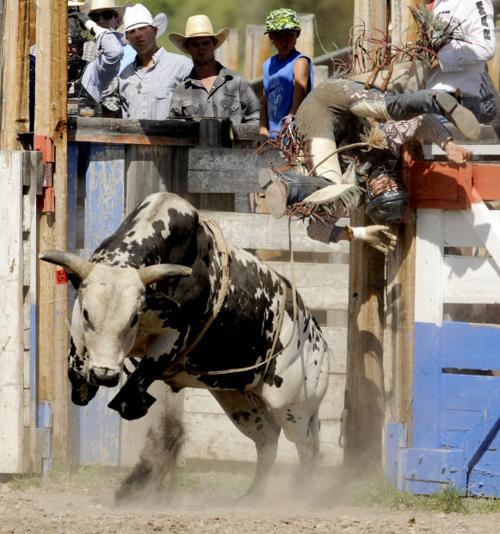 DRUMMOND – The Fourth of July weekend wrapped up in small-town style on Sunday with the 72nd Drummond PRCA Rodeo.
Fans from around the Northwest packed into the Legion Rodeo Grounds to see cowboys and cowgirls compete against the Kesler Rodeo livestock. For some, it was their 10th rodeo in 10 days, a summer stretch that has been dubbed "Cowboy Christmas."
In the midst of the 90-degree heat, Beau Hill of West Glacier won the bull riding competition and a $677 prize with a 79-point ride on "Solid State." Stephenville, Texas, resident Toby Collins wasn't far behind with a 77-point ride on "Last Resort" to take second place and win $508.
Missoula's Dustin Jenkins, a former national champion for the University of Montana rodeo team, rode "Wired Monk" to fourth place with 64 points.
Earlier on Sunday during the slack Sunday morning round, Carlee Pierce, another resident of Stephenville, set a new arena barrel racing record of 16.99 seconds. The record ride earned Pierce $811. Becky Fuson of Conrad took second with a time of 17.21 that earned $705.
The rest of the barrel racing field was a tight race – Allison Darrow, Sandra McGinnis and Tanya Getten finished in sixth, seventh and eighth place with 17.64, 17.65 and 17.66. No. 1 PRCA ranked racer Shelby Blixt of Helena finished fourth in 17.52.
Tie-down roping also came down to a sliver of a second. Ben Ayre took first place back to Glendive with a time of 10.8 seconds, while Austin Barstow and Brant Davis settled for a two way tie for second, both finishing in 10.9.
Between events, rodeo clown Bert Davis featured his herd of rodeo show dogs performing stunts for the crowd of nearly 2,000.
In team roping, Broken Bow, Oklahoma brothers Clay and Jake Smith upset the No. 1 ranked PRCA team of Clay Tryan of Billings and Jade Corkill of Fallon, Nevada. The Smiths roped in a time of five seconds flat to top Tryan and Corkill's 5.4.
Cavan Wrzesinski of Boulder, currently ranked third among PRCA circuit bareback riders, took first place with a score of 78 aboard "Seat Sale." He beat out Heath Ford of Slocum, Texas, who finished with a 74 on the horse "Three Wings." Sylvan La Cross of Baker and Nick Gutzwiler followed up with 71 and 70.
Only two cowboys, Collins and Chase Brook, scored to place in saddle bronc riding. Collins took first, riding "Coal Bank" to a 76 and an $827 purse. Brooks, of Deer Lodge, took home $677 on a 71-point ride on "Spotlight."
By the end of the rodeo, $21,874 was awarded to cowboys and cowgirls across all seven events. Cowboy of the Day honors went to Collins, awarding him another $1,109 for his efforts in saddle bronc and bull riding.
Trailers of horses, bulls, riders and fans departed from Drummond while the sun set on another Cowboy Christmas. The next PRCA rodeo is just three days away, set to take place on July 10 in Wolf Point.
---
Bareback – 1, Cavan Wrzesinski, Boulder, 78 on Seat Sale, $497; 2, Heath Ford, Slocum, Texas, 74 on Three Wings, $373; 3, Sylvan La Cross, Baker, 71 on Shadow Land, $249; 4, Nick Gutzwiler, Cheney, Washington, 70 on Mystic Blue, $125.
Saddle bronc – 1, Toby Collins, Stephenville, Texas, 76 on Coal Bank, $827; 2, Chase Brooks, Deer Lodge, 71 on Spotlight, $677.
Bull riding – 1, Beau Hill, West Glacier, 79 on Solid State, $677; 2, Collins, 77 on Last Resort, $508; 3, Nevada Newman, Melstone, 73 on Bamboo, $339; 4, Dustin Jenkins, Missoula, 64 on Wired Monk, $169.
Tie-down roping – 1, Ben Ayre, Glendive, 10.8, $903; 2, (tie) Austin Barstow, Springview, Nebraska, and Brant Davis, Sand Coulee, 10.9, $564; 4, J. Billingsley, Glasgow, 12.2, $225.
Team roping – 1, Clay Smith, Broken Bow, Oklahoma/Jake Smith, Broken Bow, 5.0, $1,329; 2, Clay Tryan, Billings/Jake Corkill, Fallon, Nevada, 5.4, $1,100; 3, Tyler Magnus, Manson, Texas/Colton Lee, Santa Anna, Texas, 5.6, $870; 4, Dustin Bird, Cut Bank/Paul Eaves, Lonedell, Missouri, 5.9, $642; 5, Delon Parker, Worden/Sid Sporer, Cody, Wyoming, 6.4, $412; 6, Bill Parker, Billings/Jace Crabb, Billings, 6.5, $229.
Steer wrestling – 1, Nick Stubblefield, Choteau, 3.9, $996; 2, Luke Gee, Stanford, 4.1, $747; 3, (tie) Jim Pat Smith, Melrose, and Newt Novich, Twin Bridges, 4.4, $374.
Barrel racing – 1, Carlee Pierce, Stephenville, Texas, 16.99, $811; 2, Becky Fuson, Conrad, 17.21, $705; 3, Abigail Knight, Charlo, 17.49, $599; 4, Shelby Blixt, Helena, 17.52, $493; 5, Tammy Carpenter, Kalispell, 17.55, $388; 6, Allison Darrow, Stevensville, 17.64, $282; 7, Sandra McGinnis, Bassano, Alberta, 17.65, $176; 8, Tanya Getten, Helena, 17.66, $70.