MISSOULA — Maverick Potter played his share of baseball growing up, so he knows a little about streaks and slumps.
The 18-year-old Texan found the sweet spot Wednesday in the PRCA Xtreme Bulls competition at the Missoula County Fairgrounds. He turned in a buckle-winning score of 84 on Home Grown, earning a check for $3,632.56.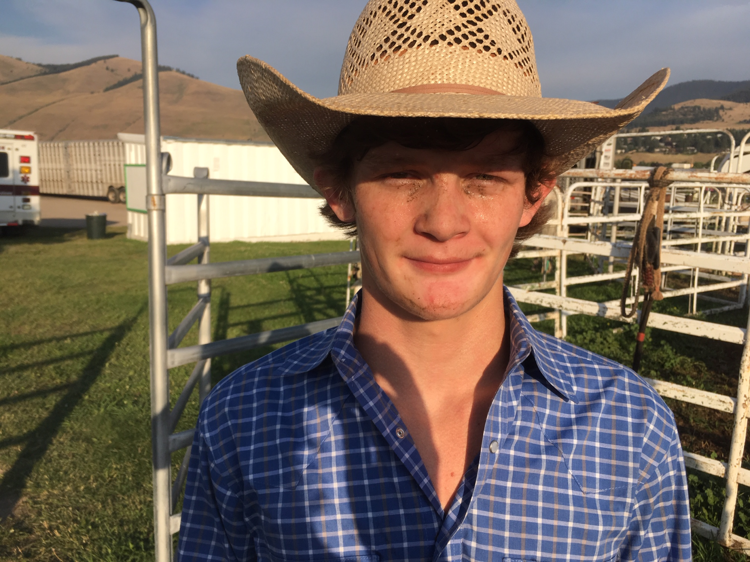 "I started taking it too serious, almost like going up to bat and you're all tensed up," he said about a recent slump. "Now I'm just letting it all hang loose, just having fun. Shoot, that's what it's all about."
Potter's recent run of good fortune started Sunday when he posted a winning score of 86.5 in the Douglas County Fair & Rodeo south of Denver. On Tuesday he scored 74, setting the standard at the Jerome (Idaho) County Fair & Rodeo.
Potter plans to rodeo for Southwest Texas Junior College in Uvalde starting next month. With Wednesday's win, he pushed his prize money up over $14,000, catapulting him into the top 16 in the Xtreme Bulls standings. 
Harlem's T'Jay Allen finished second, posting a score of 83 on a bull named Lil' Bit Stronger. He collected $2,796.90 in prize money.
The finish was Allen's best since July 9 when he won the Bear Paw Roundup PRCA Rodeo at the Blaine County Fair in Chinook. He scored 78 that day.
"It was pretty awesome," Allen said of Wednesday's effort in front of an impressive crowd at the Western Montana Fair. "The bull was nice, riding around to the left into my hand and it was sweet. He picked me back up and I stayed on my rope and kept hustling.
You have free articles remaining.
"This was kind of a breakout ride, get-out-of-my-slump ride. So I'm glad for it."
Finishing third was Cole Wagner of Valier, who entered the competition ranked ninth in the Montana Pro Rodeo Circuit standings. He posted a score of 82 on Weigh Me Up, collecting $2,080.62.
Texan J.T. Moore took fourth, scoring 80 aboard No Wooden Nickels. Ranked 16th in the Xtreme world standings, he collected $1,364.34.
Idaho's Thor Hoefer finished fifth, scoring 77 aboard Tan Dan. Keenan Kvamme, of Carrington, North Dakota, took sixth by scoring 74 on Arm and Hammer.
Rounding out the list of competitors to post a score was Cleve Spang of Billings. He posted a score of 72 on Order to Go.
Polson's Payton Fitzpatrick, who leads the Montana Circuit standings, was bucked off Lil' Man early in his ride. Fan favorite Dakota Louis of Browning opted for a reride and failed to post a score on a bull that was so amped up afterwards that he charged into the fence, bending a support pole.
Josh Frost of Utah was another notable cowboy who failed to post a score. A second cousin to the late Lane Frost, whose life and death were documented in a popular 1994 movie called "8 Seconds," met his match in a bull called Hard Feelings.
The Missoula Stampede rodeo will be held Thursday through Saturday at the Western Montana Fair. The start time each night is 7 p.m.
Topping the list of marquee entries is Canadian saddle bronc rider Zeke Thurston, who will compete Thursday. He sits at No. 2 in the Pro Rodeo Cowboys Association (PRCA) world rankings.