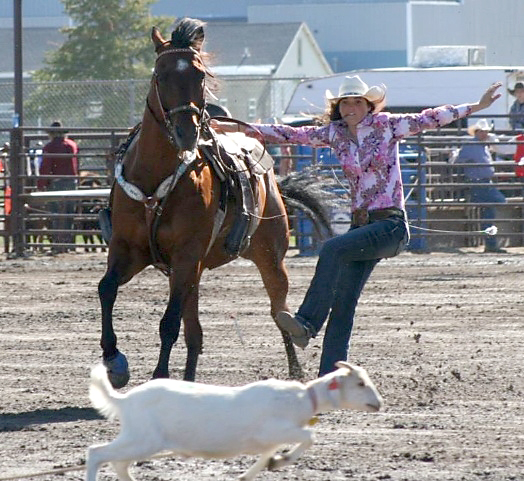 Ryanne Tracy is one tough cowgirl.
The pride of Victor found her way to the top of the heap in Montana high school breakaway roping last month despite battling a buggered up ankle since basketball season.
"My mom thinks I need to get it operated on," said Tracy, who despite torn ligaments won the year-end standings in breakaway and just missed nationals in goat tying. "She says maybe you should sit out for the first season of college rodeo. I looked at her like she's crazy."
Tracy will rodeo for Montana State on scholarship starting in the fall. But first she and a handful of other western Montanans have their sights set on winning a championship buckle in the National High School Finals Rodeo in Rock Springs, Wyoming.
Tracy's quest begins Sunday night.
"My ankle has been bugging me lately, then last week I stepped in a gopher hole in a rodeo at Choteau and cracked it again and it's all swollen," she confided. "I'm going into this with a little bit of a limp, but I'll be fine. With the adrenaline rush and everything, I won't be able to feel it."
Ah, rodeo. Just rub a little dirt on it and get back in the chute. The only sport I know of where a guy breaks his back and he's up competing in no time.
Rodeo holds unique charm for this city slicker scribe, especially on the prep level.
"We're all just kind of a big family," Tracy said of Montana's contingent at nationals. "We're all excited for one another. We all practice with each other and help each other.
"We bring bells and we go really loud for the Montana team. Then we'll meet people from other states and be excited for them."
Tracy will be making her third bid for a national title in as many years. Besides her Treasure State peers, she expects to have roughly 10 relatives providing vocal support.
Not bad considering it's at least a 12-hour drive for most of them.
"This year they're like, 'We're all coming and already have hotel rooms booked,' " Tracy said. "I always think I have the most family members there. It's pretty cool.
"It means so much that they come and support me even though they live in eastern Montana and western Montana. Some are driving like 15 hours. It's crazy they're all doing it for me. I'm pretty lucky."
For Tracy to win, she must find the right combination of control and pugnacity. Last year's brush with a national title in goat tying will be in the back of her mind. She needed a time of 7.3 seconds to win and delivered a 7.0.
"But my goat got up, so I got a no time," she said. "Now I think I'm at an all-new competition level this year. Last year gave me a really big confidence-booster that I can tie and rope with these girls."
Maybe it's different in other parts of the country, but there's nothing quite like the sincerity of western Montana rodeo folks. Even when you're interviewing them over the phone it feels as if you're seated at the same dinner table.
Extensive experience might just help make Tracy a serious contender in Rock Springs. The honor student is hoping to become the first Montanan since Cadee Tew of Harlowton to win a national title.
Coincidentally, Tew's championship came in breakaway roping in '08.
"I know I have to be fast on every single run," Tracy said. "I have to be in the 2s or low 3s every time if I want to win it. I'm going to be aggressive."
Kick up some serious dirt, cowgirl.
Editor's note: Tracy will be joined in Rock Springs by Trevar McAllister of Ronan (bareback), Will Powell of St. Ignatius (steer wrestling), Samantha Moulding of Missoula (barrel racing), Abby Knight of Charlo (pole bending) and Polson's Nichole Lake (breakaway roping) and Wyatt Lytton (team roping)... For daily updates, log on to: www.nhsra.com.