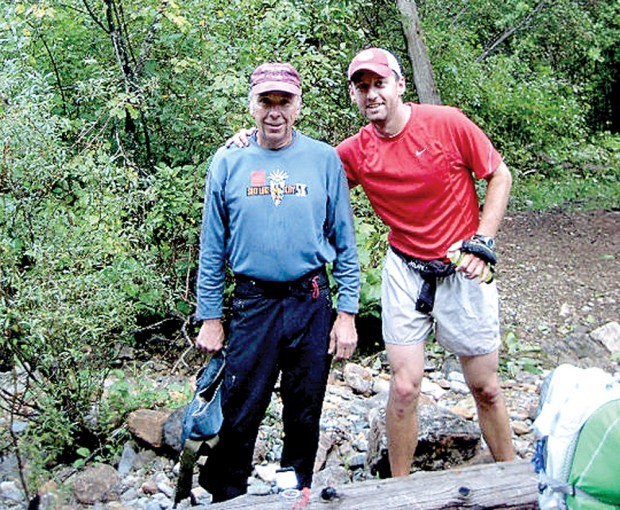 Tim Brooker, co-owner of the Runner's Edge and a running enthusiast, does not care much for the spotlight.
Yet, that's exactly where the 60-year-old Plains resident found himself recently.
Brooker placed sixth in his age group (60-64) at last month's Boston Marathon. He finished the 26.2-mile course in 3 hours, 7 minutes, 8 seconds. Brooker was the ninth Montanan to finish the race and came in 2,526th overall.
Brooker tackled the marathon with a group of other Missoula entrants - which he always takes great pleasure in - but somewhere around mile marker 15, after all his coaxing to other runners, Brooker ran into his own trouble.
With temperatures rising and a hill on the horizon, Brooker took off his undershirt, handed it to his brother and continued on his way. Brooker then put his running singlet back on, but he could tell something was wrong. People were laughing.
Turns out Brooker was running with his head through his arm hole. To make matters worse, his bib number had come loose and the safety pins holding it in place were repeatedly poking Brooker in the stomach.
"By the time I got to the top of that hill I was exhausted from all that dinking around with my shirt," he said. "I should've just stopped."
Spoken like a true marathon coach.
While the media likes to praise the Runner's Edge and its running gurus - lest we forget Tim's son and co-owner Anders - for all their efforts in the running community, the older Brooker simply describes himself as a shoe salesman. His wife Carol also works at the store in addition to her duties as a Sanders County Commissioner.
"It truly is a family affair," Tim said. "It's nice to enjoy what you're doing."
This week Brooker took time out of his busy schedule to talk about Geoffrey Mutai, the Kenyan who won the Boston Marathon in 2:03.02, his ups and downs at the same event and his role in the upcoming Missoula Marathon.
Q. Did you come close to your goal in Boston?
A. You always hope to run faster, but I'm happy with the time. I was hoping to get closer to 3 (hours), but that gets harder as I get older. But I ran faster than I did a couple years ago, so I'm happy. I just turned 60 in September, so I was one of the young guys in my age group. The older you get the easier it is to place in your age group.
Q. How many times have you run Boston?
A. This was my second time. I did it two years ago and had a lot of fun. I was going to do it last year, too, but I had back issues, so I didn't make it. In December I decided to go again; it's such a fun thing and we had a great group going. It's a good excuse to train during the winter.
Q. What's your take on the winner not being credited with the world record?
A. I think people will recognize it as the fastest marathon to date, whether it's the official record or not - and they may still recognize it - but whenever people think of the fastest time ever, they'll think of that one. He set the standard. And Ryan Hall set the record for a U.S. runner, too. So, it was a great day. If I could've run one hour faster, I'd be right there with them. I got a ways to work yet.
Q. Where did you acquire your affection for distance running?
A. Oh, I've always been a runner. I ran in school when I was younger, but I didn't run in my first marathon until I was in my 40s. I did a lot of shorter races; never took the time to train for a marathon. As a I get older I find I have more time on my hands, and being in Missoula I have all those folks to train with. It's nice to have folks to train with and hold you accountable and do your long runs with.
Q. Have you always been a running guru, or did you have another career?
A. Oh, I had other careers. I was the cross country coach up here in Plains; started the program and did that for about 10 years. I didn't teach, but we had a lot of good distance runners coming out of Plains and still do. I also owned a lumber yard here in Plains for a few years. My father-in-law and I had a log house mill in Trout Creek in the '70s and '80s, but I sold that. I still have a laundromat here in Plains that I work at and some apartments I rent. In July it'll be 10 years since we started the shoe store. I really enjoy that.
Q. Have you run the Missoula Marathon?
A. I haven't. We're so involved in putting it on and setting it up that I haven't had a chance to do that yet. I'm in charge of the finish area. We start setting up at about midnight, and we have to make sure it works. We also help out with training. It's a great event. I hope it grows. It's a benefit to the community. It's a neat thing to see people training for it - a lot of neat stories of people who've never run before and they make that their goal.
Q. Which shoe brand do you run in?
A. I run in just about every make and model. I think the big thing is to find a quality shoe. There's a big difference between a $50 shoe and $100 shoe. Asics and Brooks are Nos. 1 and 2 in the running industry. And being a shoe store owner, I get to try a lot of things. Personally, I like a good, lightweight training shoe. It's a matter of finding one that fits good on your foot. It's like Ford and Chevy - everyone's got their preferences.