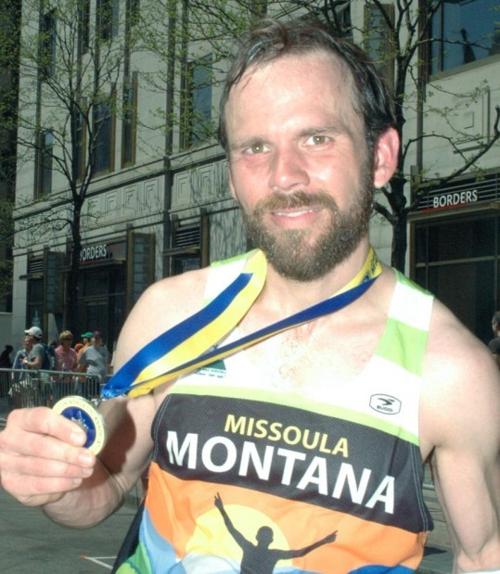 You might say Derek Kanwischer is a product of his surroundings.
An athlete that Missoula's running community can celebrate with collective pride.
Kanwischer never planned on tackling the Missoula Marathon last summer. It wasn't on his radar until six weeks prior when he caught a fever passed on by some friendly folks from the Run Wild Missoula club.
When he laced 'em up for Zootown's celebrated race, it marked his first marathon in nine years.
His wasn't a comeback story about some former college star. And to be honest, there was nothing special about Derek's two other marathons in 2001 and 2002.
So it was a surprise when he ran a personal-best 3:10.14, unintentionally qualifying for the Boston Marathon.
Suddenly this soft-spoken, 36-year-old University of Montana PhD student had new priorities. He became hyper-motivated to do something special at the Boston Marathon, which is precisely what he did three weeks ago, running 2:57.34 in 88-degree heat.
He credits Run Wild Missoula and its amiable leader, Tim Mosbacher, for preparing him well for his adventure.
Mosbacher says Kanwischer still doesn't understand what he's capable of as a runner. Kanwischer feels blessed to have such an amazing local support system. An Army of comrades, if you will, who thrive off one another and revel in events like Saturday's Riverbank Run, which drew over 3,000.
"I sure wasn't going to be doing 21- or 23-mile training runs by myself," Kanwischer said of his regimen leading up to Boston, which included intense speedwork. "With Run Wild Missoula it became a pleasurable social experience, enjoying yourself and pushing each other, sharing stories."
Anyone who has ever trained for a marathon knows how the preparation becomes a part of your identity. It may not consume your every thought, but ...
"I really try not to talk about running too much in normal social circles because I know they'd say, 'Oh there goes Derek again, talking about running. Gimme a break!' " Kanwischer said. "When you're with a group of runners, it's totally cool to talk about it. Everybody talks about it. It's real supportive for feedback."
What Kanwischer did in Boston is hard to put into context. He grew up in Minnesota and North Dakota and has enjoyed Missoula's mostly cool, dry climate for years. He and all the other runners braving the heat and humidity in Boston were warned the event should not be treated as a race because of potential health hazards.
More than 6,000 runners started before him. He passed most of those, hastened his pace as the race wore on and finished in 403rd place overall.
"The crowd was incredible along the way, like nothing I ever experienced," he said. "From kids to grandparents to everyone in between, handing out water and cheering.
"Our Run Wild group, we had singlets that said 'Missoula' on them so people were cheering like mad, just kind of indiscriminantly. People would yell, 'Go Montana! Yay Missoula!' It was phenomenal."
Many who ran the marathon walked away disappointed. Kanwischer had a blast as he thrived in trying conditions.
Echoes of frenzied fans rang in his ears in the Wellesley College scream tunnel, filling him with emotion at Mile 13. Some of his fastest splits came between Mile 18 and Mile 21 – a stretch known to Boston marathoners for its series of long hills.
Kanwischer is proof there's no finish line when it comes to unleashing your inner runner. He's just getting started.
"Of course I wish I was younger, realizing this back then," he offered. "But I feel really inspired by the progress and the amount of enjoyment.
"I'm looking forward to the next race, seeing what I can do."
How encouraging it is for all of us to be reminded that some of the best things in life come without a cost or expiration date.