MISSOULA — Craig Mettler's mother might still have the Dec. 15, 2008, issue of Sports Illustrated laying around somewhere.
Flip a few pages into that edition of the magazine and there is a photo of Mettler, then a defensive tackle for the Montana football team, upending backup James Madison quarterback Drew Dudzik as he tried to leap into the end zone.
Mettler, now a teacher and track coach at Sentinel, doesn't think he has a copy of the magazine anymore but remembers the play vividly. Griz fans probably do too.
With 6:10 left, the two-point conversion pulled the Dukes within eight points in the FCS semifinal game. The Grizzlies went on to play for the national title, but Mettler still contends Dudzik might just have been a little short.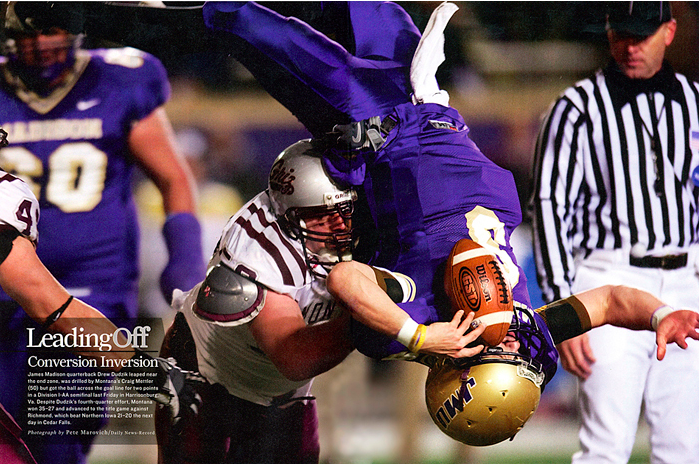 "I haven't looked at the replay too much, but I didn't feel that in real time that he crossed the plane, but, hey, it was just an exciting game," Mettler says after meticulously breaking down the entire play offhand. "One of the coolest games that I remember playing and because we're on the road and it was such a hostile environment, it really was us against the world."
While that photo by Pete Marovich, then of the Daily News-Record, probably can be found in a number of Grizzly households, it, like the football, is in the past for Mettler.
Heading into his sixth year as head track coach and a full-time teacher at Sentinel since the fall of 2009, he has found what he loves to do. Formerly an assistant football coach as well, he decided to solely focus on track after 9 years of helping out on the gridiron as well.
Sentinel has won two girls state track titles and one boys title since Mettler has been at the helm. The boys state title was the first for the Spartans since it was known as Missoula County High School
"I think you got to be in the right place at the right time with the right people and you've got to have good kids," Mettler said of his coaching success.
The Health Enhancement part of his job has kept him busy as well. With buy-in from the majority of the coaches at the school, Mettler has helped build a campus-wide athletic performance program at the school.
Along with head football coach Dane Oliver and strength coach Tim Kerr — also both Sentinel health enhancement teachers and former Grizzlies — the program is robust. Another former UM student-athlete, Austin Spring, has been involved as well. Football and track share many of the same athletes and, as such, many of the same workouts.
The goal is for volleyball, basketball, golf, tennis and other sports to also be on the same page as the team. That way, everyone's working out with similar guidelines and with coaches that have tons of experience in the field.
In many ways, this is reminiscent of the way many college athletic performance programs work.
"We got to get every sport on board and I think that will help make our athletic program much stronger," Mettler said. "It also adds to the fact our philosophy has changed a lot from, just 'Bigger, faster, stronger,' to now we're just focused on speed and power and really, really developing kids as athletes and not like we're trying to develop Olympic lifters."
The science aspect of sports training has filtered its way down to high schools for years and developing a cohesive program has many benefits. This allows student-athletes to have workouts tailored to their specific sport and personal needs.
With the combined brain trust of all involved, new and different workouts can be put together and sent out easily. Having this system in place has already paid off for Sentinel.
In the early days of the pandemic, Mettler and the other coaches were still able to send out workouts to their kids via a Google Doc sheet while the stay-at-home order was in place.
This summer, Sentinel also moved its workout facilities onto the track to help provide students with a place to train while being socially distanced. The cooperation between coaches and teams has been critical in making these things happen.
"That goes to the ability of our coaches being willing to have a paradigm shift from maybe how we were coached grown up to, OK, we really got to understand these kids," Mettler said. "It's not my way or the highway."
Mettler, a Walla Walla, Washington native, only stayed in Missoula following his college football career because he was able to find a job at the school. Following his student teaching duties (which followed a stint working at Bodega in college) he was able to find that first job.
Having just got married last week during a social-distanced ceremony on a boat in Flathead Lake, he certainly has found a home in the Garden City.
Jordan Hansen covers a bunch of stuff for the Missoulian and 406 Sports. Shout at him on Twitter @jordyhansen or shoot him an email at Jordan.Hansen@406mtsports.com
Be the first to know
Get local news delivered to your inbox!