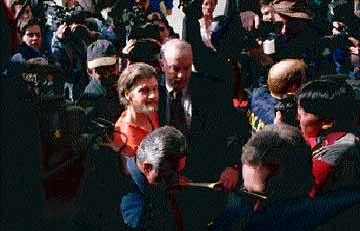 MISSOULIAN FOCUS: The Unabomber's life in Montana
HELENA - During the same period his mail bombs killed and maimed people across the country, admitted Unabomber Ted Kaczynski secretly waged his own terrorist war in the mountains around Lincoln, a new book reveals.
This new picture of Kaczynski as a man who didn't hesitate to inflict pain and damage on those living close to him, even torturing and killing pets, runs directly contrary to what many of his Lincoln neighbors and acquaintances have said in the past. Until now, Kaczynski has been painted as an eccentric, quiet, introspective man thought to live a peaceful life alone in the remote woods of Montana. His murderous activities as the Unabomber were seen as an anomaly by some of those who knew him here.
Yet, Kaczynski also is believed to have tried to murder a miner in the Lincoln area in 1980, shooting him in the back with a .30-30 rifle, the book suggests. The man survived after a painfully long recovery but remains partially crippled. The .30-30 rifle is the only one of six Kaczynski guns that has not been found, although he hid plenty of .30-30 ammunition that was located.
Over more than 20 years, Kaczynski sabotaged bulldozers and logging equipment, destroyed motorcycles, wrecked cabins, fired shots at people and helicopters, strung neck-high wire between trees in hopes of wounding motorcycle riders and chopped down a power pole, the book says.
Kaczynski's link to a series of what at the time had been seen as isolated, unrelated crimes in the Lincoln area over 25 years is confirmed by some of the 22,000 pages of his own journal writings, which are quoted extensively in the book, "Unabomber: The Secret Life of Ted Kaczynski. His 25 Years in Montana," by Chris Waits and Dave Shors.
The 320-page book, published by the Helena Independent Record and Montana Magazine, goes on sale in early January. It includes 32 pages of color photographs and a fold-out timeline chronicling Kaczynski's life and criminal activities inside and outside of Montana.
Today, Kaczynski, a former math professor at the University of California at Berkeley, sits in a federal prison in Colorado after his lawyers struck a plea bargain with federal prosecutors earlier this year. In January, Kaczynski pleaded guilty to what the Associated Press described as "his 17-year reign of terror - bombs that killed three men and injured 29, including one who had his arm blown off." In exchange for his guilty plea, the federal government dropped its demand for the death penalty and agreed to life in prison without parole for the Unabomber.
His writings were found by the FBI and others after the Unabomber's arrest in his primitive cabin near Stemple Pass, outside Lincoln, northwest of Helena, on April 3, 1996.
Waits, who moved to the mountains near Lincoln about the same time as Kaczynski did in the early 1970s, considered himself a friend of Kaczynski's. Waits gave him rides to town, repaired Kaczynski's rickety old bicycle and allowed the hermit unlimited access to his land holdings in McClellan Gulch.
A logger, miner, mechanic and piano teacher, Waits originally was investigated by the FBI as being an accomplice to Kaczynski. That proved untrue, and he assisted the FBI in its probe. Waits found and led the FBI to Kaczynski's secret cabin high on a mountainside - a second homemade dwelling, a getaway hideout in addition to the one he lived in - and many of his secret hunting camps.
Waits was the first outsider to see many of the Unabomber's documents, including his personal journals.
"To me, that was the smoking gun of the whole story," Waits says in an interview about the book. "The bombshell for Ted is he doesn't know I have his own words."
Waits was set to be a prosecution witness at Kaczynski's trial until the plea bargain was struck. The deal meant that the Unabomber's admission in his journals to dozens of other crimes would not be made public for some time, although short excerpts were reported by the press in bits and pieces before publication of this book.
"Waits was probably the only outsider who had seen the Kaczynsk
i journals," Shors, an associate editor at the Independent Record, writes in the introduction. "Certainly, he was the only person outside the select group of lawyers, agents and psychiatrists who had actual copies of the documents."
Waits said the criminal acts near Lincoln were so scattered, using diverse methods, over 25 years that it seemed that different perpetrators had to be involved.
"But were there?" he asks in the book. "Could one very crafty individual be responsible? Nobody ever listed all the events together and compared them for time, frequency, severity and most of all, motive."
As Waits read Kaczynski's journals and thought about the Unabomber's crimes, he didn't see the Unabomber as someone motivated by environmental concerns as some did.
"But as I mulled over his secret years and acts in Lincoln, it became apparent his motivation to carry out his acts of terrorism really had little to do with saving Mother Earth," Waits writes. "His true motivation was nothing more than hatred and revenge."
The more Waits visited with FBI special agents, the easier it became to solve many of the mysteries that had baffled Lincoln residents the past 25 years, the book says, adding: "The solutions were simple as they poured out of journals, where Ted bragged about most of the acts of destruction."
"The more I learned about Ted and his secret agenda of hatred and revenge, the harder I found it to understand him and also the motivation of a small number of Lincoln people who were forming Ted's 'bleeding hearts club,' corresponding with him on a regular basis and projecting him as a gentle and misunderstood genius," Waits writes. "They were either blinded to the truth or refused to look at it."
Waits and his wife, Betty, love dogs and have kept a number of them at their place. He tells how the dogs hated Kaczynski, barking and growling at him when he hiked by. The hermit felt likewise about them. At least six of the Waitses' dogs over the years were poisoned to death by strychnine. The FBI inventory of Kaczynski's possessions after his arrest included a plastic bottle labeled strychnine oats.
Another of their dogs had to be put down because someone "had repeatedly stabbed and gouged the entire area under his tail, shredding his colon, hips and rectal area" with a spear or sharp knife, Waits writes. A different dog was shot up the rectum with a small-caliber bullet, dying an agonizingly slow death.
The Waitses sometimes found their dogs smeared with human excrement. In addition, Chris Waits had heard Kaczynski curse at the dogs at times when the hermit thought Waits couldn't hear the curses.
Waits said the Unabomber's writings he read couldn't confirm that Kaczynski killed the dogs, but the FBI found other documents proving he had.
Nothing has happened to the Waitses' dogs since Kaczynski's arrest.
In the summer of 1975, Kaczynski wrote about putting sugar in the fuel tank of a diesel engine that powered a large drill to bore holes in rock as part of a mining operation a few miles from his cabin. He also poured sugar in a truck's fuel tank at the site.
"Sugar in the gas is supposed to severely damage an engine because it gets into the cylinders and acts as an abrasive," he writes in his crime journal. "But I don't know if this works in diesels …"
Kaczynski returned to the mining site a year later to dump sugar in both engines, he wrote in his journals.
He also told about stretching a wire at neck height across a trail to injure motorcyclists.
He wrote in his autobiography several years earlier: "When I see a motorcyclist tearing up the mountain meadows, instead of fretting about how I can get revenge on him safely, I just want to watch the bullet rip through his flesh and I want to kick him in the face when he is dying."
In coded language in the journal, Kaczynski described some acts of theft, vandalism and demolishing a cabin.
"Some (expletive) built a vacation home … so one night in fall, I sneaked over there, though they were at home, and stole their chainsaw, buried it in a swamp. T
hat was not enough, so couple weeks later when they had left the place, I chopped my way into their house, smashed up interior pretty thoroughly. It was a real luxury place."
Waits, who saw the damage at the time, describes the scene: "An ax had been used to hack a hole in the cabin to gain access. After entering, he then had chopped up the kitchen cabinets and emptied the contents of the refrigerator and thrown them across the floor. Mustard, glue, bleach and other substances were squirted and poured all over the carpet furnishings and bedding. Even the phones were smashed and phone lines were pulled out of the walls."
Kaczynski then broke into the family's mobile home nearby and smashed a motorcycle with an ax and did the same to the engines of snowmobiles parked outside. Law enforcement officers questioned Kaczynski about the vandalism but he was never charged.
"This winter (1982 to 1983) very few snowmobiles have come by," the Unabomber wrote proudly. "I suppose either those (expletive) have not got their machines fixed yet, or have realized there is someone who will not let them get away with terrorizing the area. Who says crime doesn't pay? I feel very good about this. I am also pleased that I was so cool and collected in answering cops' questions."
The damage was estimated at $20,000 to $25,000.
In 1980, he had destroyed a couple of motorcycles by slashing the tires, smashing the vehicles and dropping sugar in the gas tanks.
Kaczynski also nearly destroyed the engine of one of Waits' Caterpillars used for a logging job. He poured an abrasive, fine, heavy white sand down the dipstick hole to bypass all protective filters, the book says. The damage: $13,000.
In 1982, a log loader was set on fire, causing $75,000 in damages and nearly causing a major forest fire, with Kaczynski the likely suspect.
As he recounted in his coded journal, Kaczynski writes. "I poured the oil over the machine's engine and set fire to it. I bet it cost them over 1,000 bucks to fix it. Spent pleasant night sleeping out on top of the mountain and came home leisurely in the morning. I felt so good after having done this. Though a mite uneasy over the risk of being suspected."
A look at Kaczynski's world in his words
By the Missoulian State Bureau
HELENA - Here is a sampling of direct quotations from Unabomber Ted Kaczynski's journals and other writings.
These passages come from Kaczynski's unpublished autobiography and are quoted, often for the first time publicly, in the book, "Unabomber: The Secret Life of Ted Kaczynski. His 25 Years in Montana," written by Chris Waits and Dave Shors.
"I believe in nothing. Whereas I don't even believe in the cult of nature-worshippers or wilderness-worshippers. (I am perfectly ready to litter in parts of the woods that are of no use to me - I often throw cans in logged-over areas or in places much frequented by people; I don't find wilderness particularly healthy physically; I don't hesitate to poach.)"
"In my earlier notes I mentioned that I built a very small cabin in an isolated site several years ago. Near my cabin was a favorite place of mine where I would usually camp out. Here an owl would usually sing for me at night. … It is tranquil here; there is peace here. The soft sound of the wind in the pines increases the feeling of peace."
- Journal entry, Nov. 29, 1981
I'll just chuck all of this silly morality business and hate anybody I please. Since then I have never had any interest in or respect for morality, ethics or anything of the sort.
About a year and a half ago, I planned to murder a scientist - as a means of revenge against organized society in general and the technological establishment in particular. Unfortunately, I chickened out. I couldn't work up the nerve to do it. The experience showed me that propaganda and indoctrination have a much stronger hold on me than I realized. … I had everything prepared. But when I tried to take the final irrevocable step, I found myself overwhelmed by an irrational, superstitious fear - not a fear of anything specific, merely a vague but powerful fear of committing the act. … I can only attribute my fear to the constant flood of anti-crime propaganda to which one is subjected. For example, murderers in TV crime dramas are always caught.
- Journal entry, Christmas 1972, six years before his first mail bombing
The technological society may be in some sense inevitable, but it is so only because of the way people behave. Consequently, I hate people. (I may have some other reasons for hating some people, but the main reason is that people are responsible for the technological society and its associated phenomena, from motorcycles to computers to psychological controls. Almost anyone who holds steady employment is contributing his part in maintaining the technological society.) Of course, the people I hate most are those who consciously and willfully promote the technological society, such as scientists, big businessmen, union leaders, politicians, etc. etc.
- Journal entry, fall 1977, shortly before his mail bombing began
Kaczynski recalled a session he had with a psychiatrist he consulted while considering getting a sex-change operation. While sitting in the waiting room, he changed his mind about wanting the operation but spoke bitterly about the doctor in this passage:
As a I walked away from the building afterwards, I felt disgusted about what my uncontrolled sexual cravings had almost led me to do and I felt humiliated, and I violently hated the psychiatrist. Just then there came a major turning point in my life. Like a Phoenix, I burst from the ashes of my despair to a glorious new hope. I thought I wanted to kill the psychiatrist because the future looked utterly empty to me.
I felt I wouldn't care if I died. And so I said to myself, 'Why not really kill that psychiatrist and anyone else whom I hate.' What is important is not the words that ran through my mind, but the way I felt about them. What was entirely new was the fact that I really felt I could kill someone. My hopelessness had liberated me. Because I no longer cared about death, I no longer cared about consequences,
and I suddenly felt that I really could break out of my rut in life and do things that were daring, 'irresponsible' or criminal.
My first thought was to kill somebody I hated and then kill myself before the cops could get me. (I've always considered death preferable to long imprisonment.) But, since I now had new hope, I was not ready to relinquish life so easily. So I thought, 'I will kill, but I will make at least some effort to avoid detection, so that I can kill again.' Then I thought, 'Well, as long as I am going to throw everything up anyway, instead of having to shoot it out with the cops or something, I will go up to Canada, take off into the woods with a rifle, and try to live off the country. If that doesn't work, and I can get back to civilization before I starve, then I will come back here and kill someone I hate.'
"What was new here was the fact that I now felt I really had the courage to behave irresponsibly. …
- Kaczynski's autobiography,
… Guilty feelings? Yes, a little. Occasionally I have bad dreams in which the police are after me. Or in which I am threatened with punishment from some supernatural source. Such as the devil. But these don't occur often enuf (sic) to be a problem. I am definitely glad to have done what I have.'
- Journal entry, Sept. 15, 1980, after sending bombs for two years, injuring some people but not yet killing anyone
… I want to get my revenge in one big blast. By accepting death as the price, I won't have to fret and worry about how to plan things so I won't get caught. Moreover, I want to release all my hatred and go out and kill. When I see a motorcyclist tearing up the mountain meadows, instead of fretting about how I can get revenge on him safely, I just want to watch the bullet rip through his flesh and I want to kick him in the face when he is dying. …
- Kaczynski's autobiography, written in 1978 and 1979
… I wanted to shoot some of those miners who were (expletive) things up down around (name) Creek, if I could get an opportunity that the looked (sic) safe from the point of view of not getting caught. One day, I went down there and watched from cover, a guy with a bulldozer who was tearing a hung chunk out of a hillside that was otherwise very beautiful. …
The woods were quite open - no good hiding. So I satisfied myself by going back a couple of days later when I correctly figured no one was there and sabotaging the bulldozer. It was hard to do anything to it because of its sturdy, tank-like construction, but I cut the fan-belt, cut some tubes, put dirt in the place where oil goes in and a few other such things. Besides that, there was a nice new pickup down by the road, I think belonging to some of these mining-fools, and I smashed the windshield and cut some belts and tubes on it. …
- Journal entry, Oct. 23, 1979
"More woodrat trouble last night. A rat kept running over me, tugging at the blankets, etc., and so kept me awake half the night. Couldn't get a shot at it, because it disappeared every time I stuck my head out of the blankets to look. Worse, I found in the morning that it had chewed my knife sheath so badly as to pretty well ruin it. I have set two deadfalls, with figure-four triggers, baited with raisins, sugar and oil, in the hope of catching that rat tonight. If I catch the (expletive) alive I will see that it dies a slow, painful death."
- Kaczynski journal, July 18, 1974
After trapping one rat, he wrote the next day:
In a short time, I will learn what rat tastes like. Ha! Revenge is sweet! Later: According to Kaphart, it is the testimony of gourmets who survived the siege of Paris that cats, rats and mice are the most misprized of all animals from a culinary point of view. If domestic rats are up to woodrat standards, I quite agree. That rat was (expletive) good eating.
Sunday - 12/13/98
Be the first to know
Get local news delivered to your inbox!