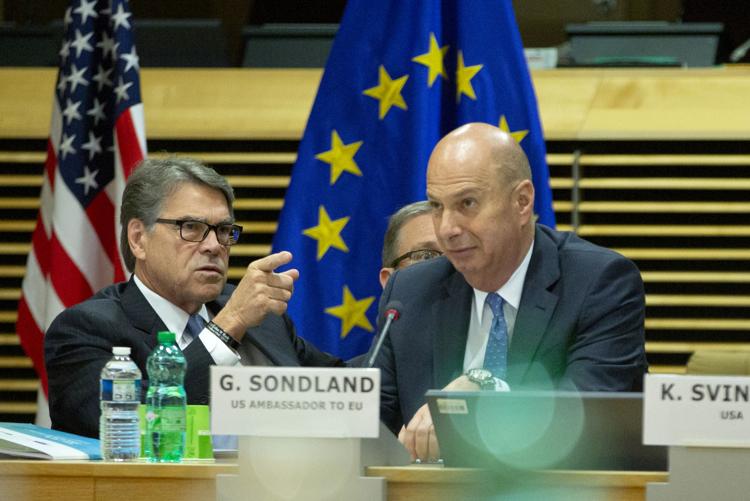 As the summer progressed, a Trump-Zelensky meeting at the White House still had not been scheduled, and news reports revealed that there was an inexplicable holdup in US military and security aid for Ukraine -- a $400 million package that was already approved by Congress.
Trump was meant to meet Zelensky at an event in Poland, but those plans fell through when Trump stayed home to deal with a hurricane. Zelensky met with Vice President Mike Pence instead. After that meeting, Zelensky's aide Yermak had a conversation with US Ambassador to the European Union Gordon Sondland, a wealthy donor to Trump who handled Ukraine issues.
After first denying there was ever a quid pro quo offered to Ukraine, Sondland made a significant revision to his testimony this week in which he admitted that there was.
"I now recall speaking individually with Mr. Yermak, where I said that resumption of U.S. aid would likely not occur until Ukraine provided the public anti-corruption statement that we had been discussing for many weeks," Sondland said in his revised testimony to House lawmakers.
The "anti-corruption statement" is an apparent euphemism for the public announcement that Trump hoped Zelensky would make, where Zelensky would say that Ukraine was investigating the allegations regarding Biden and his son, as well as potential Ukrainian meddling in 2016. A declaration like that would give Trump a major talking point to use against Biden on the trail.
Around the time of Sondland's conversation with Yermak on September 1, other US officials got the sense that there was a quid pro quo linking US military aid to the Ukrainian investigations. This included Bill Taylor, the top US diplomat in Ukraine, as well as Lt. Col. Alexander Vindman, an expert on the White House's National Security Council, according to their sworn testimony.