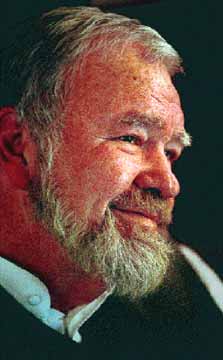 Hoyt Axton leads lineup of musicians making CD to benefit Boys and Girls ClubCountry singer Hoyt Axton has five children - and at least one of them, he says, should have been a Boys and Girls Club member.
"One of my boys became a delinquent adult, because he missed out on programs like this when he was a kid," Axton said Monday.
That's why Axton, 60, the author of "Joy to the World" made famous by Three Dog Night and a Hamilton-area resident for eight years, has thrown his voice behind the fledgling Missoula organization and its soon-to-be-released CD of songs by local musicians.
"It's a pretty good deal, so I'm proud to be associated with it," he said. Then he laughed. "Even though pride is one of those seven deadly sins."
"Flying Under the Radar," named after a cover illustration designed by Missoula artist Monte Dolack - and donated, like just about every aspect of the project, to the club - goes to press later this week and may hit record stores as early as Dec. 1, said Chris Buzan, a musician and member of the club's board of directors.
Included on the disc will be 16 songs with a blues and jazz focus by performers including the Big Sky Mudflaps, the Moonlighters, Jodi Marshall, the Pleasure Kings, Bob Wire and the Fencemenders, the Tirebiters (Buzan's band), Zoe Wood, Andre Floyd, the Hellgate High School Jazz Band and Axton, who sings "Blue Prelude," a traditional blues ballad Axton said his father used to croon.
Proceeds from the sales of the $15 CD will benefit the Missoula Youth Center, moving out of its rented home at 629 Woody St. into a 5,700-square-foot building the Boys and Girls Club is buying at 617 S. Higgins Ave., said Mary Place Allyn, the club's director and a member of the Moonlighters, a rhythm-and-blues band.
You have free articles remaining.
The new center will have a number of activities and classes for youths 11 to 18, including teen dances and "skill rooms," in which members can learn and cultivate trades such as photography, art, industrial sewing, carpentry and cosmetology.
But it's the music room, she said, that appealed most to the performers on the club's CD, "the fact that kids need a place to rehearse," Allyn said. "Younger bands need encouragement, and they need a place to take music seriously and maybe look at it as a trade, even.
"I think musicians are eternal kids, anyway," she said.
Axton's involvement in the CD project, she said, came via Marble Records, a Bitterroot Valley recording studio. Its owners have worked with the Moonlighters and Axton, and are producing the new CD for 50 cents an hour.
"Hoyt's been kind of a sweetheart," Allyn said. "He's got vision. He loves kids."
And he believes, Axton said, in the Boys and Girls Club. That's why he gave a song to the CD project. It's why he's acting as official media spokesperson for it. And, he said, it's why he hopes to give a concert to benefit the new youth center.
"These kids are not going to grow up and break into the back door or your house," he said. "These kids are going to contribute.
"I think it's wonderful, and everybody's going to benefit - the children and the adults in this area. All winners and no losers."