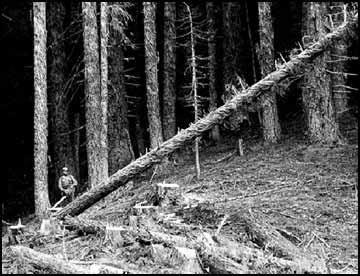 WASHINGTON - By missing a Monday deadline, the Bush administration declined to appeal an Idaho judge's decision that blocked a ban on logging and road construction on a third of national forest lands.
The Forest Service felt an appeal would complicate matters as it moves forward with a process to seek more public comment on the policy, agency spokesman Joe Walsh said Tuesday.
"An appeal would find the Forest Service in court for a very long time and who knows what the outcome would be," he said.
Part of President Clinton's environmental legacy, the "roadless rule" would have restricted 58.5 million acres of federal forests from logging and road construction, except in rare circumstances.
But U.S. District Judge Edward Lodge in Boise, Idaho, blocked the rule from taking effect in May with a preliminary injunction. In so ruling, he called the policy a "Band-Aid approach" toward forest conservation that would do irreparable harm.
A coalition of environmental groups appealed Lodge's decision to the 9th U.S. Circuit Court of Appeals in San Francisco. Lawyers for the groups say it would have helped their case to have the administration defend the rule in court.
"We are going to vigorously prosecute the appeal, but it makes a huge difference that the Forest Service that developed the roadless rule is missing in action," said Doug Honnold, an attorney for Earthjustice Legal Defense Fund.
Much of the 58.5 million acres of federal forests set aside are in the West, although they spread from Alaska's Tongass National Forest to Florida's Apalachicola National Forest.
Timber and mining interests, as well as some recreational vehicle users, have lobbied the Bush administration to revise the rule.
The administration has said it is looking into how to address concerns that some interests, including tribes and local communities, didn't have adequate opportunity to offer input on the policy when it was drawn up.
To address that, the Forest Service formally reopened discussions about the rule Tuesday by publishing 10 questions in the Federal Register. The public has 60 days to comment.
Among the questions, the agency wants to know what activities are appropriate on "roadless" areas of national forests, how the rights of nearby property owners should be protected and how the government can satisfy a variety of competing interests.
Chris West, vice president for the American Forest Resource Council in Portland, Ore., said the Clinton administration had a "popularity contest" to design the rule.
This time, "The administration is moving ahead with resolving this issue lawfully," West said.