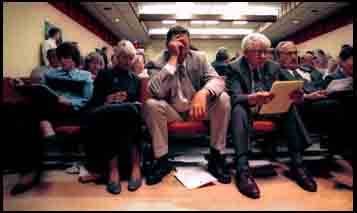 HELENA - Game farms have become an issue in Montana's race for governor this year, with each of the five major candidates for political office seeing the issue differently.
They were asked about a proposed ballot measure on game farms by Stan Frasier, a Helena wildlife activist, as part of the Ask the Candidates feature sponsored by the Lee Newspapers of Montana.
Frasier asked: "What is your opinion on the proposed initiative which would stop the growth of the game farm industry and stop shooting of game animals on game farms?"
(Note: Answers, which had been in listed of alphabetical order the candidates' last names, will now be rotated.)
Here are the candidates answers:
Republican Judy Martz, lieutenant governor: "The reason Montana has game farms is because farmers are trying to diversify to survive in these times of low commodity prices. I support efforts to ensure a viable game farm industry, and I believe the moratorium on permitting game farms will give us additional time to obtain the scientific evidence we need to make a thoughtful, rational decision on the future of this industry. We cannot make decisions based on emotion, but must make them on solid scientific data."
Democrat Joe Mazurek, attorney general: "Because the attorney general's office reviews proposed initiatives, writes ballot language for them and must defend any legal challenges to them, I cannot comment specifically on the initiative. However, early this year, I announced several steps the state should take to restrict the spread of chronic wasting disease: place a moratorium on the licensing of new game farms; prohibit elk and deer importation into the state until we know whether chronic wasting disease can be transmitted to livestock and until live animals can be tested; and develop a coordinated state, federal and university research effort into chronic wasting disease."
Republican Rob Natelson, University of Montana law professor: "The failures of communism and socialism proved that no people can hope for a better economy and a better life for our kids' if property rights are disregarded. The proposed initiative disregards property rights. Further, it would impose some people's view of morality on all others, and do so without compensation. Alternative livestock is an opportunity for farmers and ranchers to preserve their way of life and support their families with dignity. Of course, as with any other business, we need to ensure the business doesn't harm others. But honest entrepreneurship should be encouraged, not punished."
Democrat Mark O'Keefe, state auditor: "I have not seen the final version of the initiative, but I support the concept. The state should also require game farm owners to post a bond when they become licensed. The bond would help pay for any costs the state may incur in the event there are unforeseen costs with cleanup like the one we saw recently in Philipsburg game farm. I think game farms should be forced to operate like any other business. If they pollute or adversely affect the environment, they should pay for the cost of clean up. Taxpayers shouldn't have to foot the bill."
Democrat Mike Cooney, secretary of state: "Earlier this year I announced a set of policy initiatives to address this specific issue. My policy has three basic components. First, I will implement a moratorium on game farms. Second, I will initiate a thorough, public process using the best science available to determine if game farming is in the state's best interests. Third, I'll make sure the public is not stuck with potential game farm related damage mitigation costs. Regarding the initiative, because my office is responsible for the initiative process, it is my policy of long standing not to take public positions on initiatives still pending approval."
To ask questions of candidates for governor, readers may send them to the Lee Newspapers State Bureau, P.O. Box 1676, Helena, Mont. 59601, or fax them at 406-443-0034 or e-mail them to: csjohnson@uswest.net. Participants are asked to include their addresses and phone numbers for verification. Questions must be asked of all five candidates, not individuals or those from one political party or the other.
Be the first to know
Get local news delivered to your inbox!