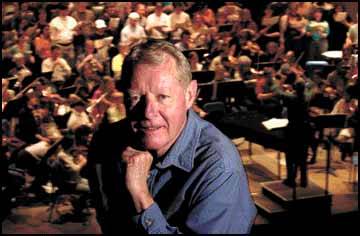 Donald Carey honored for a lifetime of bringing Missoula the sounds of music
We believe in ourselves because someone believed in us. In Donald Carey's life, that someone was his grandmother.
Years ago in the little town of Coffeyville, Kan., she told the boy that he could do anything - anything - he set his mind to.
"Her admonition was, 'You have to be as independent as a hog on ice. If you can't stand up, you fall down,' " Carey said, grinning.
Not to worry. The boy grew up - and into - feats of musical magic that others could only shake their heads at. "None of the rest of us would have been so crazy," said Joseph Henry, musical director of the Missoula Symphony Orchestra and a contemporary of Carey's for about 15 years.
Not only has Carey led the Missoula Symphony Orchestra Chorale, which he directs, through such extraordinarily difficult challenges as Gustav Mahler's Symphony No. 8 and Benjamin Britten's "War Requiem" - works most smaller choruses would never attempt, but that Carey insisted on, Henry says - but he also initiated the triennial spring semester sojourn to Vienna, Austria, for choral students at the University of Montana. And then, in what some see as his greatest achievement, Carey conceived and led the way in organizing Missoula's International Choral Festival, which brings choral groups and some 35,000 audience members to the city from all over the world.
On Sunday, a reception in UM's University Theater will honor Carey, recipient of the 2001 Governor's Arts Award in music. Nominated by a Montana Arts Council committee, Carey was chosen by former Gov. Marc Racicot for the honor, granted for his contributions to Montana's musical life - which, says arts council executive director Arni Fishbaugh, are legion.
"We're absolutely thrilled that Don is getting the award. He has done so much for music in the state and has inspired so many people," Fishbaugh said.
Fishbaugh wasn't a part of the committee that nominated Carey, but she was a student of Carey's at UM, and recalls rehearsing under his exacting leadership for a week's residency and choral concert with the great conductor Robert Shaw.
"It really was one of the highlights of my life," Fishbaugh says. "Working with Don for that whole year, the way he works with music and makes you feel about what you're singing - it's fantastic."
But he also is extremely demanding and rigorous, Fishbaugh says: "He's a taskmaster." Pianist Jan Halmes, accompanist for the symphony chorale, concurs and adds that his perfectionism has cost him popularity.
"His reputation as a hard-ass is for a reason," Halmes said. It stems, she said, from an insistence on excellence - which, however painful, evokes a quality of musicianship beyond what those working with him might have imagined in themselves.
"He's always sort of made you work harder than you could," she said. "You had to rise above a level that you didn't know you could do. 'I can't do that,' and of course, you could. We could, and we did. You look back and you realize it's the best teaching you ever had.
"My God," she says, "those choirs we went to Europe with" - choirs under Carey's direction - "were some of the best choirs those Viennese people had ever heard. And Vienna is the center of Western music."
Sheer love for the art form is what drives Carey, Henry said. "He has such a love for music and for choral music, and such an understanding of its importance in the life of humans. That's where all of this stems from. He's a rare bird."
But there's something more to Carey than a fondness for the sound of the human voice, or the thrill he gets from listening to Mozart, or the joy of sharing the podium with the likes of Shaw, whom he reveres as the father of modern choral music. Carey, said Henry, is a man of vision, and more than that, he's a man of action.
"He's a person with a very big picture of what's possible. The choral festival, you know, nobody would have dreamt that it could happen, and he did. I have recently been involved in projects with him that were way beyond what any of us would have thought might be possible, and it worked.
"It's very thrilling to be connected to him," Henry said. "You can always count on something."
Carey's can-do attitude comes not just from his grandmother, he said, but from influences in his adult life, as well. First there was Shaw, with whom Carey worked as a member of the Robert Shaw Chorale, and whom he brought to Missoula four times in the 1970s: There, Carey said, was a man "with a brain like a firecracker," who inspired him to better himself musically and intellectually as well.
Next on Carey's list of influences is Robert Pantzer, president of UM until 1974, whom Carey, an instructor for 30 years, saw handle the potentially volatile Vietnam War era with aplomb. From Pantzer, he says, he learned problem solving "and to not be afraid to jump into the fray - the unknown, untested fray."
And then there was Eugene Andre, former conductor of the Missoula Symphony, who played a part in forming every symphony orchestra in the state, according to Carey. "Mostly what he did was go door-to-door, looking for string players" - a man whose vision and attitude Carey emulates to this day.
Yes, a love of music inspires him. Music is, after all, his first love, discovered at age 2, when he sang popular favorites of the day - "Mickey Mouse's Birthday Party" and anything by Shirley Temple - on his aunt's radio program every Saturday night.
Although he considered a career in science - astronomy and archaeology held particular appeal - Carey settled on music because, he said, "It was very easy to do, and that made it more attractive to me."
He grinned. "I had no idea what I was tampering with."
Indeed, "easy," for Carey, seems to be a challenge in itself. An admirer of Mozart for the complexity of his compositions, Carey has a history of pushing his career to its limits - and beyond.
"In dealing with any art there is a struggle, as much a struggle on the part of the audience as the creator. You struggle to listen to it; you struggle to play it. And you lose."
Still, there is the trying. And Carey is nothing, Henry says, if not persistent: "I don't think he's paid too much attention to people saying, 'You can't do that.' "
"Can't," says Carey, is one of his least favorite words. When he hears it, he says, "I get a little angry. I never figure that anything won't work.
"Students now seem to look first to the fact that something is impossible rather than, 'Damn the torpedoes, let's take a few chances.' Don't be foolish about it, but there has to be a sense of adventure for anything to happen, it seems to me.
"And this is all one big adventure isn't it? It's an ongoing privilege to carry it on in Missoula, Montana."