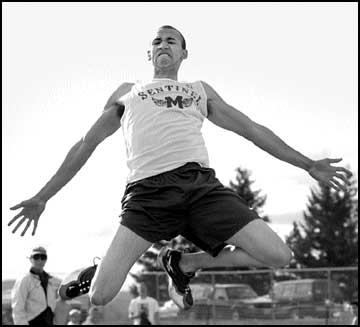 Sentinel's student body president Chris Mosbacher strives for perfection on track, in school
This, says Chris Mosbacher, would be a perfect day: Arrive at Missoula Sentinel about 7 a.m. Shoot the breeze with his "breakfast club" pals. Go to class and participate in stimulating conversation ("I'm not a fan of busy work," he says). Hustle out to the track after school, establish one or two personal-bests in the hurdles or triple jump, and come away feeling pain free. Wind down at home, get homework out of the way, and spend time enjoying his family.
"I've had a few of those, although it's rare that everything falls into place," Mosbacher said. "But you know what? I'm going to keep trying."
Mosbacher hopes for a couple more perfect days this weekend in Butte, where he might be Missoula's best hope for an individual championship at the state Class AA track and field meet.
The personable senior successfully defended his Western AA divisional triple jump title last week with a mark of 43 feet, 10Þ inches. That's well within range of the 44-3Þ posted by Eastern AA champ Cory Wilmore of Great Falls, and Mosbacher has the potential to fly much farther - he's one of only two Montana preps who have surpassed 45 feet this spring. That came at the Western Montana Top 10 meet a month ago, where Mosbacher jumped 45-1.
In addition, Mosbacher could place at state in both hurdles races. His Western AA times would put him third in the 110s and fourth in the 300s. The competition is wide open because Sterling Small of Billings West - unquestionably the state's top hurdler - has been slowed by a hamstring injury and will only compete in the 300-meter hurdles.
Mosbacher can sympathize with Small, since he's been nagged by physical problems himself. Mosbacher strained the quad muscle in his right thigh the first meet of the season, and has also been hampered by problems with his left calf.
"I just haven't been able to establish that base, that conditioning you can rely on at the end of the race," Mosbacher said. "It's been frustrating. Late in the season, I'm still trying to get in shape while other guys are tapering."
Still, the 6-foot-4 Mosbacher has a knack for summoning his best effort when the spotlight shines brightest. He averaged 13.5 points at the state Class AA basketball tournament, including a career-high 26 in a loser-out contest that kept the Spartans' season alive and set up their consolation championship victory over Missoula Hellgate.
"Walking out on the court that night and playing against Hellgate - against guys you've known since grade school - was the absolute best," Mosbacher said. "And then to win on a shot at the buzzer, you couldn't have written a better script."
Mosbacher has penned his own successful script since moving to Missoula as a sixth grader from the tiny Hi-Line town of Gildford. Both of his parents are teachers, and Mosbacher has never been afraid to throw himself into the center of school life. At Sentinel, in addition to basketball and track, he's played tenor saxophone, been active in community work through Key Club, and, this year, served as student body president.
"Chris has always been an extrovert," said Sentinel athletic director Scott Whaley. "He's not afraid to get up and speak his mind. Over the years, I think he's grown a great deal in learning about people, and making the most of his leadership skills."
Mosbacher said he's tried to be a friendly face in the halls, dispelling the stereotype of athletes being overbearing or unapproachable.
"I know what it's like to be the new kid on the block," Mosbacher said. "A little courtesy, a friendly hello, can go a long way."
Mosbacher has accepted an athletic scholarship from Northwest Nazarene College in Nampa, Idaho, where he'll participate in basketball and track for the NCAA Division II Crusaders.
He'll leave Sentinel able to look in the mirror and smile - literally. Among his accomplishments was persuading the school to install mirrors in the boys' restrooms.
"I'm excited about college, but I'm going to miss Missoula," Mosbacher said. "I don't think you'll find better people, anywhere, than right here."
Be the first to know
Get local news delivered to your inbox!