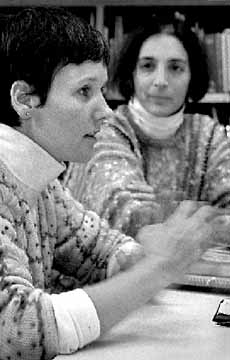 Jeannette Rankin Peace Resource Center welcomes new directorSometimes, Maya Frost has learned, all roads lead to Missoula.
Frost's new job as director of the Jeannette Rankin Peace Resource Center came to her at exactly the right junction in her life. Fresh from three months in India and Nepal and newly arrived in Missoula from Oregon in August, Frost put her resume together after her husband said to her over the newspaper one morning, "Here, you ought to apply for this."
"I wasn't looking for a regular job," she said in an interview Friday. "We were thinking of starting our own thing."
But the job fit her perfectly.
"The board was really impressed with her energy," said outgoing director Lynn Tennefoss. "We really liked her experience - and her really great experience with nonprofits."
In Frost's native home of Forest Grove, Ore., she and her husband, Tom, worked as retailers. They owned a vintage clothing store and a snowboard/skateboard store. Tom also traveled as an exporter of goods to Japan.
And, Frost said, "It was a small town, and we were the activists in town."
Frost's long-standing interest in social issues led her to volunteer as board president during the first year of Forest Grove's new Boys & Girls Club. She also volunteered with the Forest Grove Downtown Association and the Valley Arts Association.
The Frosts felt the need for change a year ago after the financial crash in Japan changed the export business. They sold their stores, took their four daughters and traveled for three months in India and Nepal.
"We had a wonderful time, family time, laughing, everybody kept journals," Frost said.
Back home, the family felt culture shock over how much their town had grown into the shadow of Portland - huge houses, a BMW in every driveway, kids busing 20 miles to private schools.
"We just said, 'We don't want to be here,' Frost said. " 'This is nuts.' "
The Frosts had a friend in Missoula and had visited before. Returning in May, they realized how much they liked the city. They went home and sold their house.
Frost comes to the Peace Resource Center at just the right junction in its life, too, said Tennefoss.
"We just really thought she would take the center to the next plateau," she said.
The two-person staff is now three - Heather Hammond is store manager, and Krys Bagwell started Friday as the center coordinator, paying the bills and managing the volunteers - to free up the executive director to raise money and develop programs. Immediate plans include remodeling the center on South Higgins Avenue, paying off the debt on the building and developing new programs.
Frost plans to focus on priorities and involve the public more in the Peace Center's work in social justice and peace issues.
Tennefoss, who has a new job working for the National Audubon Society out of her Missoula office, is pleased with the advances the center has made in her five years there.
"I love that we bought this building," she said. "And I love the Hate-Free Missoula campaign. … For me personally, I just love all the people I've met. It's made me feel a part of the community."
Frost is working on plans for Martin Luther King Jr. Day in January and the annual conference of the Northwest Coalition Against Malicious Harassment to be held in Missoula in October.
Frost's daughters are settled in school, three at Paxson and one at Washington, and her husband is networking for work as a consultant on Asian trade.
"We're very happy to be here," she said.
Be the first to know
Get local news delivered to your inbox!