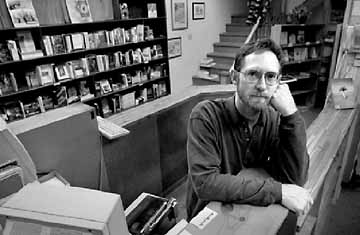 Landmark Missoula bookstore Freddy's Feed and Read is closing after 26 yearsA small letter placed in the window of Freddy's Feed and Read on Friday the 13th has been a shocking weekend read for fans of the alternative bookstore.
Its message: The university area's one-stop shop for books by local authors and tofu shepherd's pie announced it is closing the doors after 26 years.
"Freddy's has always been a business swimming upstream," said owner Mark Watkins. "We've been struggling all year, but the culmination has come very quickly."
Too quickly for some, who learned of the news Saturday as they came to the neighborhood hub for their morning cup of coffee and to thumb through new stock.
"I'm devastated - it's like a death in the family," said Judith Holloway. She and her husband, Steven, have been customers since Freddy's opened in the early 1970s. "It's a part of our daily lives."
An emergency stockholders meeting will be held Sunday evening to decide the store's fate, Watkins said.
"I think we would all like to reincarnate Freddy's. I would be just delighted if somebody would like to pick up the mantle and go on," he said. "But I'm personally exhausted. Small business is tough and if you want to remain less mainstream, less commercial - it's tougher."
Watkins is quick to say the store's likely demise involves many complex issues and competing with Missoula's new chain book stores is difficult.
"We've had a heck of a time maintaining our position in the market," he said. "Barnes & Noble has definitely impacted us."
In an effort to protect Freddy's small yet uniquely diverse niche, Watkins joined the American Booksellers Association and 25 nationwide independent booksellers in a lawsuit against Barnes & Noble and Borders last spring. The suit alleges the giant bookstore chains are using illegal and secret deals with publishers to gain unfair advantage.
"The lawsuit says the alleged unfair trade practices have hurt Freddy's," Watkins said.
But Freddy's sudden closure will not affect Watkins' in the suit.
"One or two other businesses have gone out of business since the suit was filed," he said. "I'm looking into what I will do."
You have free articles remaining.
Financial difficulties have plagued Freddy's since it opened in 1972, Watkins said. He is amazed the store has stayed opened this long.
"It came out of the attitudes and beliefs of the '60s," Watkins said.
"It was directed by an ad-hoc committee of many people - of UM faculty, students and citizens who wanted a progressive bookstore. It was a hippie business. It was very fluid, and people came and went," he said. "We never made marketing decisions about how the decor should be or things like that. It grew almost organically out of the Missoula experience."
"It was a neighborhood grocery with a bookstore that was a bit eclectic and that always reflected the people who were there at the time," said Fred Rice, an owner in the mid-1970s. "It was uniquely Missoula. The most important part I think, is that it persisted and for a period of time it thrived."
It was a place that tried to keep up with its unique clientele, beginning as a bookstore, expanding into a bookstore with an organic grocery store and bulk food, to its current identity as a haven for local authors and customers who prefer meals prepared deli-style, with sinfully decadent desserts, Watkins said.
"It is a really supportive environment for first-time authors and local writers," said Deirdre McNamer, a Missoula author whose first book, "Rima In the Weeds," found a place at Freddy's.
"It was a warm feeling to go to a book signing there - a small moment of triumph in a place I hung out for years and poked through other people's first novels," she said.
It's the down-home quality of Freddy's that will be missed by retirees John and Margie Rasmussen. They bike to Freddy's from their South Side home almost every weekend to enjoy the intimate atmosphere.
"We are both turned off by these great big places - they are so impersonal," Margie said. "Here they don't treat you like an assembly line."
They were saddened to read about the upcoming closure whe
n they came for their weekly weekend coffee and pastry.
"Places like this can't compete with the big stores," added John. "In the process we're losing small America and little homey places like this. It's a real loss."
When Missoula author William Kittredge heard the news, he responded: "I think it's tragic. It's been a center for civility in the community for the long time."
Freddy's Feed and Read's final hours will be 9 a.m. to 2 p.m. Sunday and 7:30 a.m. to 3 p.m. Monday.
"I'd like it if old friends could drop by and say hello," Watkins said. "Because who knows what will happen."